Effective digital marketing can increase traffic to your website, but it's important to understand the difference between SEO and SEM. What's SEO? And what's SEM? We'll break down these two terms, so you can create a solid digital marketing strategy to meet your business goals. 
Both SEO and SEM marketing are ways to increase website traffic through search engines, but there is one key difference between SEO and SEM. With this guide, you will be able to confidently answer the question, "What's the difference between SEO & SEM?" You will also be on your way to becoming an SEO and SEM best practices expert.
Explore Augurian's SEO blog to learn more about how to boost conversions using SEO strategies.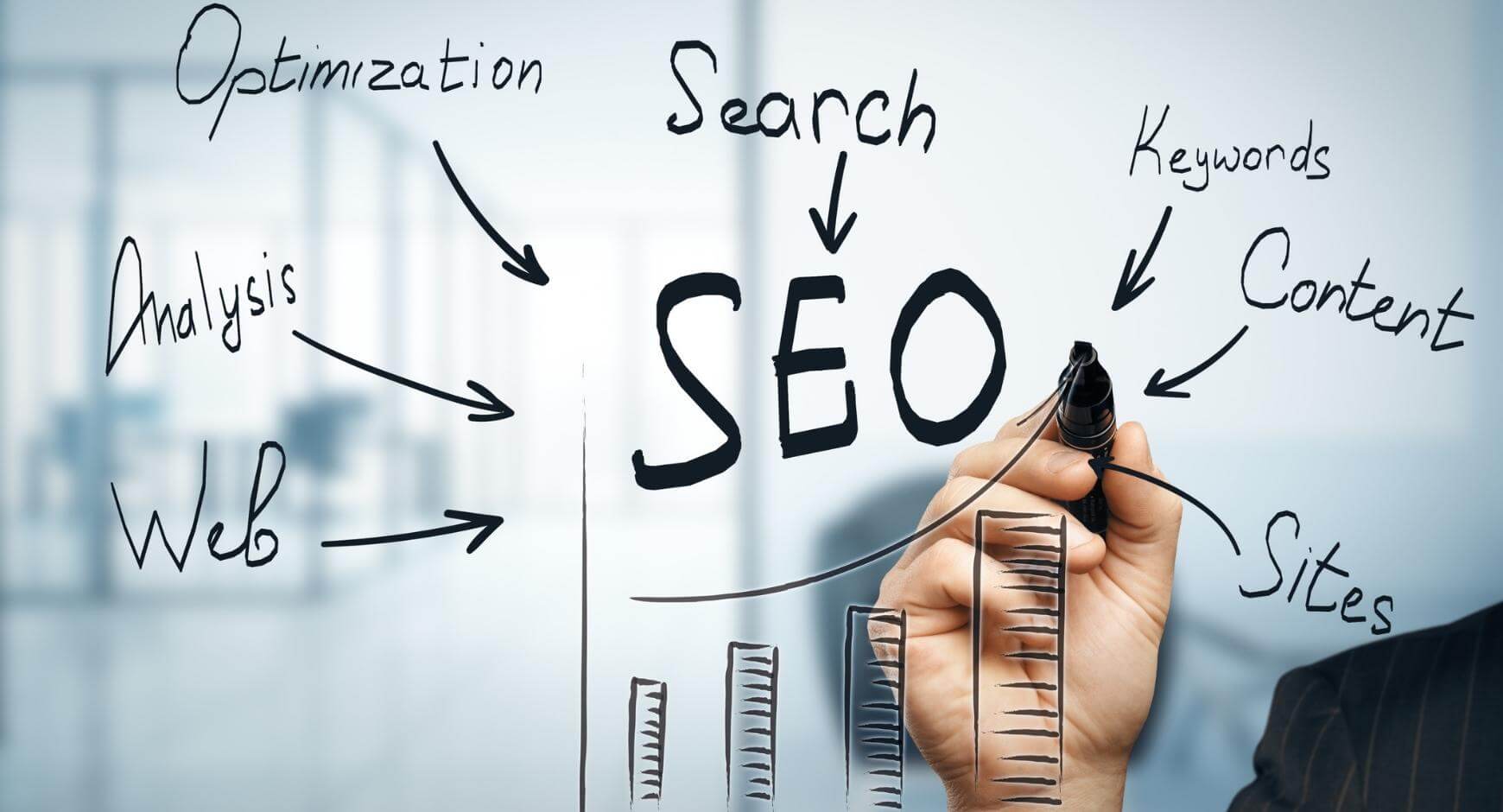 What is SEO?
SEO, or Search Engine Optimization, is a targeted effort to improve a website's ranking on search engine results pages (SERPs). Higher rankings in the SERPs means more website traffic and potential sales.
SEO is a crucial part of any digital marketing strategy. Specific actions can be taken on and off a website to increase the website's authority online.
Increased authority will increase search engine ranking. Unlike SEM, SEO marketing does not include paid ads on search engines. SEO only refers to actions to improve organic search results.
On-Page SEO
On-page SEO encompasses all of the content that is actually on your website. It's easy to make basic changes to improve your on-page SEO. Start by identifying which keywords you want to rank for.
What specific phrase will your potential customers type in the Google search bar? That's your keyword. Include this keyword in your website content, URL, and meta description.
Using on-page SEO techniques increases the likelihood that you will rank on the first page of a search engine result. The higher you rank, the more likely Internet users will click on your website.
Examples of on-page SEO:
Title tags
Meta descriptions
URLS
Keywords
Internal and external linking
Site structure
Off-Page SEO
Off-page SEO includes all tactics that take place elsewhere on the web. One of the most effective off-page SEO strategies is backlinks. These are links to your website on other popular sites. Backlinks tell search engines like Google that your website has a good reputation and is worth ranking high in the SERPs.
Like on-page SEO, any digital marketing team can do off-page SEO. However, achieving online authority and increasing your conversion rate may take time.
Examples of off-page SEO:
Link building
Social sharing
Press release distribution
Forum and discussion board posting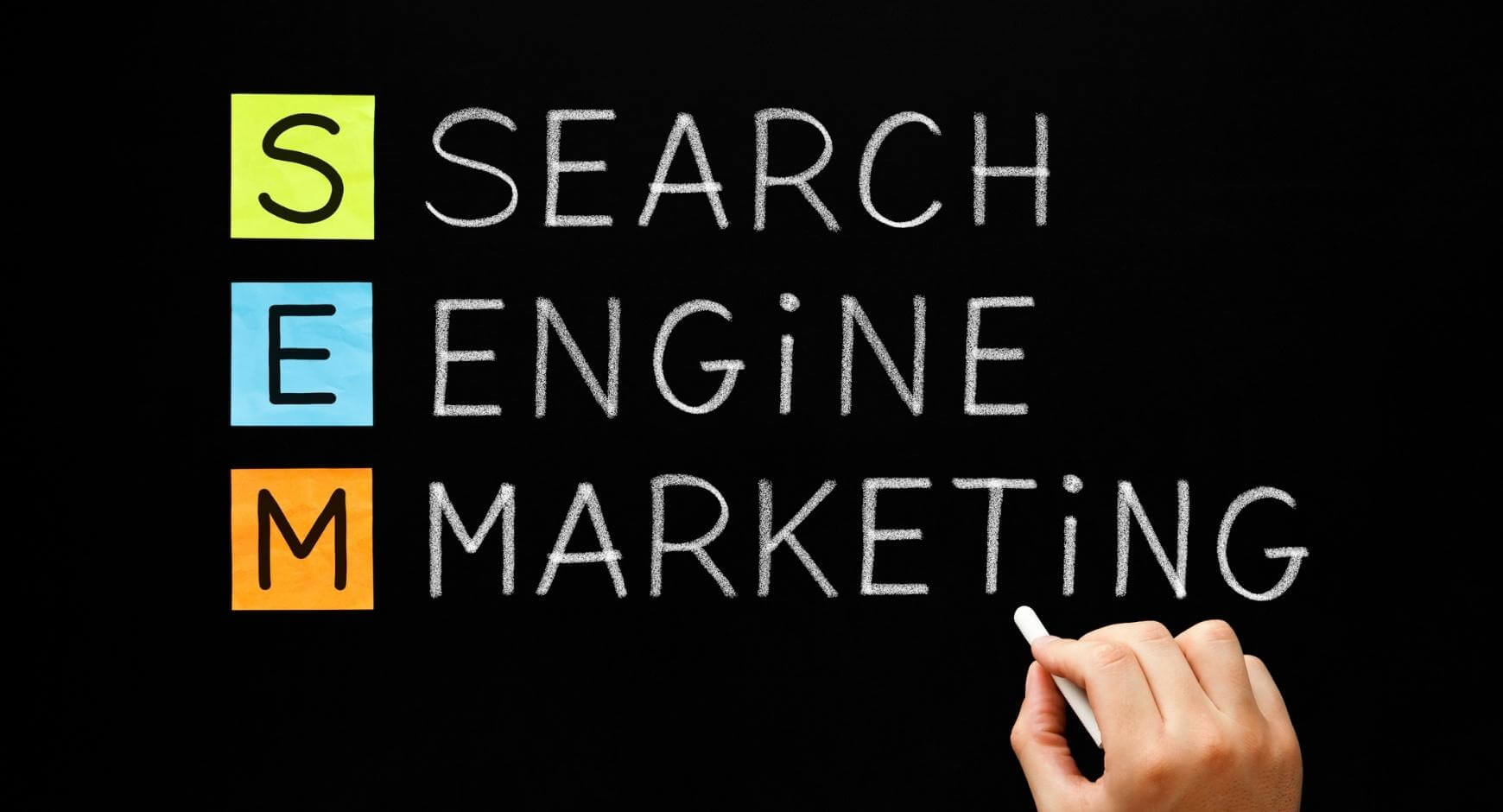 What is SEM?
SEM, or Search Engine Marketing, encompasses paid advertising on search engines, as well as other aspects of digital marketing (even SEO). To minimize confusion, most people associate digital SEM with PPC (pay-per-click) and CRO (conversion rate optimization) while keeping SEO separate. So, the simple answer to what is the difference between SEO and SEM: SEO relates to organic search results and SEM relates to paid search results.
Digital SEM requires paying for and creating effective ads appearing at the top of search engines such as Google. Like SEO, knowing which keywords to target for the most relevant website traffic from paid ads is essential. You should also learn which social channels to start advertising on and which ones to avoid based on recent digital marketing trends.
PPC (Pay-Per-Click)
The first thing that comes to mind for most when they hear SEM is usually PPC advertising. This refers to placing ads next to search results. In a PPC SEM campaign, the advertiser will typically pay on a per-click basis, which means the advertiser pays a small fee each time someone clicks on their ad.
PPC ads are also common on social media sites like Facebook, Twitter, and Pinterest. Paid content on these platforms often includes images or videos, whereas Google ads are more text-based.
How PPC can affect a website:
Builds awareness of the website through exposure
Improves authority based on presence on other popular sites
Increases relevant traffic to the site
CRO (Conversion Rate Optimization)
Conversion rate optimization (CRO) is usually grouped in with SEM by digital marketers. This strategy refers to optimizing pages to encourage users to perform a desired action, such as filling out a form or making a purchase. Since PPC campaigns are usually sent to a landing page, optimizing them for conversions is crucial to achieving profitability.
CRO plans often utilize tactics such as A/B testing on their landing pages to find what converts best and apply it. They test countless page elements, including wording, position, colors, and more.
Remember, the ultimate goal of increased website traffic is increased conversions, so you should always track conversions. This can be done through Google Analytics or a CRM (customer relationship management) system like Hubspot.
How CRO can affect a website:
Increases blog or newsletter subscribers
Increases revenue and ROI
Improves the quality of the user's experience on the website
Take your digital marketing plan to the next level with the expertise of a full-service SEM agency.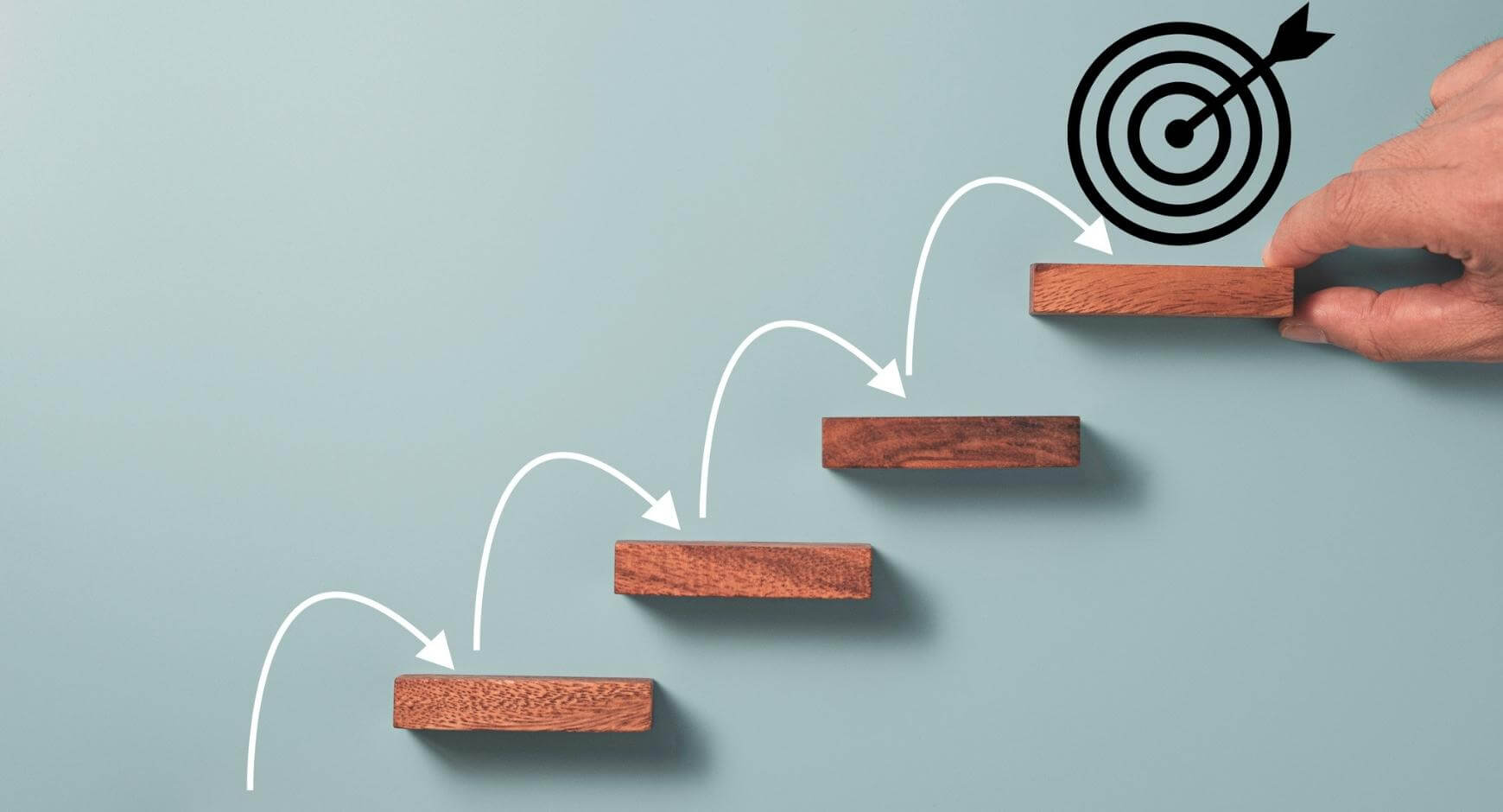 SEO and SEM Best Practices
Now that you can answer the question of the difference between SEO and SEM, let's look at the best SEO and SEM strategies to grow your business. Each technique outlined below is proven to increase website traffic and conversions. It's all about picking the right strategies for your business and implementing them effectively.
SEO Strategies
The most effective SEO strategies are A/B testing, on-page optimization, and refreshing site content. A/B testing means making a specific change to a website to see the difference in how the change affects website traffic and conversions. Like all good SEO strategies, A/B testing requires using the right metrics to measure how well a specific element of a website is performing.
On-page optimization is a common strategy involving keyword research and changing critical parts of a website based on keywords. This includes updating URLs and metadata. Like on-page optimization, refreshing site content should be based on keyword search. Site content is an excellent way to build your brand's authority online.
A/B Testing
Sometimes a minor change such as the location or color of a button on a website can make a huge difference in conversions and revenue. By moving the "Shop Now" button on a mobile e-commerce site, the company achieved a 28% increase in conversions and a 41% increase in revenue per session.
On-Page Optimization
Augurian used the on-page optimization strategy with a major online retailer, and the results were even better than expected. The page doubled its traffic and increased conversions by 41% in just one month.
Refreshing Site Content
Refreshing site content can be done with any webpage, but typically this strategy is most effective with landing pages and blog posts. Augurian found that refreshing a landing page for SaaS marketing services increased traffic to the page by 225% compared to the previous year.
SEM Strategies
SEM strategies are more than just paying for online ads. For Google ads, you should carefully calculate what keyword match types you use. Exact match means your ad only shows up when someone searches for that exact keyword or one with the same intent.
Phrase match is a bit broader, but your ad still only appears when someone searches something similar to your keyword that has the same word order. Lastly, broad match ads appear with searches that include any word in any order in your keyword phrase.
Audience targeting refers to being strategic about who your paid ads are reaching. Similarly to keyword match type, you can have a narrow or broad target audience. Try these techniques with responsive search ads to maximize your Google ad ROI. This format allows you to create multiple ad titles and descriptions that Google automatically pulls from based on data to ensure the best possible performance of your ad.
Keyword Match Type
Sometimes changing from exact or phrase match keywords to broad match keywords can make your ads appear for a more extensive range of people and increase website traffic. A top university used this strategy and had a 69% increase in clicks on their ad. This resulted in a 96% increase in conversions.
Audience Targeting
Google ads are only effective when they reach the right audience. For example, by using a pre-programmed Google audience, a major grocery store chain was able to increase the audience size for their YouTube ads from 12 to 1,039 potential new leads.
Responsive Search Ads
Setting up responsive search ads takes more time than writing regular ads, but the extra effort often pays off ten-fold. Switching to responsive search ads helped a midwest grocery store increase its online sales revenue by 101%.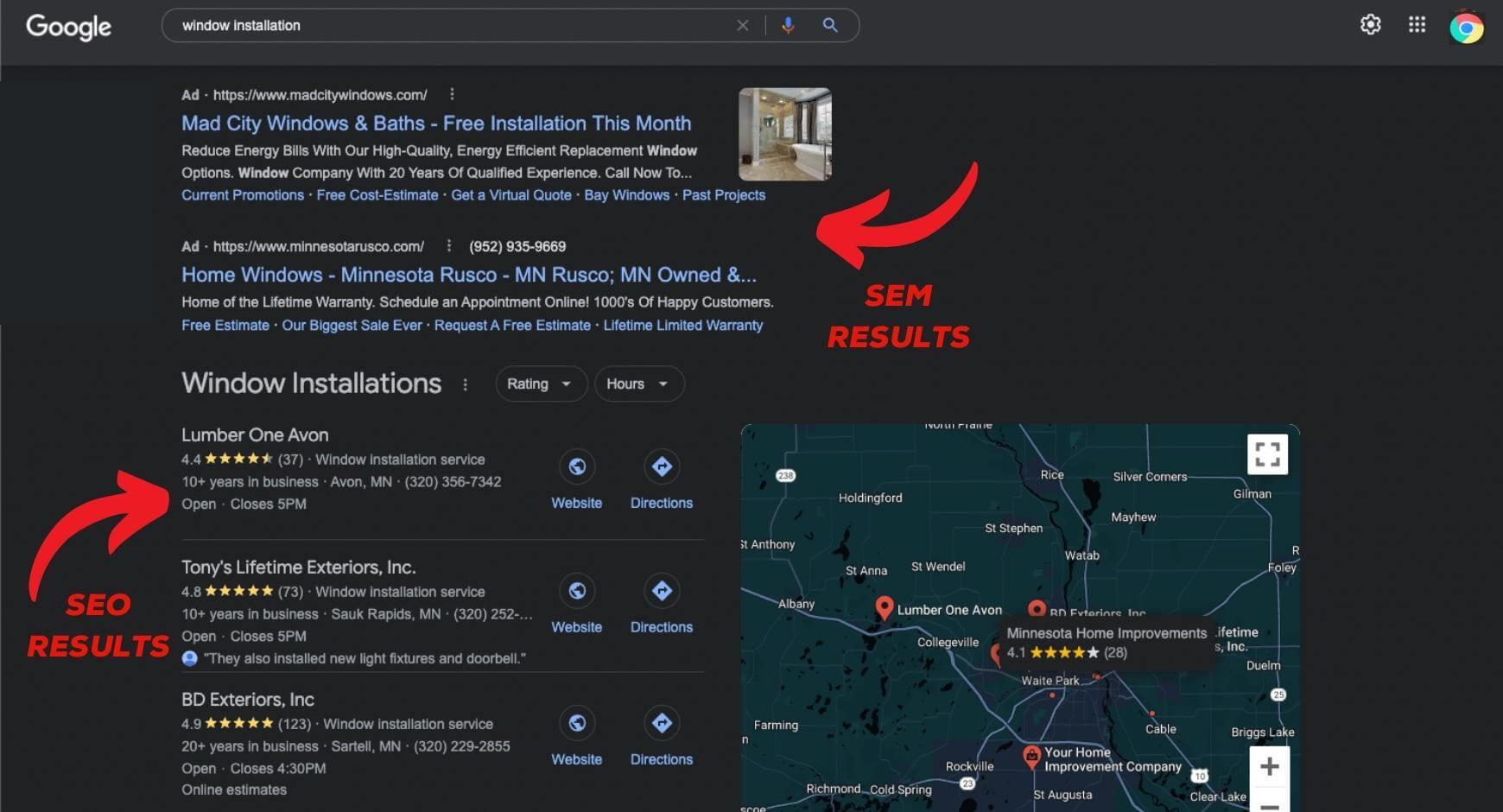 SEO vs SEM: Pros and Cons
Learning how to use the proper SEO and SEM strategies at the correct times takes practice and patience. Weighing the pros and cons can help understand when to focus on search engine marketing vs. search engine optimization.
SEO Pros and Cons
The most significant SEO and SEM difference is time. SEO strategies usually require a considerable time commitment. While you are not paying for SEO as you pay for an ad, the time and energy you put into SEO should factor into the overall cost.
Unlike SEM, SEO costs can be harder to predict and budget for. SEO requires maintenance, and it often takes months before you start to see any results.
While it's not quick and easy marketing, SEO is very effective at building authority for your brand and website. This can increase your reach online to develop a steady stream of relevant traffic.
Pros
No variable traffic cost
Builds brand authority
Helps overall site visibility
Very sustainable long-term
Cons
Very time consuming
Can take several months to see results
Less control over search result text
Harder to quantify results
SEM Pros and Cons
If you want to grow your business fast, the choice of search engine marketing vs. SEO is an easy one. Focus on SEM with paid ads on Google and relevant social media sites for the fastest results. Google ads always appear at the top of the first page of the SERPs, so it's an excellent way to increase traffic while you are still building your company's reputation.
The downside to paid ads is that they can be costly. Furthermore, your ads may not always appear when you expect them to. Be strategic in the creation of your ads to maximize results.
Pros
Fast way to reach the top search results
More control over search result text
Easier to quantify results
Ability to pivot quickly
Cons
Must pay for each click
Low barrier to entry for competitors
Ads won't always show (based on budget and other factors)
Some people ignore or block ads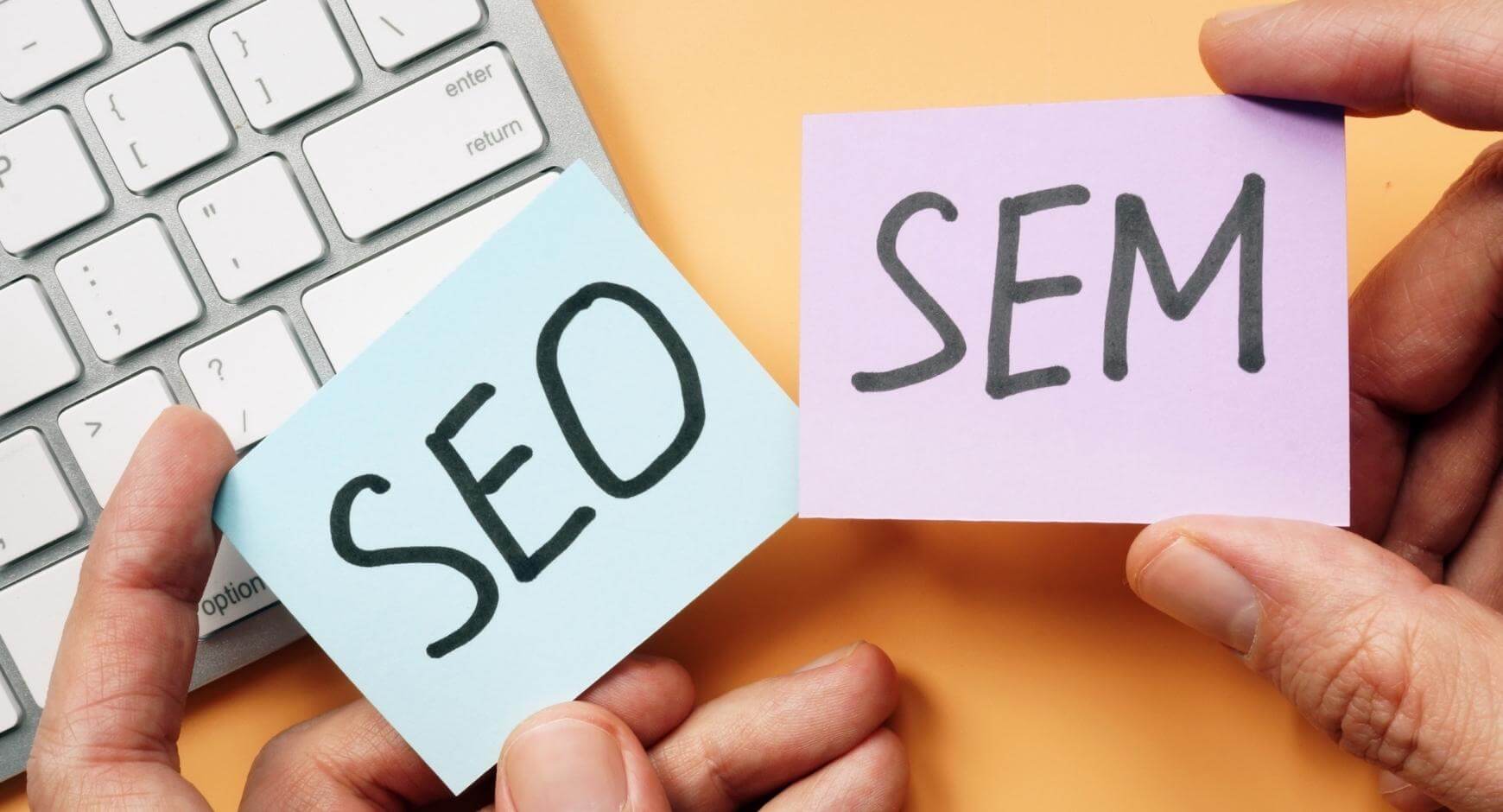 SEM vs SEO: Which Do I Need?
By now, you probably understand that it isn't so much SEO versus SEM as the two often work in synergy. SEO is a long-term strategy that may not reap an immediate return on investment like SEM. However, when investing in SEO, many companies start to see their authority rise, resulting in a lower cost-per-click for SEM.
On the other hand, when investing in SEM, you will see more branded traffic and awareness, which helps SEO. This is why many digital marketing strategic plans blend both types of search engine marketing.
Over time, you will find that a strong presence on both the organic and paid side of search engines is necessary to compete in the digital marketplace. Using the right metrics can help determine which specific SEO vs. SEM strategies are working and which ones need tweaking.
Still not sure if PPC ads are worth the cost? Learn how to leverage paid ads from Augurian's SEM blog.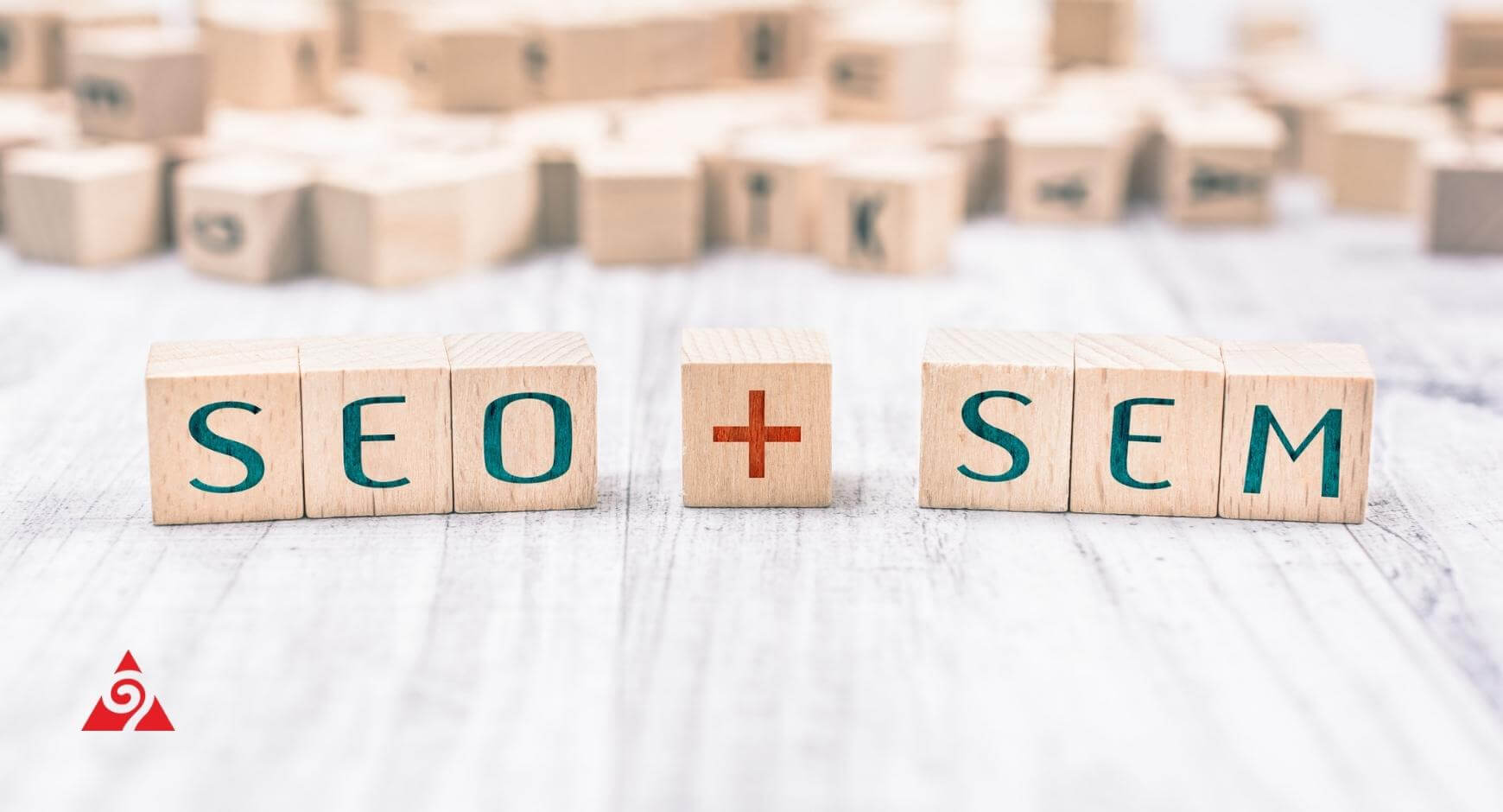 Augurian Crafts a Perfect Balance of SEO & SEM
The best digital marketers aren't thinking about search engine optimization vs. search engine marketing. They are thinking about how to best pair the two types of marketing.
Augurian is a trusted source for expert SEM and SEO services. Our core focus is driving business growth for a variety of clients. We aim to grow your online presence and generate high-quality website traffic through strategic paid ad placements and organic search optimization.
To maximize your ROI using search engine optimization and search engine marketing, reach out to an Augur today. Our agency offers additional digital marketing services for SEO, like content marketing, and can even help you maintain growth during the uncertainty of a website migration.