The main difference between SEO vs SEM is that SEO refers to organic search, while SEM usually refers to paid search.
Organic search is when somebody searches a keyword and your website shows up based on the engine's algorithm.
Paid search is when you pay to advertise at the top of these search results pages. The paid search results will look almost identical to organic listings, except that you have more control over what they say.
In this guide, we'll answer questions like "What does SEM stand for in marketing?" and "How is SEO different from paid search engine marketing?" Plus, at the bottom, we offer advice on which method may be best for you.
Here is the quickest way to visually explain SEO vs SEM: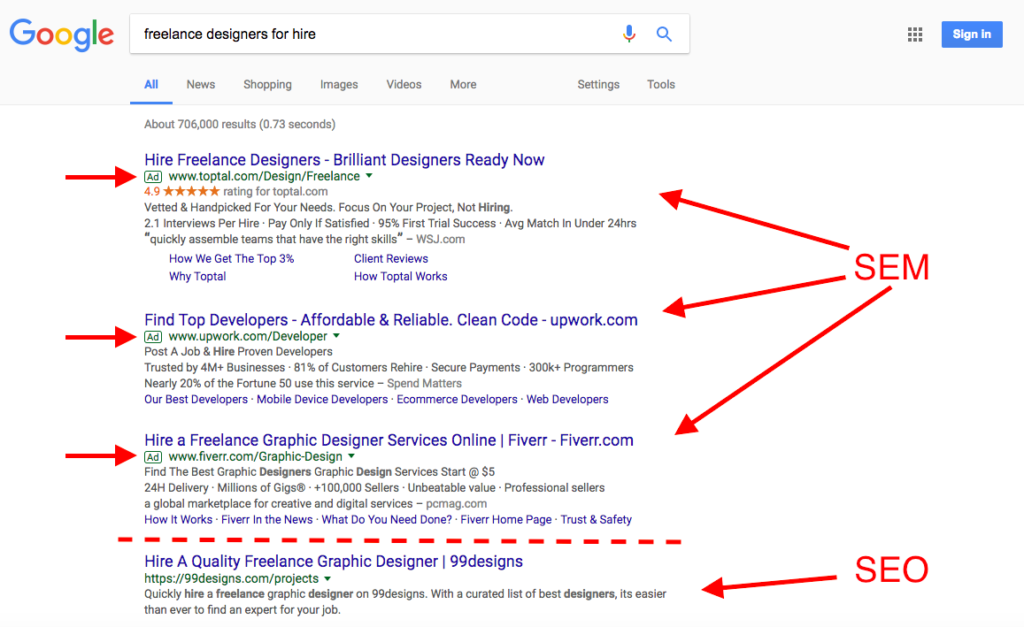 .
What is SEO?
SEO, or Search Engine Optimization, is a targeted effort to improve a website's authority in the eyes of search engines. This is accomplished by both 'on-page' and 'off-page' SEO.
On-Page SEO
On-Page SEO includes all of the content that is actually on your website.
This includes meta title tags and descriptions, URLs, sitemaps, keywords, internal and external linking, site architecture, and much more.


.
An example of a meta title and meta description for Augurian.
Off-Page SEO
On the other hand, Off-Page SEO includes all tactics that take place elsewhere on the web.
This includes link building, social sharing, press release distribution, forum and discussion board posting, and more.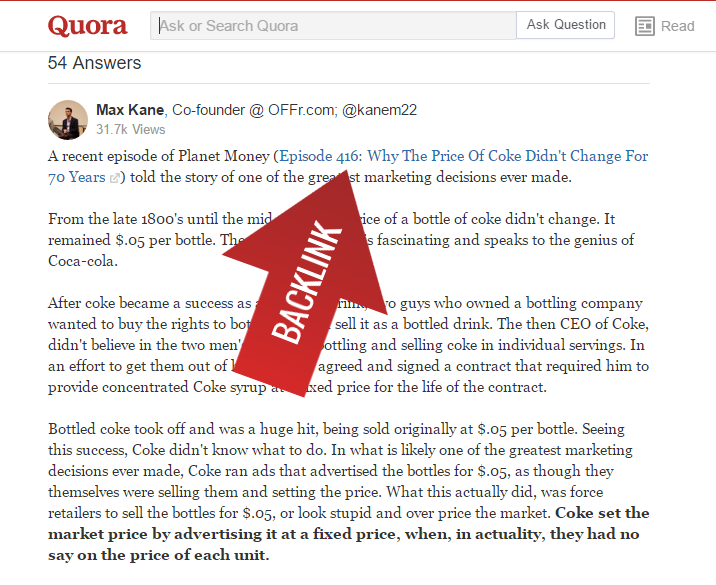 An example of Off-Page SEO, link building on Quora..
What are the pros and cons of SEO Advertising?
Pros of SEO
No variable traffic cost
Builds brand authority
Helps overall site visibility
Very sustainable long-term
Cons of SEO
Very time consuming
Can take several months to see results
Less control over search result text
Harder to quantify results
.
What is SEM?
SEM, or Search Engine Marketing, encompasses paid advertising on search engines, as well as other aspects of digital marketing (even SEO). To limit confusion, most people associate SEM with PPC (pay-per-click) and CRO (conversion rate optimization) while keeping SEO separate.
PPC (Pay-Per-Click) Advertising
The first thing that comes to most people's minds when they hear SEM is usually PPC advertising. This refers to placing ads next to search results.
In an SEM campaign such as this, the advertiser will typically pay on a per-click basis, although other methods like cost per acquisition do exist. The advertiser controls the headline and description in their ad, as well as any extensions below it.
In comparison, organic search results don't have nearly this level of control.


.
An example of a PPC Ad showing up on a search engine results page (SERP).
CRO (Conversion Rate Optimization)
Conversion Rate Optimization is usually grouped in with SEM by digital marketers. This strategy refers to optimizing pages to encourage users to perform an action such as filling out a form or making a purchase. Since PPC campaigns are usually sent to a landing page, optimizing them for conversions is crucial to achieving profitability.
CROs will often utilize tactics such as A/B testing on their landing pages to find out what converts best and apply it.
They will test a multitude of things such as wording, position, colors, and more.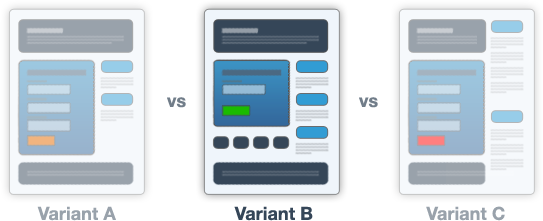 Here's a visual representation of how you could test variations of a landing page (Via Unbounce) .
What are the pros and cons of SEM Marketing?
Pros of SEM
Fast way to reach the top search results
More control over search result text
Easier to quantify results
Ability to pivot quickly
Cons of SEM
Must pay for each click
Low barrier to entry for competitors
Ads won't always show (based on budget and other factors)
Some people ignore or block ads ("ad blindness")
.
Do I need SEO or SEM?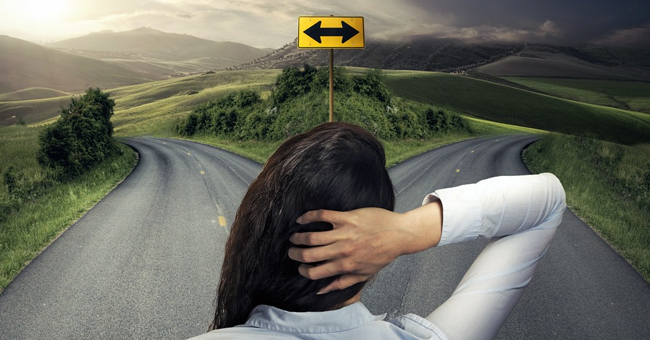 By now, you probably understand that it isn't so much SEO versus SEM as the two often work in synergy. SEO is a long-term strategy that may not reap an immediate return on investment like SEM.
However, when investing in SEO, many companies start to see their authority rise, resulting in a lower cost-per-click for SEM. On the other side, when investing in SEM, you will start to see more branded traffic and awareness which helps SEO. This is why many SEO and SEM strategies blend together both types of search marketing.
Over time, you will find that a strong presence on both the organic and paid side of search engines is necessary to build synergy and compete in the digital marketplace for your business.
Learn more from an SEO & SEM agency
Augurian is a trusted source for expert SEM and SEO services. Our core focus is driving business growth for a variety of clients through strategic and tactical SEO and SEM best practices. We aim to grow your online presence and generate high-quality website traffic through strategic paid ad placements and organic search optimization.
You can read more about Google search engine marketing in our post on Digital Advertising Explained, where we give definitions for all digital acronyms.
To learn more about paid media marketing or search engine optimization, reach out to an Augur today to discuss your digital performance or marketing strategy. Our agency offers additional digital marketing services for SEO like content marketing and can even help you maintain growth during the uncertainty of a website migration.
Call today to find out more – 612-354-4516