If you aren't tracking conversions (important actions on your site) correctly within Google Ads, you are wasting your time and money. This guide teaches how to set up Google Ads conversion goal tracking in a few simple steps.
Make sure that you are spending your ad dollars as efficiently as possible by providing Google's algorithms with good data. Read about different conversion types, how conversion tracking works, and how to set it up so your campaigns can drive more of the most important actions.
How Conversion Tracking Works in Google Ads
When you run a Google Ads campaign, you choose to optimize for video views, clicks, conversions, and more. If you hope that a consumer sees your ad and then goes to your site, you most likely want to optimize towards people taking action on your site, like filling out a form or making a purchase.
If you use automated bidding (which we recommend), Google will choose bids based on an algorithm that's working to drive the actions that you provide. By setting up conversion tracking, you'll be able to feed the algorithm with high-quality data. Here are a few ways you can set up conversion tracking in Google Ads:
Import goals from Google Analytics
Track website actions via Google Tag Manager
Import offline conversions from a CRM (like Hubspot)
Import call conversions from a call tracking service (like CallRail)
What is a Conversion in Google Ads?
A conversion is a common term for a significant action on your website. These actions could include form fills, phone calls, video views, PDF downloads, purchases, etc. Tracking these actions allows you to determine which campaigns, keywords, and ads are the most successful.
All Conversions vs Conversions in Google Ads
When you're viewing metrics in Google Ads, you'll notice that there are two similar metrics:
All Conversions
Conversions
You can choose which conversions you'd like to optimize for as you build a campaign. Those will be included in the 'Conversions' metric. The 'All Conversions' metric will include both the conversions you are optimizing towards and the ones you are not.
Google Ads Conversion Settings 
When creating a new conversion, the settings you choose will substantially impact your success. Ensure you're following these best practices to drive the best performance.
Conversion Name: Provide as much detail as possible in your conversion name. Include the action being tracked (i.e., click, form submit, page view) and the page where the action occurs.
Primary vs. Secondary Actions: Choose primary if you want your campaigns to optimize towards the action. Choose secondary if you only want to observe the action. Campaigns will not optimize towards secondary actions.
Conversion Value: For online purchases or donations, a dynamic value will be pulled into this field. For lead forms, phone calls, or other actions that don't have a dynamic value, choose 'Use the same value for each conversion' and input a value. This could be as simple as adding 1, 2, and 3 to your different conversions based on their importance, or you could estimate their value based on the % chance that they turn into a closed lead.
Count: For conversions with dynamic value, use 'Every.' For all other conversions, use 'One.' If someone came to your site and submitted a form 3x, you would only want the first time to count as a conversion (one). If someone came to your site and made a purchase 3x, you would want every purchase to count as a conversion.
Click-Through Conversion Window: When someone clicks on your ad, this determines how much time they have to convert to be included in the count. For lead generation goals, choose 60-90 days. If the consideration period for the service is shorter, choose 60. If longer, choose 90. For eCommerce, set to 30 days. Go longer for more expensive products and shorter for cheaper ones.
Attribution Model: Use 'Data-Driven,' 'Time Delay,' or 'Position-Based.' They will give some conversion credit to the clicks that helped a prospect get to the site, come back to the site, and finally convert. Optimization will be best with this setup. Do not use Last Click, as it does not provide as many data points to your campaigns, which will limit your bid strategies/optimization.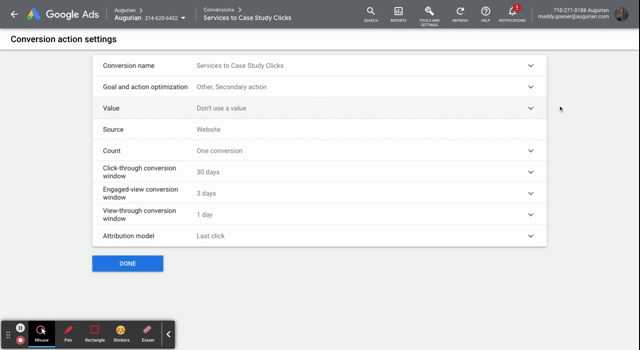 Google Ads Conversion Values 
If any of your campaigns optimize for multiple conversion goals, it's essential to assign them conversion values. A conversion value represents the amount of revenue assigned to one conversion completion.
For ecommerce purchases, donations, and other similar actions, a dynamic value will be pulled in that represents actual value. However, for form fills, phone calls, and other actions where there is no dynamic value, assign an estimated value that corresponds with the likelihood that the lead will turn into closed business (higher value for higher quality leads). This will allow you to use value-based bidding like Maximize Conversion Value and Target ROAS.
What is a Google Ads Pixel? 
When you first begin using Google Ads, you should install the base Google Ads pixel on your site, which will allow you to build audiences of people who have interacted with your site.
Separately, to set up conversions in Google Ads, you'll need to install a piece of code on your site for each conversion, which was previously referred to as a Google Ads conversion pixel. These pieces of code can be hardcoded on the site or installed via Google Tag Manager.
How To Set Up Conversions in Google Ads
Most actions on your website can easily be tracked as conversions in Google Ads using Google Tag Manager. This is how we recommend setting up conversions, as it will provide Google Ads with the most amount of data. You can also set up conversions of actions that do not happen on your website, such as phone calls or lead status updates in a CRM. We'll also walk through how to set up a connection between some common CRMs and other third-party tools.
How to Import Google Analytics Goals to Google Ads
Although it isn't our first choice to set up Google Ad tracking, a straightforward way to build conversions is to import existing Google Analytics (UA) goals. If you already have goal completions built in Google Analytics that track the actions you want to optimize for, all you need to do is connect your accounts and choose which goals to import. This action is only possible when using Universal Analytics, which is set to be deprecated in July 2023.
This process is easy but does not provide Google Ads with nearly as much data as other methods. As a result, you will be underreporting conversion volume in Google Ads, which will hinder bidding algorithms from optimizing as well as they could be.
Link your Google Analytics account to your Google Ads account.
In Google Ads, add a new conversion and choose Import. Choose the Google Analytics goal that you'd like to import.
Revisit Google Ads to ensure that conversion tracking is working properly.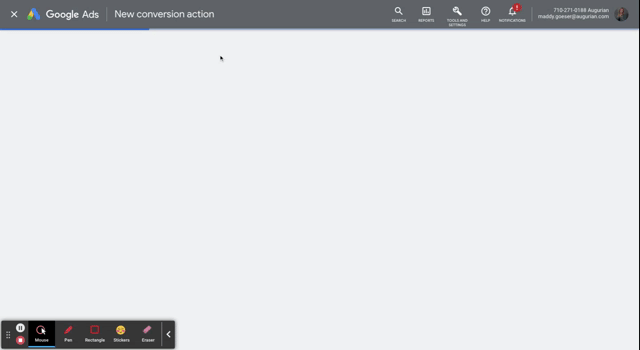 Google Ads Conversion Tracking in Google Tag Manager
This process is a bit more complicated, but it is our preferred way to set up Google Ads conversion tracking. You will get the most data brought into Google Ads so that your campaigns can optimize at their best. To begin, you must ensure Google Tag Manager (GTM) is appropriately installed on your site.
First, we'll quickly discuss how GTM works. Think of it as the middleman between your website and another platform.
GTM requires that you set up a tag and a trigger to track your conversion. The trigger brings data from a specific action on your site into GTM. The tag is what sends the trigger data between GTM and Google Ads.
In Google Ads, create a new conversion and choose 'Website' as the source.
Follow our conversion settings best practices and click 'Next'.
In GTM, create a new tag.
Choose 'Google Ads Conversion Tracking' as your tag type.
Copy the conversion ID and conversion label from Google Ads & paste into GTM.
Set up the connected trigger to track the action you want. Save.
Open the preview tool and ensure that your new tag fires when you complete the action you want to track. Click 'Submit'.
Ensure that the conversion status in Google Ads switches to 'Recording Conversions' or 'No Recent Conversions' once you know that your conversion has been completed at least once.
Setting up Enhanced Conversions in Google Ads
As we near the date of third-party cookie deprecation, conversion tracking will become more and more difficult. To maintain as much conversion data as possible, Google released the option to set up Enhanced Conversions, where you can use hashed CRM data to recover lost conversion data. This is primarily a good fit for advertisers who use Display and Video (YouTube) campaigns. Find more information on how to set up enhanced conversions, explore Google's advanced support guides.
Google Ads Hubspot Integration
If you're already using Hubspot as a place to store and update leads, setting up the Google Ads Hubspot integration is a no-brainer. This is a perfect fit if your Google Ads campaigns drive many leads that are not good quality. The integration allows you to import lead lifecycle stage updates into Google Ads as conversions that you can optimize for. You must have a Marketing Hub Professional or Enterprise level account for Hubspot conversion tracking to work correctly.
In Hubspot, navigate to Marketing > Ads and click Create Event in the top right.
Choose Google Ads, the correct account, the lifecycle stage that you want to import, and click Create. The new conversion will appear in Google Ads immediately. Adjust settings based on conversion setting best practices.
Revisit Google Ads to ensure that conversion tracking is working properly.
CallRail and Google Ads Integration
If more than 30% of your leads come from phone calls, you may want to try using a call tracking software like CallRail. CallRail provides dynamic number swapping on your website, where you're then able to see exactly where calls are coming from within Google Analytics and Google Ads. Once you set up the connection between CallRail and Google Ads, you can set up phone calls as conversions and know which campaigns/keywords/ads drove phone calls. The process is very simple:
In CallRail, find the Google Ads Integration.
Choose your Google Ads account.
Choose to send calls as conversions – create separate conversions for first-time and repeat callers.
Refresh your Google Ads. The new conversion actions will appear immediately. Adjust settings based on conversion setting best practices.
Revisit Google Ads to ensure that conversion tracking is working properly.
How To Set Up Google Ads Conversion Tracking in Shopify
If you have a Shopify site and run Google Ads, you'll definitely want to set up online purchases as conversions. By doing this, you'll be able to use Google Ads eCommerce tracking and optimize your campaigns to drive more purchase value. There isn't a way to easily link Google Ads to Shopify – you may want to have someone with coding experience involved.
Create a new conversion in Google Ads and set it to use different values for each conversion.
Revisit Google Ads to ensure that conversion tracking is working properly.
Our Google Ads Conversion Tracking & Optimization Experts
If you've figured out how to set up conversions in Google Ads, you've made it pretty far! The process can be rather complicated without a digital marketing or coding background. However, this is just the beginning.
Your next step is to test manipulating your keywords, ads, and targeting methods to drive more of your new conversions. Another option is to test different versions of your landing pages to drive up conversion rates. The process is never-ending in finding the most efficient way to spend your ad dollars.
Perhaps you're feeling overwhelmed knowing that these processes are so complex. At Augurian, our teams have the experience and knowledge to execute these processes in a short amount of time. Contact us if you'd like to know how we could supplement your conversion tracking journey.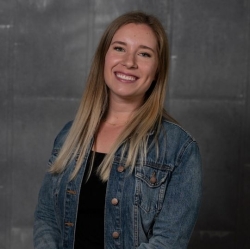 Latest posts by Maddy Goeser
(see all)