EXPERT DIGITAL MARKETING FOR REAL ESTATE COMPANIES
One of Augurian's earliest clients was a market-leading real estate brokerage. Since then, our portfolio of real estate brokerages has grown. Yes, that original client is still with us today. The reason is simple – we've helped them maintain and grow their market share and compete against the large national players.
Ready to learn how we could leverage all the knowledge we've gained over the years to benefit your brokerage?
Augurian's SEO sprint process has been incredibly helpful to my digital marketing team at Edina Realty... It's always easy to see if and why we may be off track on meeting any goals and course-correct when necessary. I highly recommend Augurian and their extremely collaborative SEO process.

Hannah Widell

Director of Digital Strategies at Edina Realty
Market Leading Brokerages
Must Win Online
What do you get when you combine expert digital marketers and deep real estate knowledge? Results
Attract More Buyers
We can help you effectively get in front and stay in front of people who have demonstrated intent to buy.
Capitalize on the Seller's Market
It's a seller's market, and we know getting new listings drives more revenue for real estate brokers. We ensure your marketing investment focuses on getting customers to sell through your brokerage.
We can help your website support your overall business goals by turning it into a high-performance lead-generating engine.
Recruit Great Agents
Identifying quality agents who generate meaningful business is the key. Top agents want to work with brokerages who demonstrate they can excel in digital. We'll help you attract and retain those high-performers.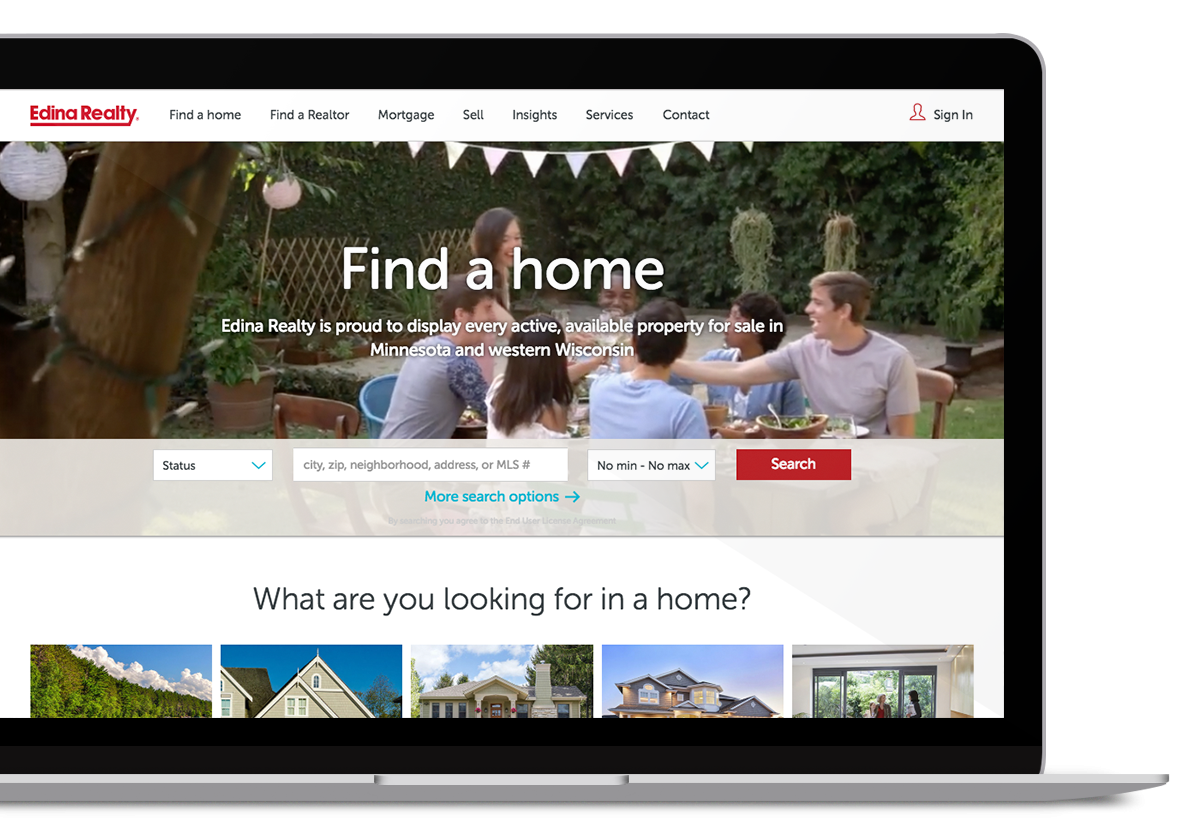 Client Success Snapshot
Edina Realty
Augurian's SEO and paid search teams collaborated to test the effectiveness of organic search title tags and headline variations using Google paid search ads. Winners were isolated quickly and the winning headlines were applied to property listing pages on the site which improved their performance in the organic search channel.
7x
Annual
ROI
67%
Click-Through
Rate Increase
View Case Study
Frequently Asked Questions about Real Estate Digital Marketing
How can I promote my real estate brokerage online?
Why is digital marketing important for real estate brokerages?
Most home buyers start their customer journey online. Digital marketing will increase your real estate agency's online presence which will in turn expand your brand awareness, drive more leads, and increase your ROI.
What does a real estate marketing agency do?
Real estate marketing agencies help your brokerage capture more sellers, home buyers, renters, and agents during their unique customer journey. Real estate marketing agencies offer services like PPC, SEO, Analytics, and Content strategies that are tailored to your brokerage's needs to drive results.
Why should I choose Augurian as my real estate marketing agency?
Augurian will give your brokerage confidence in your digital marketing. We have partnered with real estate agencies and brokerages for years and know how to capture users during each stage of their customer journey. We will help you capitalize on the seller's market, attract more buyers and recruit great agents to your team. Not only will our experts drive leads, but we will expand your team's knowledge in the digital space over time as we work together to drive ROI.
How can I start working with a real estate marketing agency to promote my brokerage?
If you're ready to grow your brokerage's brand and meet your KPIs with confidence, contact us to schedule a free consultation. We're ready to answer any questions and promote your business.