A PPC Agency With
Powerful
Paid Media Marketing Services
Paid digital advertising can be the fastest way for your business to build brand awareness and outbound at scale. It's also one of the easiest digital marketing tactics to strategically track and measure – especially for ROI.
Let Us Guide You To Paid Search & Paid Social Success
Augurian is committed to ending wasted advertising budgets. Our job in paid media is to have a persuasive digital conversation with your prospects. That means delivering the right message to those prospects at precisely the right points throughout the customer journey.
Simply put, we drive the right conversations through the right channels, at scale, and justify the results to stakeholders.
Interested in knowing more about how Augurian can help drive more qualified traffic to increase your website profitability? Let's talk about Augurian's PPC agency services to find out how paid search and social marketing can drive growth for your business.
We've been working with Augurian for more than a year. Their digital marketing expertise is head and shoulders above others we've worked with in the past. The results we've seen have completely exceeded our expectations, they consistently align their work with our overall strategic objectives and collaboration with our internal team has been great.

Nick Kozel

Vice President of Marketing, Edina Realty
Paid Ads That Drive More Qualified, Profitable Leads
PPC, or pay-per-click, is an advertising model used to build brand awareness, promote brand offerings, and quickly draw in specific audience segments. In this model, an advertiser pays each time a user clicks one of their online ads. Because advertisers only pay when a user actually clicks on their ad, PPC is considered one of the best and most cost-effective online marketing strategies.
Augurian can produce strategic paid media marketing campaigns tailored to your objectives for…
Paid Search (Google Ads, Bing, Yahoo, etc.)
Paid Social (Facebook, LinkedIn, Twitter, etc.)
Display Advertising
Programmatic Advertising
How Our Paid Media Services Can Grow Your Business…
PPC Blended With Robust Customer Journey Analytics Can Boost MQLs
PPC lead generation demands a lot more than paying money every time a user clicks your ad. We harness the power of analytics and customers' journeys to optimize your ad budget to the max. And not all paid media companies offer results like ours.
For example, Augurian drove a 123% increase in marketing qualified leads for a SaaS client thanks to the paid search ad campaign we strategized and executed on.
Innovative Tools and Tactics for More Conversions at Lower Costs
As an accomplished PPC marketing agency, we are dedicated to always innovating and optimizing our practices. In addition to our digital operating system for marketing, we develop paid media tools that help us continually maximize your budget.
Thanks to our innovative and unrelenting tactics, one B2B client saw a 96% increase in conversions year-over-year and a 14% decrease in cost-per-conversion year-over-year from their paid search ads.
Quick, Actionable Insights to Strategically Skyrocket Your Ad Spend ROI
Our marketing firm cuts paid media waste and eliminates the guesswork whenever possible. We identify which campaigns, publishers, and channels are performing, and which aren't — and we share those insights with you with total transparency.
Our experts analyze the data we're tracking and base our recommended next steps on those quality, actionable insights. With these strategies, one of our B2C clients saw a 218% increase in return-on-ad spending year-over-year from their paid search ads.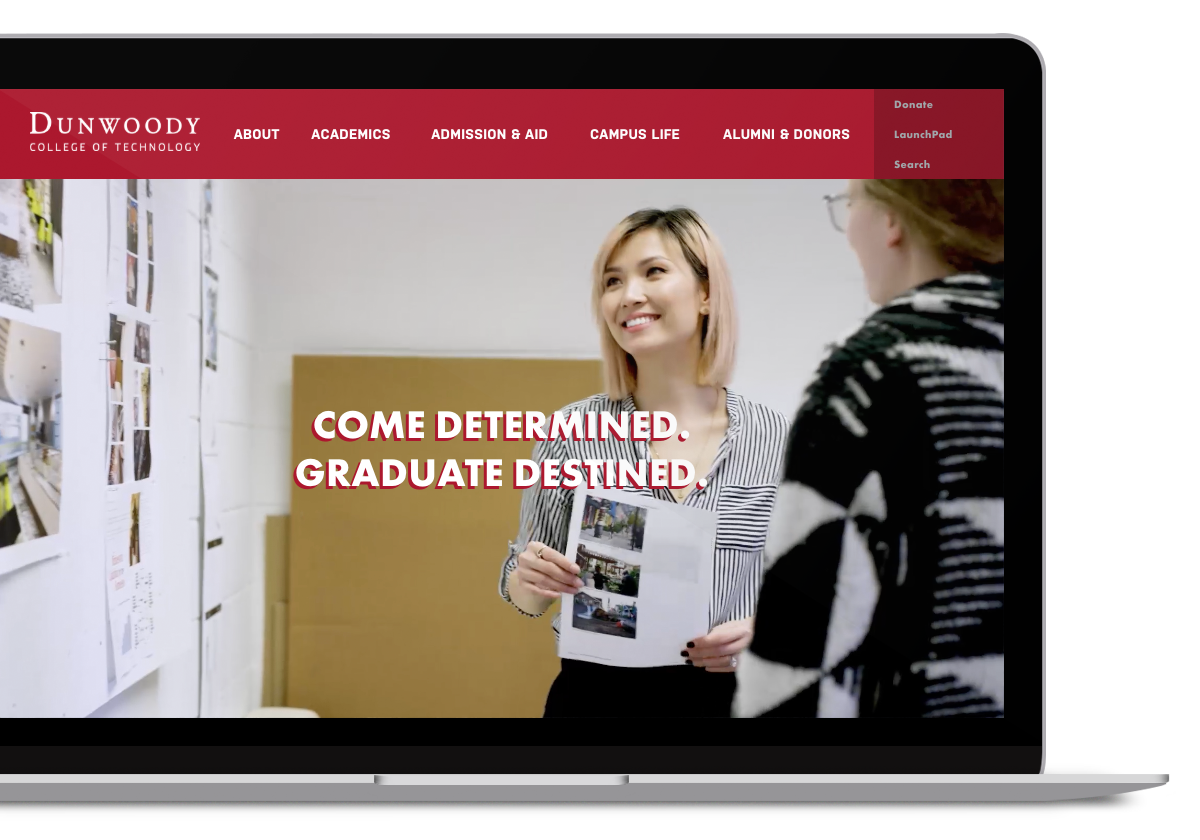 Client Success Snapshot
Dunwoody College
Dunwoody College of Technology, the only not-for-profit technical college in the Upper Midwest, was challenged to find less costly, more targeted ways to draw students from the local urban area and surrounding rural areas in their state. They needed more inquiries about their degrees and programs to increase potential new student attendance at open houses, which provided the best way to turn potential student interest into enrollments.  Dunwoody College needed better ways to find their audience efficiently and lower their cost per RSVP.
73%
Decrease in
Cost Per Inquiry
29%
Increase in
Paid Media Traffic
96%
CPI in the top
96% of the Industry
View Case Study
Expert PPC Services: Our Paid Media Process
Paid media services, commonly known as online advertising or pay-per-click (PPC) services, helps you get your message in front of the appropriate audience at just the right time: while they're online. When paid media is well-managed, it's a reliable and profitable channel.
Our PPC marketing company is laser-focused on driving results in five core areas of paid media:
PPC (Pay-Per-Click) Ads: Ads that you pay for only when they are clicked.
Paid Search Management: We manage our clients' paid search campaigns.
Paid Social Management: We manage our clients' paid social campaigns.
Display Advertising: Advertising a product or service using images, videos, or other visuals.
Programmatic Advertising: Using software to purchase digital ads.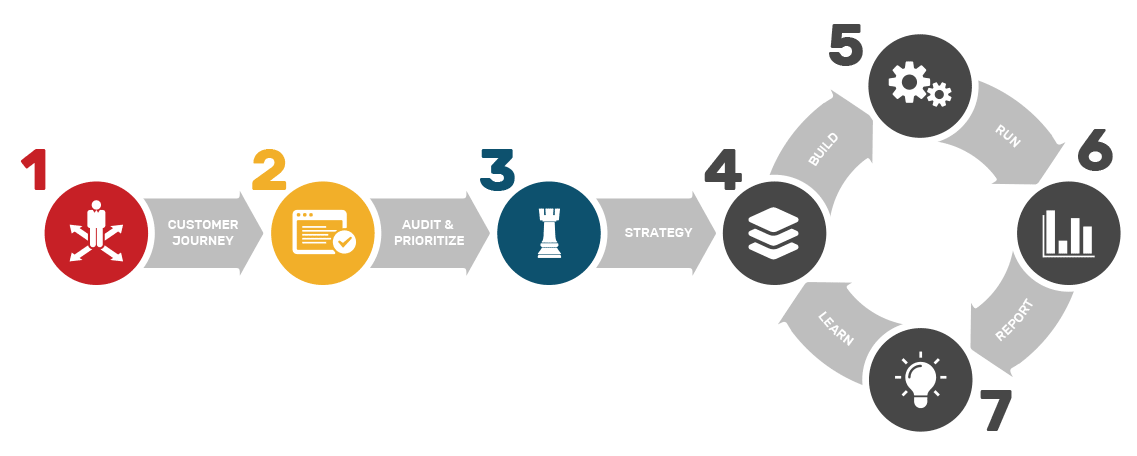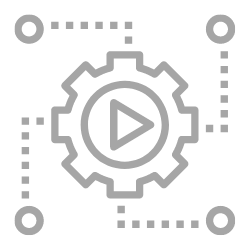 Paid Search Services
Paid search is the centerpiece of our PPC strategy because it levels the playing field. It gives small businesses and start-ups a real fighting chance to compete for search engine traffic, no matter the size of the organization you're up against. Search ads are proven to increase brand awareness, which can make all the difference if your page doesn't already rank that high on the SERP.
As a paid search agency, we know that when properly executed, paid search campaigns get your message in front of the right audience – right away. Aiming for a high ROI? We have the tools and intellect to rise to the challenge with powerful paid ad services and paid search optimization.
We are an experienced Google Ads Agency – a Google Premier Partner, in fact – so we know the value of gathering and tracking actionable data to support paid search ad campaigns. A strong and effective paid search campaign is always based on clean data. By making strategic, data-based decisions, we help you outrank your competitors.
Augurians's paid search deliverables are designed to drive…
…a wider reach and new audiences.
…more measurable and trackable data.
…quick results and robust insights.
Pay Per Click Audits
A PPC audit is essential to effective marketing. When we do an audit, we dive into your account to find areas where performance can be improved. We analyze those areas and create actionable plans to boost performance.
Ready to talk about paid search? Talk about your strategy with our paid media analysts today. 
Paid Social Media Marketing Services
Social media is one of the largest markets in the world. It's a huge mistake not to engage in paid social media advertising. Campaigns have to be strategic since the market can be diverse and any user can curate their own content. Social media now encompasses so many different platforms, it can be difficult to discern which are effective marketing platforms for your business. As a business, we've grown up with social media. We can work with you to develop a perfect, winning paid social media marketing strategy.
Our paid social strategy revolves around helping you promote your products and services on social media, but only to those who are likely to convert. This guarantees maximum sales and ROI on your ad dollars.
When you partner with Augurian for paid social advertising you'll see:
Engaging ad campaigns that generate leads
Excellent budget management
Campaigns that are monitored and regularly tested
Analytics reports that are used to optimize campaign strategy
Conversion-Rate-Optimization (CRO)
Increased CRO means lower acquisition costs because you're able to get more value from your current users. When you successfully optimize your conversion rate, you increase revenue per visitor, gain more customers, and grow your business overall. Strategic CRO campaigns are among the most powerful advanced tools and PPC tactics available. Find out if it's right for you. 
Ready for an A+ paid social plan? Talk about your strategy with our paid media analysts today.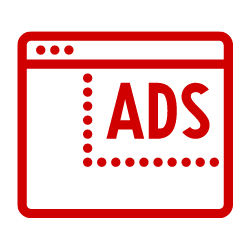 Display Advertising Services
'Display advertising' is an umbrella term that includes every visual ad on a website. It can be broken into three areas:
Site placement advertising: Ads placed where research says they'll work best.
Contextual advertising: Ads placed where networks think they're most relevant.
Remarketing: Ads placed in front of users who have looked at your website but never made a purchase.
When display ads are done right, you can generate new traffic and raise brand awareness amongst your target demographic. Display ads provide the opportunity to present your ads in a variety of formats and reach millions of users around the world. However, targeting display ad campaigns can be tough.
As a paid media and digital marketing company, our team at Augurian knows that display ads are essential. With Augurian in charge of your display ads, you'll see…
Your display ads reach the right audience
Increased brand awareness
Increased clicks, conversions, and sales from untapped audiences
Remarketing ADS
Remarketing is an especially powerful type of display ad. These ads appear to users who have been on your website but left before completing a conversion goal. Ensuring those users continue to see your ads increases the likelihood that they will go back to your site and make a purchase.
Ready to get started with display ads? Talk about your strategy with our paid media analysts today.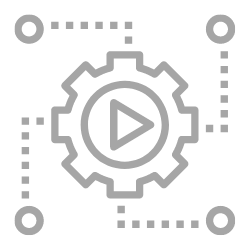 Programmatic Advertising Services
Programmatic advertising is essentially using machines to buy ads, making buying ads more efficient and less expensive. Targeting is the only strategy you have to get your ad in front of the right audience. If the wrong audience is targeted, your costs will skyrocket while your ROI diminishes. With engaging creative, a killer call-to-action, and the right targeting, programmatic ad campaigns can be successful and deliver a brag-worthy ROI.
Augurian is an accomplished programmatic ad agency. Like other programmatic advertising companies, we know that this tactic works best for top-of-funnel brand awareness and that it's just one piece of our strategic puzzle, not the whole picture. Our programmatic wizards work with you to set goals, target your audience, create and implement engaging ads, and track the data closely.
With our programmatic ad services, you'll see:
Greater transparency and control
Real-time reporting and data measurement
Increased efficiency
Better targeting
Ready to get started with display ads? Talk about your strategy with our paid media analysts today. 
---
Our Frameworks for Paid Media Success
Our goal with Paid Media is to show revenue generated from our PPC services. We understand that there are many interactions that play a role in a final sale, and we work hard to get your message in front of your audience throughout their customer journey.
Omni-Channel marketing Approach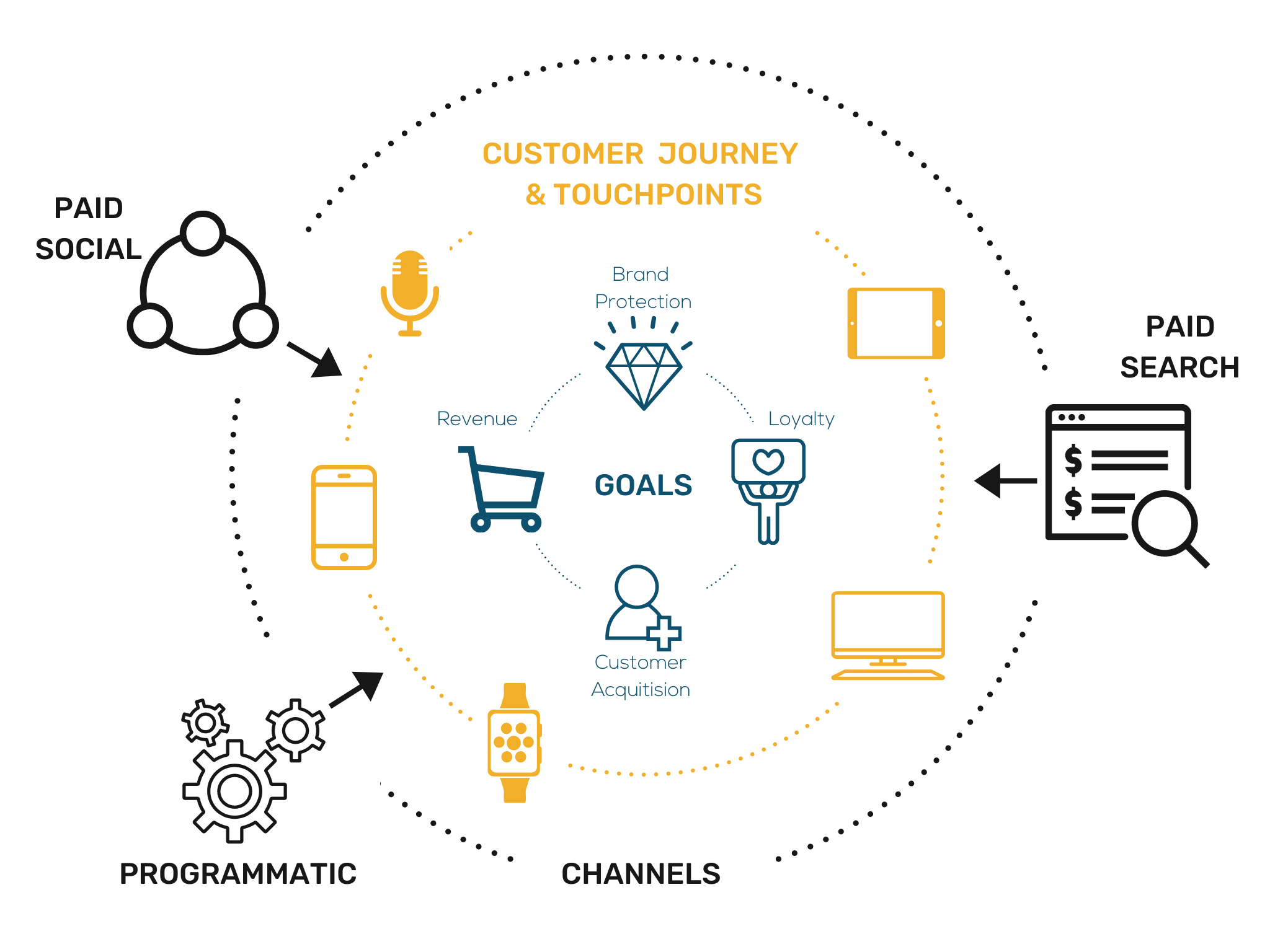 Our layered omni-channel marketing approach leverages various publishers and ad types, creating a seamless customer experience across all channels we're managing. That means delivering the right message to those prospects at precisely the right touchpoints throughout their customer journey.
With our omni-channel approach to paid media, you'll be able to understand:
How your money is being spent
What the ROI is of that investment
What campaigns, publishers, and channels are performing & which aren't
What insights can be gathered from the data and results we're seeing
What the recommended next steps are based on that information
Bi-Modal Marketing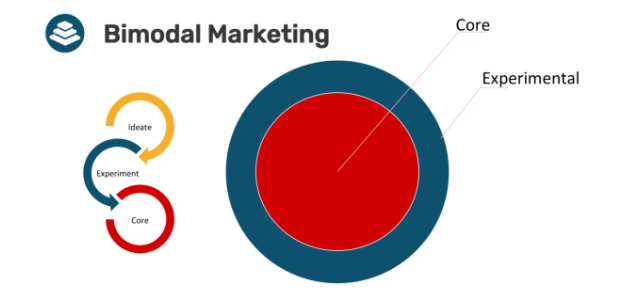 We can't stand complacency – and work hard to avoid diminishing returns on your investment. Our bimodal methodology keeps us accountable to continuously move the needle.
In our experience, anywhere from 10-30% of your total ad spend budget should be directed toward the exploration of new campaigns and tactics. This bimodal approach allows us to continuously experiment to improve.
Once an "experimental" strategy or tactic has been fully vetted it becomes part of the "core", delivering results for you over and over again.
Within three months, we got a record amount of marketing qualified leads from PPC. Augurian has been instrumental in helping us significantly lower our cost per conversion. With the savings, we've been able to invest our advertising dollars in new platforms and continue to see impressive growth month over month.

Jordan Meyers

Conversion Marketing Specialist / Vanco
Ready to Have Confidence in Your PPC Management?
We are a trusted pay per click advertising company.
Truly effective paid media is a strategic undertaking that requires continuous care and attention.
We've been sharpening our paid media skills and strategies for years and we have the track record to prove that we know our PPC stuff.
If you work with our paid media team, you'll always have clarity and confidence in your digital marketing investments.
Let's Talk About Your Paid Media Strategy
Contact us today to learn more about our PPC services and create a partnership.