Manufacturing Marketing Agency
Manufacturing and high-tech companies often struggle to keep up with the ever-changing digital landscape.
With supply chain shortages and increasing global competition, it's more important than ever for manufacturing and high-tech companies to stay ahead of the curve. You're already behind your competition if you're not using digital marketing services.
Augurian is a data-driven marketing agency that can help you plan, design, execute, and measure integrated marketing strategies. We'll help you increase your market share through our digital marketing services, which include SEO, PPC, Content Marketing, and Analytics.
Augurian has really helped build the framework needed to allow our existing and new content to support our marketing efforts in a very meaningful way.

Jeff Eltringham

Director of Interactive Marketing, Digi
Proven Success
In Digital Marketing for Manufacturers
and High Tech Sectors
Augurian has deep roots in identifying and converting the right prospects in the highly specialized, highly technical manufacturing, industrial and high-tech sectors. We understand the nuanced customer journeys and oftentimes long, complex sales cycles within these industries. Whether you need to reach engineers, designers, buyers, or the c-suite, we know who they are, their unique challenges, and the best ways to get your message and solutions in front of them at the right time to convert them into high-value, quality leads for your sales teams.
Our clients in highly specialized manufacturing and high-tech sectors trust Augurian as a partner to find the right prospects at scale and keep their sales pipeline healthy and growing.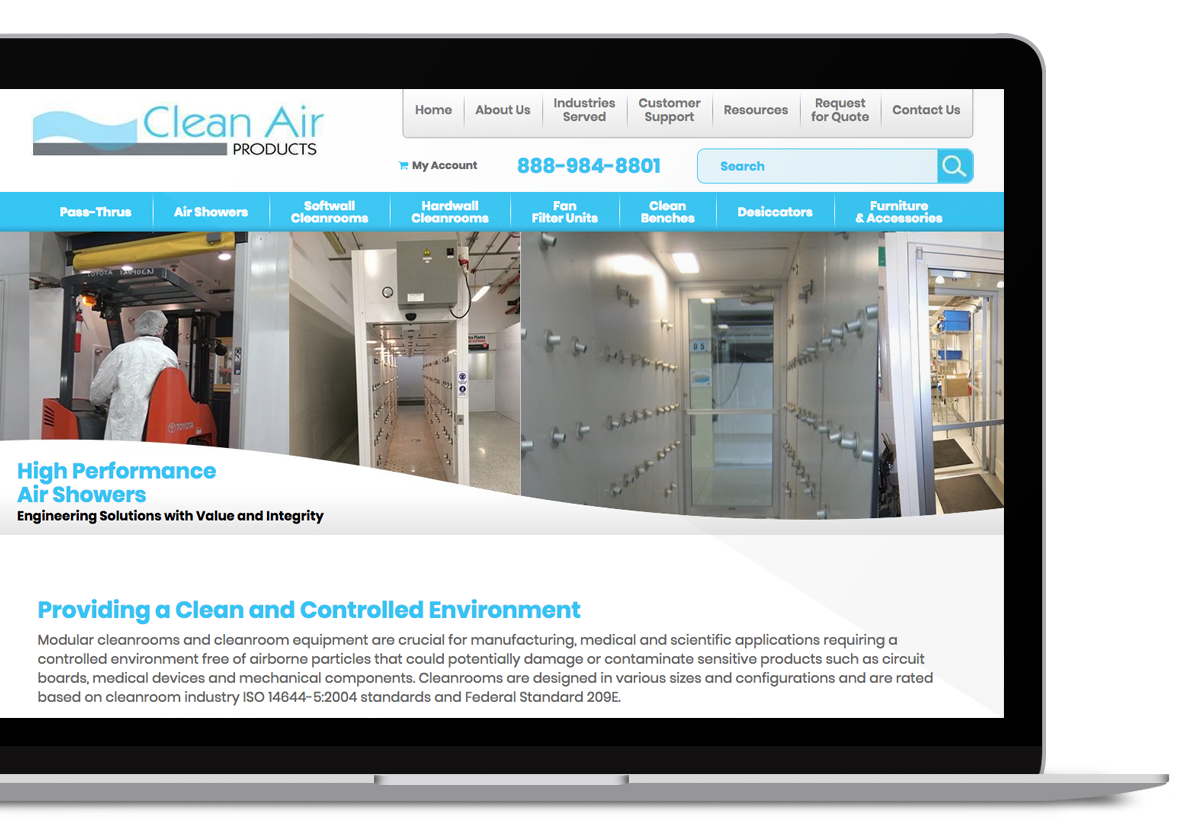 Client Success Snapshot
Clean Air Products
Clean Air Products, a nationwide leader in designing and manufacturing high-quality cleanrooms and cleanroom products, poured a lot of work into redesigning a new website, and the launch date was right around the corner.  In an industry where attention to detail of the final product is paramount, having confidence that the new site had an improved Share of Voice in the marketplace was no exception.  They enlisted Augurian to ensure that not only their website's existing share of voice was protected and maintained, but also that website traffic and revenue from organic search would increase after the launch of their new website.
49%
Search Traffic
Increase
187%
Conversion
Rates Grew
$21
ROI Per
Dollar Spent
View Case Study
FAQS ABOUT DIGITAL MARKETING FOR INDUSTRIAL AND MANUFACTURING COMPANIES
Why is digital marketing important for my manufacturing business?
A successful digital marketing strategy is crucial to a successful manufacturing business. Just as manufacturing advancements have revolutionized the way people live and work, the digital world is changing how people buy and source products. And the size of your digital market share is an important predictor of future business success. Partnering with a digital marketing agency allows your company to focus on manufacturing while we manage your digital marketing. Through tactics like PPC, SEM, and SEO strategies, we get your message and solutions in front of your customers at the right time in their journey. These strategies convert your potential customers into high-quality leads for your sales teams.
What do manufacturing marketing agencies do?
Manufacturing marketing agencies, like Augurian, provide strategic direction and support for your manufacturing business. Digital marketing agencies drive leads through SEM, SEO, PPC, Analytics, and Content strategies, catered to your manufacturing company's needs.
Why should I hire Augurian as my manufacturing marketing agency?
Our experts at Augurian understand the nuanced customer journeys and complex sales cycles within the manufacturing and high-tech industries. We are experienced in handling the unique marketing challenges these industries face and know how to capture your customers' attention to drive more high-value leads.
How does Augurian work in conjunction with manufacturing companies?
At Augurian, we will work with your team to build a custom campaign based on your existing marketing efforts. Throughout our partnership with your manufacturing company, our team will help improve your understanding of the digital marketing space so that we can drive ROI together.
How can I get started working with a manufacturing marketing agency?
If you're ready to grow your manufacturing business and meet your KPIs confidently, contact our team at Augurian to schedule a free consultation. We're waiting to answer your questions.