Higher Education Marketing Agency
Since our founding, Augurian has focused on digital marketing for higher education. We are proud of our deep roots and proven track record of success in growing enrollment and engagement for our higher ed clients. And that's not just lip service. Many of our Augurs and senior leadership team members have come from other world-class organizations where they've led winning higher-ed digital marketing programs at both the local and national levels.
We are a unique educational institution and Augurian responds to that. We offer very specialized programs that are looking for the correct markets. Augurian brings to our campaign both strategic expertise and genuine curiosity. Our campaign is producing results.

William Morris

Director of Marketing Analytics, Dunwoody College of Technology
Helping Leaders
in Higher Education
Have Confidence
In Their Digital Marketing Investments
Augurian helps navigate our higher ed clients in helping them set the right KPIs and goals in the digital channel that align with and support their overarching business and enrollment objectives. Whether large university systems, smaller local colleges, or highly specialized institutions, Augurian partners with our clients in higher ed to grow enrollment and share of voice at each key stage along the student journey through truly data-driven content and messaging, proven paid media management, and transparent, actionable insights and reporting.
Through continuous analysis of data and based on a foundation of years of proven experience in higher ed digital marketing, we understand how to address the unique needs, questions, and concerns of your prospective students, as well as those influencing their decision, across the entire life-cycle of the student journey to engage, build trust and convert.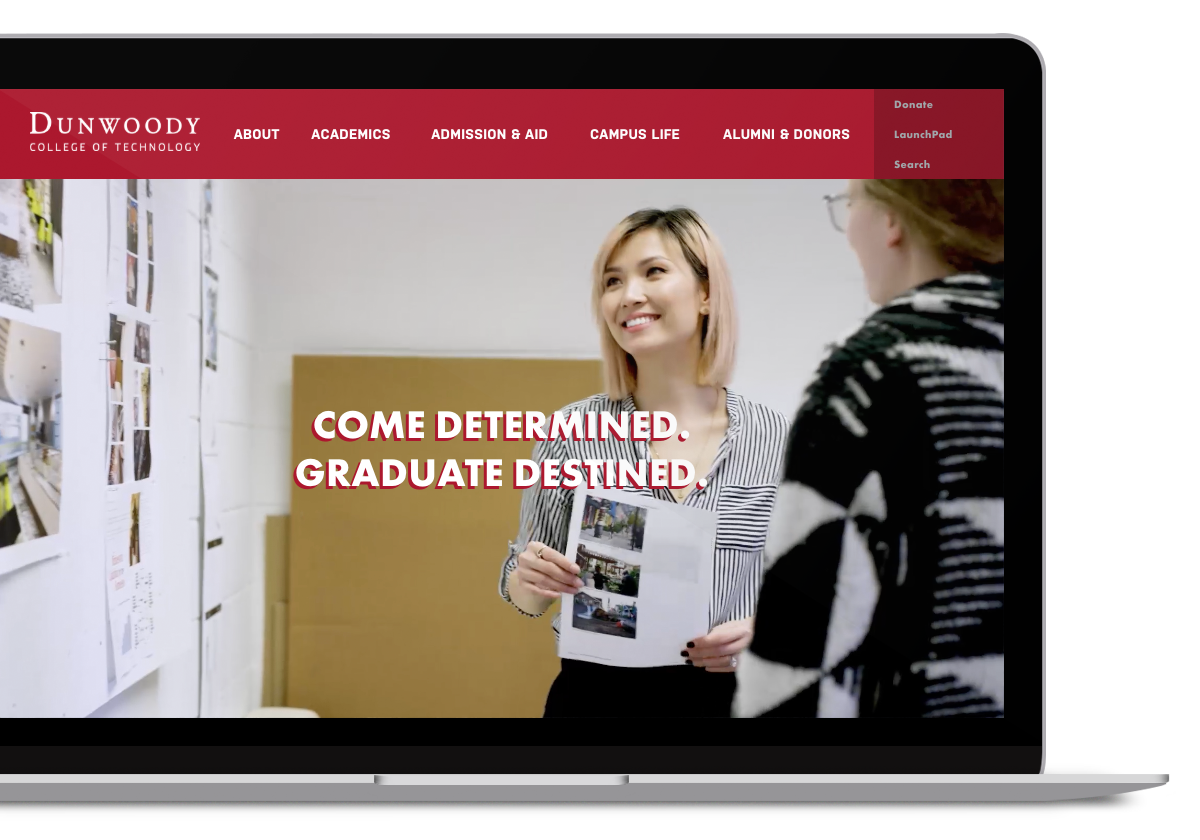 Client Success Snapshot
Dunwoody College
Dunwoody College of Technology, the only not-for-profit technical college in the Upper Midwest, was challenged to find less costly, more targeted ways to draw students from the local urban area and surrounding rural areas in their state. They needed more inquiries about their degrees and programs to increase potential new student attendance at open houses, which provided the best way to turn potential student interest into enrollments.  Dunwoody College needed better ways to find their audience efficiently and lower their cost per RSVP.
73%
Decrease in
Cost Per Inquiry
29%
Increase in
Paid Media Traffic
96%
CPI in the top
96% of the Industry
View Case Study
FAQS ABOUT DIGITAL MARKETING FOR HIGHER EDUCATION
What do higher education marketing agencies do?
Higher education marketing agencies provide various digital marketing services, from search engine optimization (SEO) to paid media strategy to content development. All of these efforts combine to create a personalized enrollment marketing strategy for your higher ed institution. A higher education marketing agency will also measure your enrollment strategy against your enrollment targets to ensure your marketing strategies deliver a successful return on your marketing investment.
When should I hire a higher education digital marketing agency?
There are many things to consider when deciding whether or not to partner with a higher education marketing agency. Some of these considerations include the size of your institution, your marketing budget, and your overall enrollment marketing strategy. Before working with a higher ed marketing team, ensure you have a good sense of your institution's branding and marketing goals. An agency can help you develop a cohesive marketing strategy and can also assist with tactics such as content creation, digital marketing, and social media management.
The right time to partner with an experienced higher education marketing agency is when you're ready to take your recruitment and enrollment efforts to the next level.
What is the difference between a higher education marketing agency and a traditional advertising agency?
A higher ed marketing agency typically creates and executes marketing campaigns for colleges and universities. They understand the unique needs of the education market and can help institutions attract new students, increase enrollment, and raise brand awareness.
Traditional ad agencies may have experience with marketing campaigns, but they may not have the same expertise or knowledge in the higher ed market. They may be more familiar with working with businesses and brands in other industries. So if you're seeking specialized help targeting college students and parents, a higher ed marketing agency is your best bet.
How will Augurian help grow my higher education organization?
Our marketing agency can help grow your higher education organization in many ways, but our primary focus will be to develop and execute a digital marketing strategy.
Digital marketing is one of the most efficient and effective ways to reach potential students, and a well-executed digital marketing campaign can help you reach more people more efficiently. An experienced marketing agency will have the expertise and experience to create a strategic plan that targets the right audience with the right messaging using the right channels.
A good digital marketing strategy should include efforts such as search engine optimization (SEO), paid search advertising (PPC), email marketing, social media Marketing (SMM), and web design and development. By incorporating all of these channels into your marketing strategy, you'll be better able to reach your target audience and achieve your enrollment goals.
How can I get started working with a higher education marketing company?
Contact us today for a free consultation if you're interested in working with a higher education marketing company. We offer a variety of digital marketing services, from search engine optimization (SEO), paid search advertising (PPC), email marketing, social media Marketing (SMM), and web design and development.
We work with colleges and universities of all sizes, so we likely have a solution no matter what your institution's budget or needs may be.