Strategic SEO
Website Migration Services
You've been tasked with creating an SEO migration plan. Whether you're planning to lead a website migration, redesign, or re-platforming, you have a few worries, including: "could this hurt my traffic or sales?"
75% of All Websites Lose Traffic After a Website Migration
When it's done right, the site migration process can set-up and streamline your site for success far beyond organic search. When done wrong, it can cost your business a bounty of traffic and revenue.
Augurian delivers strategic SEO migration services to guide you through this tricky process with clarity and confidence, helping you mitigate the risks and roadblocks. 
We carefully and methodically develop actionable risk mitigation plans to protect against revenue and traffic loss.
Our team will partner with you to develop tailored website migration plans for all types of migrations, from website redesigns to domain changes and more. We're in the trenches with you before, during, and after your new website launch.
Augurian has really helped build the framework needed to allow our existing and new content to support our marketing efforts in a very meaningful way.

Jeff Eltringham

Director of Interactive Marketing, Digi International
What Are The Risks Of A Site Migration?
'Website migration' refers to any event that changes a website so much that it affects its search engine visibility. There can be many reasons to migrate a website, like during a rebrand or simply to improve the user experience with a design refresh. But this transition can come with risks like content loss, broken links, website downtime, and ultimately declining conversions and rankings.
Here's a list of the types of site migrations Augurian can help with, plus key risks we can help with.
10 Types of Site Migrations and Key Risks We Help You Navigate
Protocol migration is changing your website protocol from HTTP to HTTPS. The risk involved in this migration is that it requires a sitewide URL change.
Subdomain migration is when a business decides to move one or more domains into subdomains, or when mobile and desktop site URLs are made uniform. The risk is that the domain change forces search engines to reevaluate your site
Domain migration is considered the riskiest migration because you are changing your entire domain (www.yoursite.com to www.ohlookatmynewsite.com). This changes every URL on your site, which often comes with design, content, and structure changes.
Top-level domain migration happens if a business needs to launch an international website, moving from a ccTLD (country code top-level domain) to a gTLD (generic top-level domain) or the other way around.
Content management system migration is migrating from one platform to another, like moving from WordPress to Shopify. There is always a risk when a URL rewrite is involved, which is likely when moving from one system to another.
A visual redesign makes changes to your website that range from small to large. The risk is relatively low because there are no structural or URL changes.
Structural migration makes changes to the website structure like updating internal linking, improving user journey, or easing site navigation. The type of migration can negatively impact user experience, content, and internal links if done poorly.
Hybrid migrations are combined migrations and aren't recommended without the assistance of a website migration company. The more migrations you perform at the same time, the harder it is for search engines to find, crawl, and rank your new site.
Forum migrations are necessary when businesses outgrow their original host and require greater bandwidth. The main risk is data loss.
All-of-The-Above Migrations: The riskiest migration involves several or all of these changes. These comprehensive migrations can pay off big time – only if they're done right.
Are you embarking on one of these migrations? Let's talk about your site migration plan today.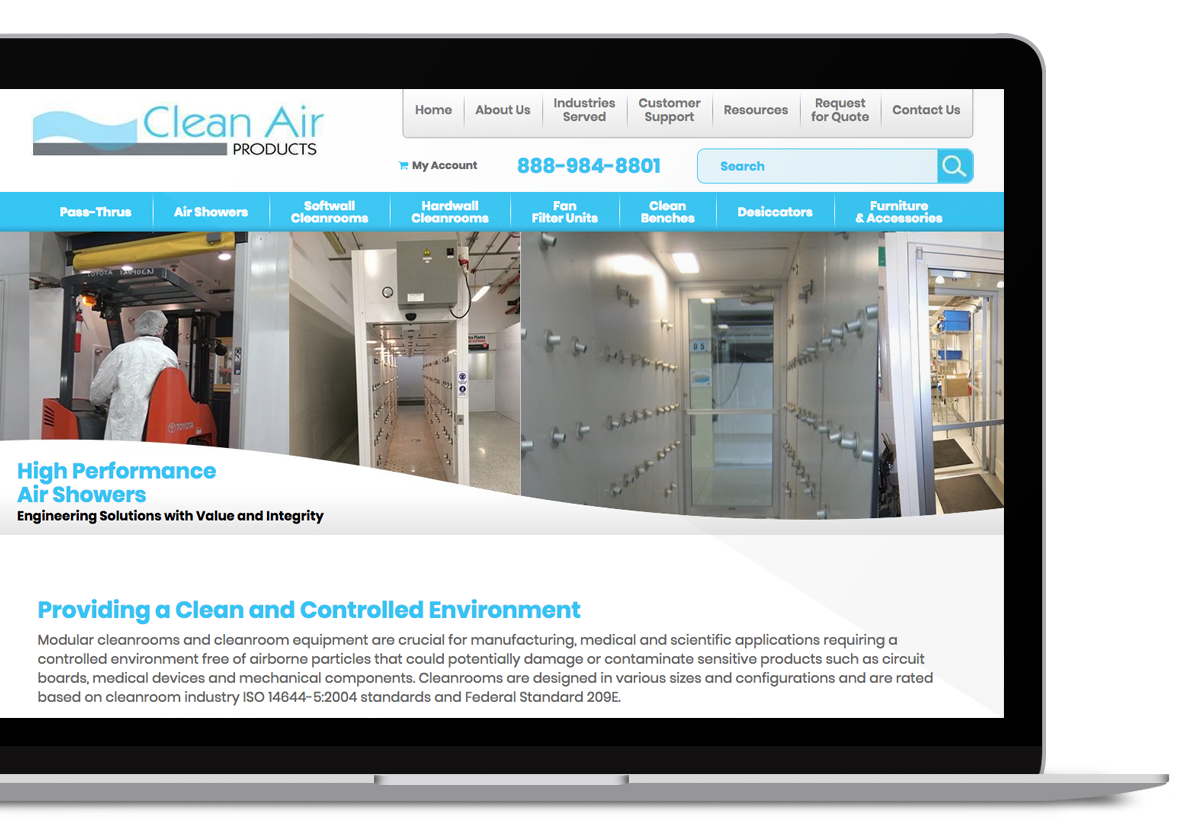 Client Success Snapshot
Clean Air Products
Clean Air Products, a nationwide leader in designing and manufacturing high-quality cleanrooms and cleanroom products, poured a lot of work into redesigning a new website, and the launch date was right around the corner.  In an industry where attention to detail of the final product is paramount, having confidence that the new site had an improved Share of Voice in the marketplace was no exception.  They enlisted Augurian to ensure that not only their website's existing share of voice was protected and maintained, but also that website traffic and revenue from organic search would increase after the launch of their new website.
49%
Search Traffic
Increase
187%
Conversion
Rates Grew
$21
ROI Per
Dollar Spent
View Case Study
Our Strategic Website Migration Services
Transitioning to a new website can be nerve-wracking, to say the least. The last thing you need during a website migration or redesign is more uncertainty. Augurian has been supporting site migrations in-house and as an agency for over a decade. As part of our website migration and SEO services, we can provide:
An SEO Migration Plan: A detailed plan tailored to your needs, created to guide you through the site migration process with ease.
Content Migration Services: Our proven processes are built specifically to support the common challenge of moving information stored on a CMS, DAM, DMS, or HTML system to a new system.
SEO Domain Migrations: The process of moving data from one domain to another while maintaining security and quality of data.
As part of modern Augury, we've created a highly refined framework that helps keep things clear and simple from start to finish. Learn more about migration with our guide to creating a bulletproof site SEO and migration strategy and get an idea of how we split the process into easy steps.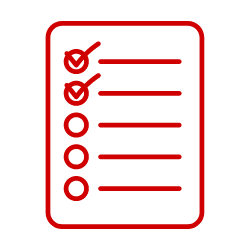 SEO Migration Plan
Our web migration services always begin with a plan. We will strategize with you to help you make sound decisions as they relate to the treatment of new websites and sub-domains. Without a strategic plan, transitioning to a new website can become chaos. Augurian creates a highly refined process to lay the groundwork and stays agile throughout the journey, tackling any obstacles.
Our comprehensive SEO migration planning strategy covers all seven stages of the process:
Planning: Alignment of objectives, setting KPIs based on those objectives, establishing expectations and risks, and gathering variables
Research: Crawling existing sites, adding analytics and SEO data to crawled pages, recording mobile and desktop speeds, analyzing keyword research, identifying site structure, measuring site rankings, identifying and recording all site properties and errors, gathering valuable backlinks that need updates.
Design and Development: Reviewing wireframes for best SEO practices, reviewing CMS for best SEO practices, reviewing new site architecture, and verifying Google Analytics.
301 Redirect Strategy: Creating a page-mapping guide.
Staging Site Testing: Auditing site speed performance, reviewing robots.txt, reviewing XML and HTML sitemaps, auditing redirects, creating site rankings report, setting plan for contacting sites with valuable backlinks.
Launch: Setting up Google Search Console accounts, uploading XML sitemaps to Google Search Console, reviewing robots.txt.
Measuring Impact: Creating Google Data Studio report on KPIs.
Explore Augurian's expert SEO services to learn how we can drive long-term growth for your business long after your migration is successfully completed.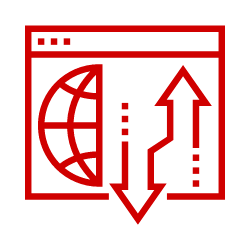 Website Domain Migrations
Website domain migrations are common for many reasons, from security and maintenance updates to rebranding and acquisitions mergers. Domain migrations are one of the highest risk migrations to perform because every URL on your site will be altered. This usually also is a good time to employ changes in design, content, and structure, too. Getting the process right from the very start is critical.
There are six key steps in the domain migration process:
Assessing your needs and expectations, then creating a detailed plan.
Setting the 301 redirect to establish that the domain has permanently moved to a new home and avoid the dreaded '404 page not found'.
Crawling the site and analyzing the results to take care of your links.
Building your perfect sitemap.
Closely monitoring the transition, keeping track of errors, and analytics.
Letting Google know you've moved.
Domain migration SEO services should be carefully crafted to meet the unique needs of each client. The stakes are high, after all. At Augurian, we know that there is no one size fits all answer to domain migration, so we partner with you to develop a tailored plan built from our proven tactics.
Want to know more? Let's talk about your site migration services today.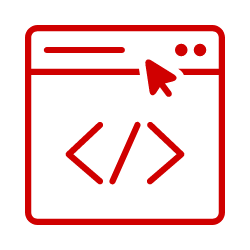 Content Migration Services
Migrating content is a fragile process that requires careful attention. Whether you have hundreds or millions of documents with data to convert, properly executing content migration can positively impact your business for years to come. Poorly managed migrations can result in corrupt and missing data which can create long-lasting problems your site might not recover from.
Augurian has experts dedicated to strategically migrating website SEO content so that search engines and visitors alike experience a seamless transition — and your business keeps growing.
Content migrations require six core steps:
Crawling all the content on your site and analyzing site architecture.
Measuring and recording keywords, rankings, site-speed, and errors.
Gathering and preserving backlink equity.
Providing SEO feedback on CMS, wireframe, and analytics set-up.
Generating a 301 redirect page-mapping plan.
Testing content on the staging site before launch and reporting.
We start by working with you to create a winning strategy. We perform an in-depth analysis to create a project roadmap, execute from that tailored plan, and conduct countless tests to ensure your new site is buttoned-up and ready on time.
Our content migration services provide…
SEO risk mitigation and conversion optimization
Agile communication and collaboration
Confidence and clarity with our proven process
Ready to Have Confidence in Your Site Migration?
Website migrations can be daunting.
Successfully completing a site migration is a complex task that requires precise planning and the right allocation of resources.
An agency with a proven track record, like Augurian, can lead you through your website migration while maintaining valuable SEO traffic throughout the entire process. Reach out to our experts today if you're considering a website migration of any kind. We can answer your questions about our website migration services and start building your plan.
Let's Talk About Your Migration