Remarketing is an essential part of any digital marketing campaign. While remarketing continues to grow in popularity, with all the buzz, it can be difficult to sort out exactly what is remarketing in digital marketing. 
This guide covers everything business owners need to know about remarketing, also known as retargeting. Not only will you find the remarketing definition and an explanation of how retargeting works, but also concrete remarketing examples that you can start using in your own business right away.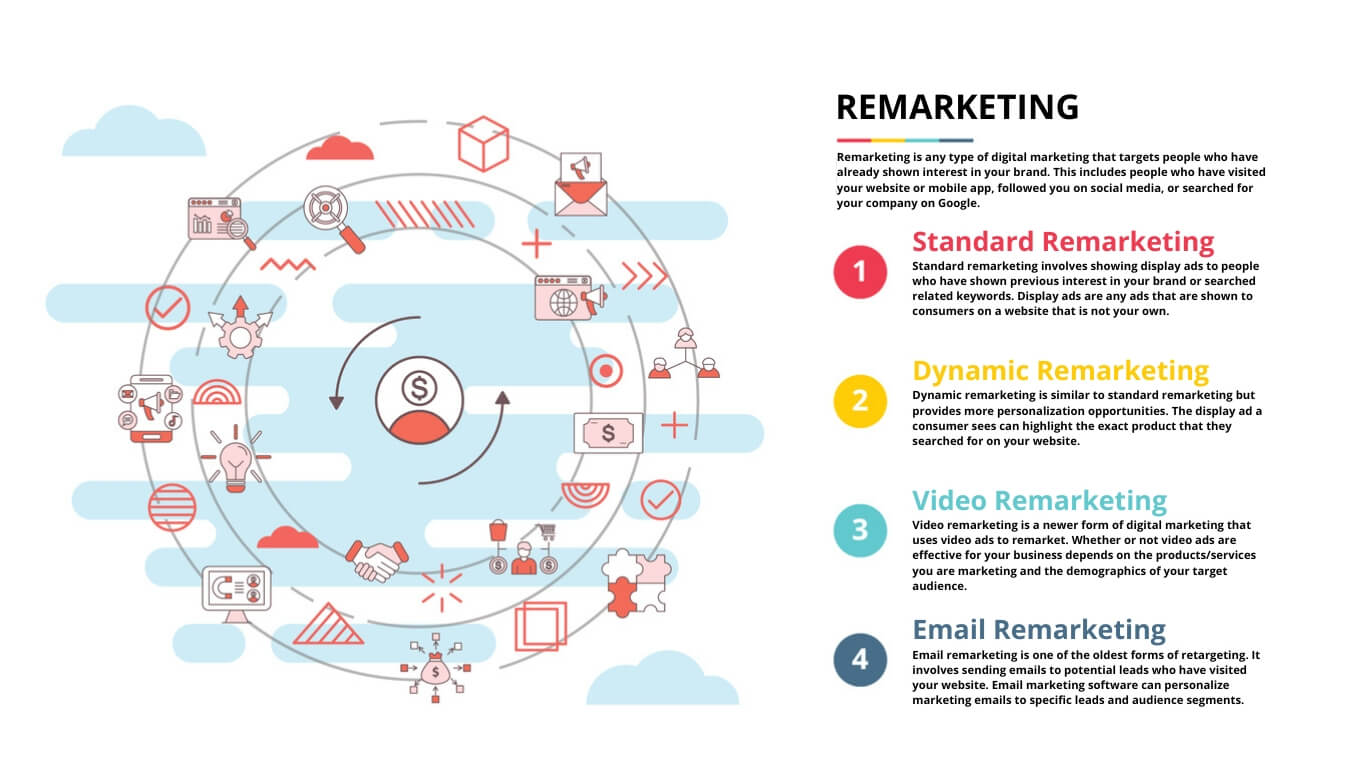 Interested in paid digital advertising? Discover how Augurian's paid search and social marketing services can drive growth for your business.
What is Remarketing?
Remarketing is any type of digital marketing that targets people who have already shown interest in your brand. This includes people who have visited your website or mobile app, followed you on social media, or searched for your company on Google. Marketing or upselling to previous customers are also forms of retargeting.
How does remarketing work? Remarketing helps improve conversion rates by focusing marketing campaigns on your target audience. Since most people do not make purchases the first time they visit a new website, it's important to try and bring them back. Digital retargeting can look like showing paid ads to people who have previously visited your website or emailing potential customers who left unbought items in their shopping cart on the site.
Types of Remarketing With Digital Remarketing Examples
Different types of remarketing can be used in various combinations to maximize the effectiveness of your paid digital marketing strategy. You may find that different methods work better for certain segments of target customers or certain products. Using the right metrics to track your digital marketing campaign can help you choose the right mix of strategies and adjust course as needed.
The four main types of digital remarketing are:
Standard Remarketing
Standard remarketing is a type of display remarketing. It involves showing display ads to people who have shown previous interest in your brand or searched related keywords. Display ads are any ads that are shown to consumers on a website that is not your own. Most commonly, these ads are shown on search engines like Google. Using paid ads for retargeting is also sometimes called retargeting.
The first step to standard retargeting with Google is creating lists of audience segments. This could be based on location, demographics, or consumer behaviors. For example, you could have a specific list of people who visited your website twice already. Then, you can set up ads to be displayed to that group only. For example, using standard retargeting, a small private college admissions office increased total leads by 62% in a month.
Dynamic Remarketing
Dynamic remarketing in digital marketing is similar to standard remarketing but provides more personalization opportunities. With dynamic retargeting, the display ad a consumer sees can highlight the exact product that they searched for on your website. Dynamic retargeting has many benefits including:
A higher click-through rate
A higher conversion rate
Lower marketing costs
Most people have seen dynamic remarketing ads examples on Google search or social media. The downside to this type of retargeting is that some people may feel that it is creepy or an invasion of privacy for companies to be tracking their behaviors in this way. To mitigate this issue, try presenting personalized ads in a way that feels helpful such as offering a discount to new or existing customers.
Video Remarketing
Video remarketing is a newer form of digital marketing. Whether or not video ads are effective for your business depends on the products/services you are marketing and the demographics of your target audience. Consider doing some market research to determine if video retargeting will be effective for you.
On YouTube, video ads can be played before or during related videos. Some third-party websites may display video ads as well. You can also target leads who have watched your own videos with additional video ads or display ads. For example, if you own an online pet store, you can show an ad for dog leashes to anyone who watched your instructional video on leash training.
Pros:
Many people are more likely to watch a video than read an email
Highlight what makes your business unique
Expand your reach
Cons:
Producing high-quality ads is costly and time-consuming
Requires film equipment and editing software
Some users can skip video ads
Email Remarketing
Email remarketing is one of the oldest forms of retargeting. It involves sending emails to potential leads who have visited your website. Email marketing software such as MailChimp can personalize marketing emails to specific leads and audience segments. Make sure to have a call-to-action button on your website landing page for leads to provide their email address. This can help you expand your reach and generate audience segments full of qualified leads.
There are many ways to leverage emails to increase sales:
Offer an exclusive discount or coupon code via email
Follow-up with new website visitors to increase brand awareness
Remind consumers that they have items left in their online shopping cart
Highlight similar products to those they searched for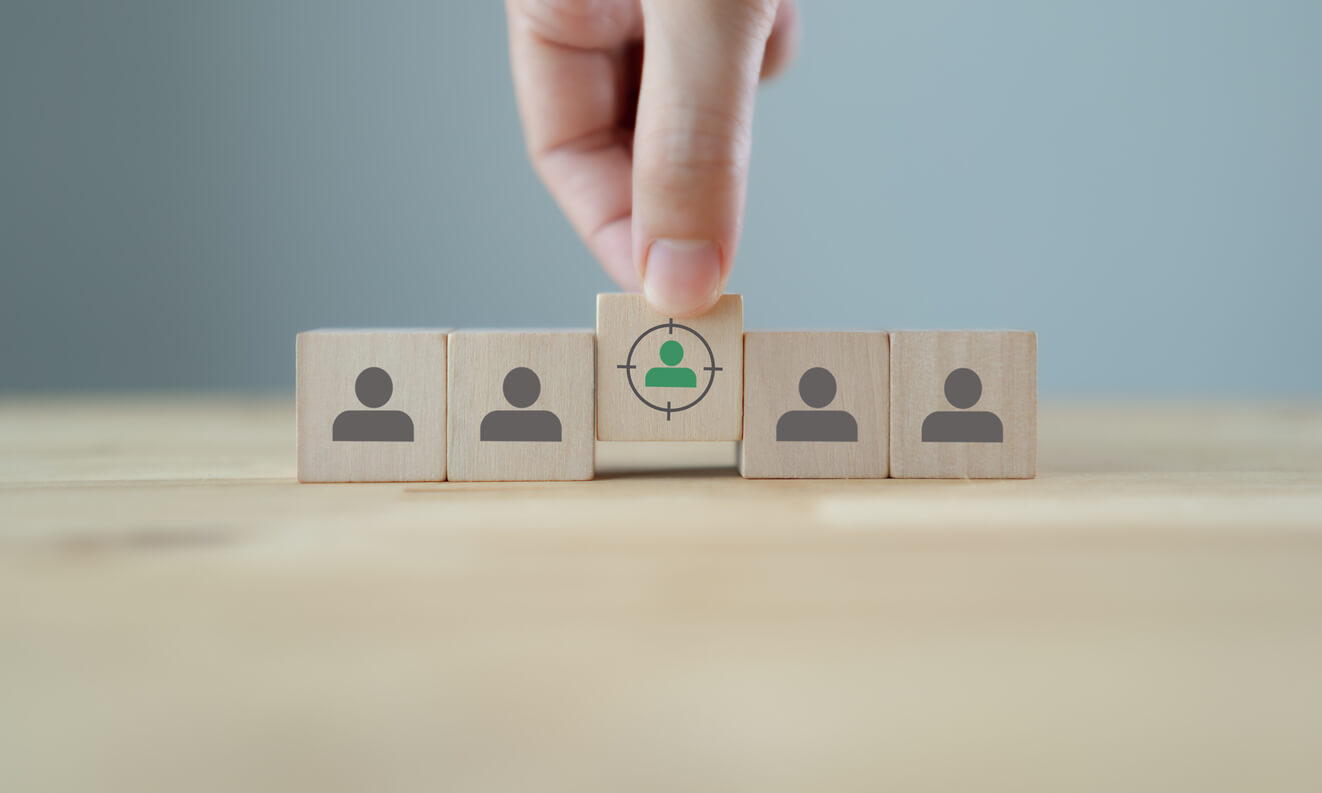 Learn how to level up your business with a multi-faceted, data-driven paid media campaign. 
Common Questions Around Digital Retargeting
Now that you know the answer to the question what is remarketing, let's review some common questions that business owners have about retargeting.
What Are The Benefits Of Remarketing?
Research from the Baymard Institute shows that 70% of online shopping carts are abandoned, and retargeting addresses this loss of potential revenue by re-engaging those leads. Retargeting also gets your paid ads, videos, and emails to the right consumers to grow your brand's reach and reputation. Both B2B and B2C companies can benefit from retargeting.
Benefits of retargeting:
Save money on marketing
More personalization options
Improve brand awareness
Increase conversion rates
More engagement with target audiences
When Should Remarketing Be Used?
Digital remarketing is relatively easy to add to your existing marketing campaign. It should be part of every company's digital marketing plan, no matter how small the business is. Furthermore, using retargeting strategies effectively can actually help grow your business.
Retargeting is also particularly beneficial for retail businesses that rely on online sales because consumers often visit a website several times before making a purchase. If your business is young, build your brand's reputation by including customer reviews and testimonials on your website. This can encourage leads to make a purchase after multiple visits.
Where Can Remarketing Take Place?
Remarketing can take place anywhere that marketing is possible. This includes both paid media marketing avenues and organic search engine marketing. Many businesses use the following digital retargeting options:
Email accounts
YouTube
Search engines like Google, Yahoo, and Bing
Social media like Facebook, Twitter, and LinkedIn
How Much Can Remarketing Cost?
The cost of remarketing depends on the scale of your ad campaigns and the types of remarketing you focus on. Setting up conversion tracking for Google ads can give you important data, such as cost-per-click (CPC) on your paid ads. If you want to lower your digital marketing costs, consider testing different ads to see which one has a lower CPC.
While some businesses opt to set up and manage their retargeting activities on their own, hiring a paid media marketing agency can actually save you money in the long run. What are remarketing services that agencies offer? They are usually full-service, helping you create, redesign, execute, and manage your marketing campaign.
Marketing agencies are experts in the field and can help maximize your return on investment (ROI) to reduce overall marketing costs. They can find places where ads can be more effective and where you might be letting potential revenue slip away.
Are you a B2B company? Visit Augurian's blog for more marketing trends that can save you money.
How Much Time Is Needed To Manage Retargeting Activities?
Timing is key for efficient retargeting. The goal is to engage potential leads and former customers as many times as needed to convert them without them getting annoyed by the frequency of your target ads. There are two important components of timing to consider:
Duration: For how many consecutive days will you target someone for remarketing? Generally, when you create a specific audience segment, leads stay on that list for 30 days. For large purchases, consumers may need longer than that to follow through on a sale. If you are trying to grow your business fast, consider a shorter duration with more frequency.
Frequency: How many times per day will a specific lead or audience segment see a targeted ad? We recommend no more than three ads per day, no matter what avenues you use. Any more than that could irritate consumers and negatively affect your business's reputation.
Augurian Can Remarket In Digital Marketing For You
The remarketing meaning is simple. It's any marketing done to consumers who have already shown interest in your brand, products, or services in some way, such as clicking on an ad on Facebook or Google. Retargeting re-engages potential and former customers to increase conversion rates and revenue. It should be a vital part of any company's digital marketing plan.
Remarketing can get complex when you start using pixel tags and audience segments. Augurian's paid media marketing experts can set up and manage your remarketing campaign to maximize conversion rates and increase your ROI. Learn more about what paid media marketing entails from our PPC and paid media blog.