As a marketer or business owner, you know that customer journey mapping is key to reaching customers at each stage of the buying process. But what happens when it comes to content? How can you ensure that you provide relevant and valuable content for each stage of the customer journey? 
Knowing your target audience is important for providing them with engaging content. It improves conversion rates and encourages customers to keep coming back. In this blog post, you will learn how to meet potential customers wherever they are, with the information they need.
What is a Customer Journey?
A customer journey represents a prospects path toward purchasing a good or service. Digital marketers use it as a tool to map out the questions and pain points your audience must address to move forward in their purchase journey. The first 'higher-funnel' stages focus on spurring awareness and interest in prospects. The last stages focus on creating brand love and loyalty.
The goal early on is to build brand trust and familiarity so that you're top of mind when they're ready to purchase. The middle stages pivot your content strategy toward informing and convincing prospects why your brand is the best option for them. The lowest funnel stages streamline their path to purchase, setting them up for success to become a long-term customer and brand advocate.
This process has the potential to benefit your marketing efforts in many ways:
Aligning the sales funnel with marketing goals
Setting specific, relevant KPIs for different pieces of content
Discovering gaps in brand visibility
Understanding and optimizing user experiences through the site
Informs smart internal linking structure that builds that EAT score
Customer journey mapping as a cross-channel marketing tool can enable businesses to develop powerful, laser-focused digital strategies. It offers a bird's eye view of your customers' purchase paths and how you can connect with them at every stage in their journey.
Difference Between Customer Journey and Customer Experience
One important fact to note about the customer journey is that it is not the same as the customer experience. Customer experience covers everything related to a business that affects a user's perception of and feelings about their brand. In contrast, the customer journey focuses on user interactions with a brand and what motivates them as they journey further down the sales funnel.
What are the Different Stages of the Customer Journey?
Most marketers recognize the customer journey stages as awareness, consideration, purchase, retention, and advocacy. At Augurian, we use a six-step customer journey model based on Eugene Schwartz's stages of awareness and the standard sales funnel.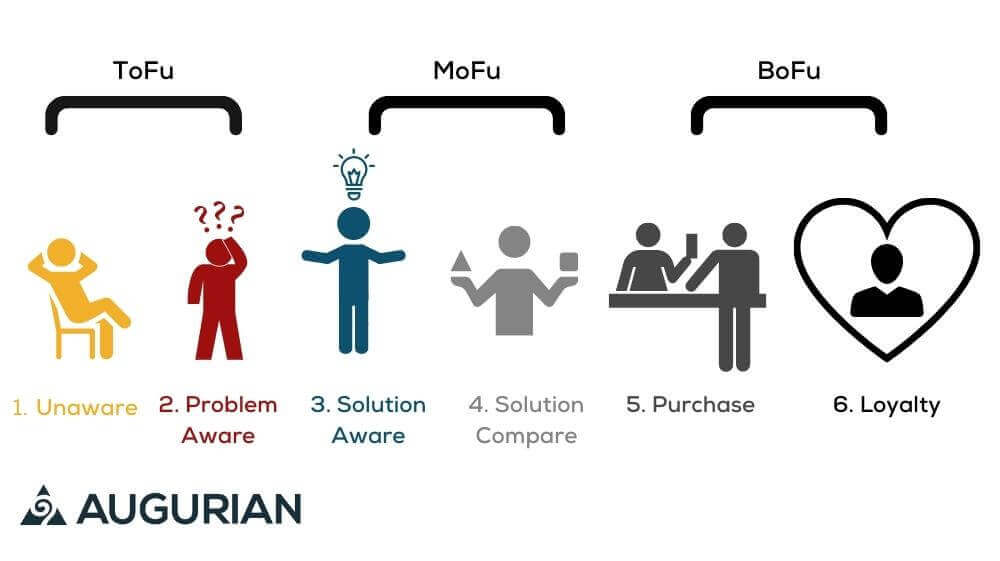 With effective customer journey marketing, brands can empower users to confidently make decisions by offering helpful answers to real questions. This establishes trust, authority, and authenticity.
Why is it so critical to establish these qualities? According to the Edelman Trust Barometer Report, 81% of consumers say they need to trust a brand in order to buy its products. The Consumer Content Report establishes that 86% of consumers say authenticity is a primary factor when choosing brands to support.
It's important to note that the customer journey is not a straight line. Some people jump in at the middle, at either end or somewhere else on their own personal path. In reality, it shouldn't matter where they start because a well-made customer journey map will address the relevant pain points for users when interacting with your brand at any point in their journey.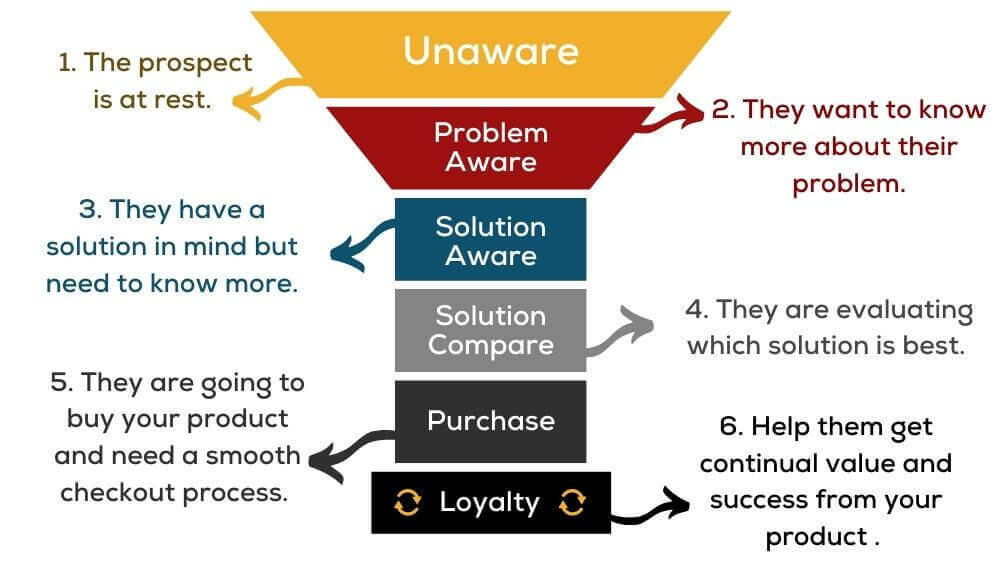 Top-of-funnel (ToFu) stages make folks aware of your brand and help them see how your solutions resonate with them. Middle-of-funnel (MoFu) content becomes more branded and comparative. It answers more specific questions from prospects with stronger intent to buy. The bottom-of-funnel (BoFu) stages are where leads are converted to customers.
Unaware: (ToFU) Potential customers are neither looking to solve a problem nor experiencing any obstacles at the moment. They are casually browsing the internet for topics tangentially related to your brand.
Problem Aware: (ToFU) Potential customers are now aware that they have a problem that is causing friction in their lives but are not yet sure what the solution is. This is the information-gathering step of the customer journey.
Solution Aware: (MoFu) Prospects are now aware of the solution to their problem. They are searching for that solution whether it's one your business offers or not.
Solution Compare: (MoFu) At this point in the customer journey, potential customers have found their solution and are now trying to make the best decision. They are comparing different brands and want to pick the one they feel is most trustworthy.
Purchase: (BoFu) Users in this step are ready to convert and become customers. They just want to know a couple more things before clicking that purchase button.
Loyalty (BoFu): In this stage, prospects have already become customers but return to you for repeat purchases and advice on maintenance.
Engaging Audiences With Content at All Customer Journey Phases
Excellent SEO copywriting skills aren't the only thing you need to produce great content. Delivering valuable throughout the customer journey calls for four things:
When you're creating content, it's important to consider other perspectives and recognize what motivates your audience. We'll unpack each stage of the customer journey in order to better understand users' interests as they progress through those stages.


Unaware
Unaware prospects are at the very top of the funnel, casually scrolling the internet, not motivated to solve any particular problem. Content in this stage of the customer journey is light and relatable for broader audiences, but should speak to the resting values, hopes, and fears of prospects.
The goal of top funnel content isn't to drive the most direct conversions, but it will help increase traffic to your website and overall brand awareness. The value is more subtle than lower-funnel content because the stakes are lower here. Unaware folks simply want engaging and truthful answers to their queries.
The primary objective here is to build awareness and an audience of people who are somewhat interested in what you have to offer but not yet searching around an issue. A few examples of good unaware content include:
Questions to answer at this stage of the customer journey:
These prospects are so early in their journey that they aren't asking specific questions yet.


Problem Aware
Problem aware means users are on the hunt for information related to a specific issue that needs to be solved. They don't know anything about you or the solution to their problem, so they are still near the top of the funnel (ToFu). This is an opportunity to impact and build trust with new users.
When it comes to problem aware content, you need to remember two things:
These users are still not ready to make a purchase
They are interested in helpful information from reliable sources
In this stage, content tends to drive more returning users, time on page, and pages per session because the content provides helpful solutions and explanations, AKA, it delivers real value. Common content types include:
Questions to answer at this stage of the customer journey:

Solution Aware
Now we're getting into the heart of the customer journey. Content in this stage is now in the middle of the funnel and has the potential to show your audience how you can genuinely help them solve their problems. This is where you can really start to educate your audience on what you do best, as long as you don't get too braggy about it.
Users who have come this far know what they need. They're seeking information about and evaluating specific solutions. They are not yet searching for specific brands.
Still, you've got the chance to make a lasting impression on that potential customer and lead them to your product that will improve their life. Help them prepare to make an informed decision.
💡 SEO Tip: Covering topics in this stage will also grow your SEO relevance and authority more directly – making it easier to rank for keywords that relate to your business.
Questions to answer at this stage of the customer journey:

Solution Compare
This is where the competition really heats up. Potential customers are still in the middle of the funnel, but they are approaching the bottom. They are almost ready to convert. They're whittling down their options to just a few brands and will be performing side-by-side comparisons to reveal the most trustworthy choice.
Reviews, testimonials, ratings
At this stage, a brand's objective is to make a strong case that they are the better option. Delivering value to the prospect here means helping them make that final decision with confidence. Solution compare content generally drives conversions, lengthy sessions, and referral traffic.
Questions to answer at this stage of the customer journey:
Who is the best of the ones I've picked?
Which of these brands or products are better? 

Purchase
Users have now arrived at the bottom of the funnel. The purchase stage is relatively straightforward and has more to do with user experience and design than anything else. Your site should offer users a frictionless, barrier-free experience to seal the deal. This means your site loads quickly, is user-friendly, and is pleasing to look at.
Metrics like cart abandonment, conversion rate, and click-through rate will shed light on how much value is delivered to users in this stage of their journey. You can also use tools and analyze user journeys through your site to spot bugs and run CRO tests to optimize user experience.
Questions to answer at this stage of the customer journey:
Did I miss anything before I buy?
Did I consider everything?

Loyalty
Loyalty content helps turn first-time customers into brand advocates. The objective here is to make sure customers have a good experience with your product –and your brand as a whole– post-purchase.
How hard is it for a customer to resolve product issues? Is there a strong sense of community associated with your brand? Do you get a lot of repeat customers? Answering questions like these can tell you how well you are nurturing your existing customers and if your loyalty content delivers value.
Questions to answer at this stage of the customer journey:

Real Life Examples of Customer Journey Content Strategy
Deploying a well-researched customer journey strategy helps ensure that you engage with your audience in a meaningful way at the most pivotal moments. The data clearly shows, strategically filling the content gaps in your brand's customer journey map generate powerful results.
Example #1: Brand Awareness and Authority Boosted in a Competitive Market
A network, IT, and IoT solutions company working with our team at Augurian wanted their content to reach a larger audience. Analyzing their existing content made it clear that they lack the unaware topics that reach a broader audience.
Thanks to the strategic work and perfect execution on just one unaware stage blog, we generated some amazing results.
Drives over 10,000 SEO visitors / month
Captured 45 features in the search engine results
Ranks #1 in the search engine results for the target keyword
Example #2: Site Traffic and Goal Completions Grown with Searchable Blogs
A Wisconsin-based exterior remodeling business hoped to generate more local leads through organic search. Augurian's content team made a data-based recommendation to refresh an existing blog.
By leaning into our customer journey strategy and research tools, we transformed a piece of content that saw zero traffic into a valuable resource that drives substantial SEO traffic and goal completions. Some highlights of this use case include:
#1 in the search engine results for the target keyword
Drove 11x as many SEO visitor MoM
This blog is consistently responsible for at least 3% of site wide goal completions
Example #3: A Single Blog Assists Over $8,000 in e-Commerce Revenue
An e-commerce tea company partnered with Augurian to increase organic traffic and conversions. After an in-depth customer journey content analysis, we surfaced a killer refresh opportunity for a blog about caffeine content in tea.
We revamped this blog into an engaging, educational resource that answered readers' questions about caffeine in tea and effectively funneled folks further along their path. As a result, that blog went from bringing in 20 SEO users per month and $0 in revenue to…
Assisting over 12.5K in revenue and counting 
Driving over 700 SEO visitors per month
Captured search results features that drove even more valuable traffic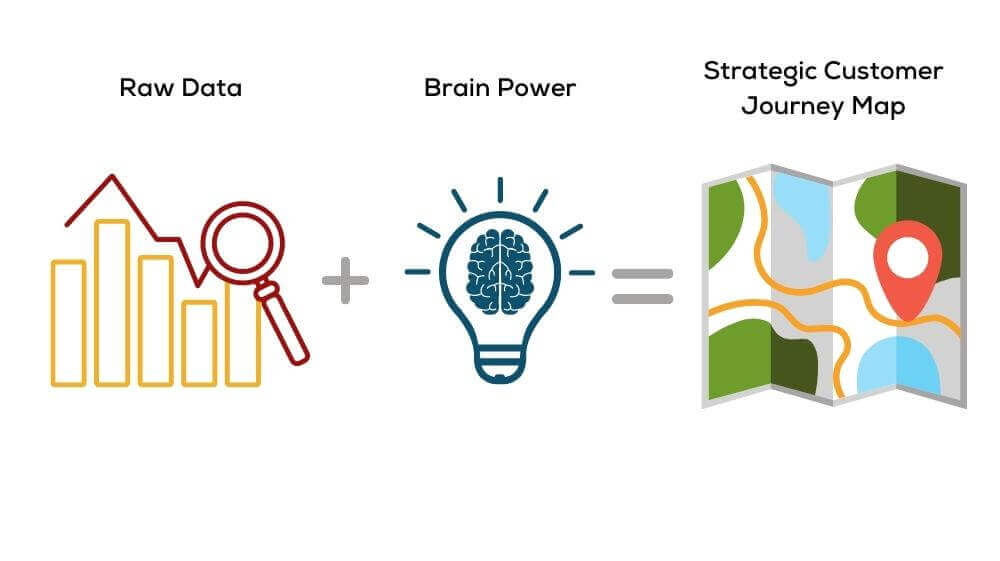 Creating Your Own Customer Journey Map
Customer journey mapping starts with raw data and ends with actionable insights built into a strategic roadmap. It can take some heavy lifting to get from A to B, but the results are well worth the effort.
To begin tailoring your content marketing strategy to your customer journey, you'll need to gather both quantitative and qualitative insights. You'll need to take a strategic, empathetic approach to analyzing your target audience and their key motivations, fears, and barriers. From there, you can begin keyword research to plot out the key questions and topics for every stage.
Customer Journey Content Marketing Strategy with Augurian
At Augurian, our content marketing team creates detailed customer journey maps for every client and then uses those maps to guide our entire content marketing strategy. Thanks to the amazing insights we uncover, we are able to create content that drives success for our clients at each stage of the customer journey.
If your customer journey map is either ineffective or nonexistent, contact the content marketing wizards at Augurian and watch the magic unfold. You can also find some additional tips and advice in our content marketing blog.