In the world of digital marketing, not all content is created equal and we know that trend posts create big content marketing wins.
Using content marketing allows for an increase in the amount of relevant traffic a website is receiving. This traffic drives users to read content and view product pages – which in turn increases conversions.
At Augurian, our content marketing team does research and identifies topics for our clients that will drive this high quality traffic. We also monitor the content we've produced, ensuring we are maintaining a high number of conversions. The following Acucraft Fireplace Systems case study exemplifies our team's ability to create posts that drive traffic and our commitment to refreshing and renewing this content so it stays relevant and keeps getting great results for our clients.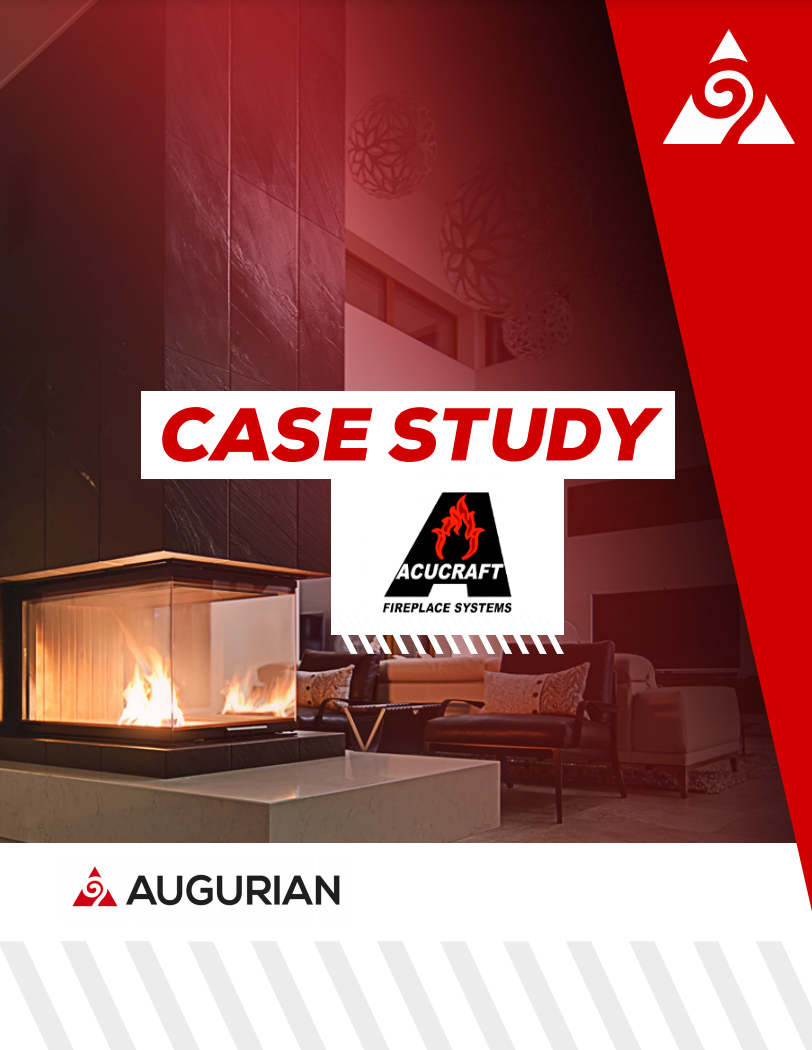 The Client: Acucraft Fireplace Systems
Acucraft Fireplace Systems is an established fireplace sales company. They sell gas and wood fireplaces for indoor and outdoor use. They specialize in unique, custom-crafted fireplaces for residential and commercial spaces. While located in Minnesota, the bulk of their sales come from online traffic through their website. 
The Blog
Acucraft's website includes a blog that has been running for over ten years. Their blog has about 10-20 posts per year with an increasing number of posts per year through the past decade. They have over 30 archived posts from 2019. Blog topics range from outdoor fireplace tips to modern gas fireplace designs. 
trend posts create big content marketing wins
At Augurian, our team understood that trend posts create big content marketing wins. So, in 2019 our content marketing team looked specifically at blogs about fireplace trends. In early 2020 the team published a fireplace trends blog which began ranking well and driving new traffic.  
Our Initial TRENDS BLOG
Our primary goal was to drive more relevant high-funnel traffic to Acucraft's website to boost consumer awareness and build Acucraft's authority on the topic of fireplaces in order to generate more conversions. To do this, our expert content creators designed and wrote a blog post on the top fireplace trends of the year. We used SEO keywords to ensure the blog post ranked well on the search engine results pages (SERPs). 
WHY The Blog Refresh?
Trends change fast especially when driven by Internet traffic and our blog post, although only few months old at the time, was already beginning to seeing declines in traffic. That meant it was time to loop back and refresh the page. 
Through our consistent analysis of SEO traction and traffic to the Acucraft website, we found two main reasons why a refresh of our blog content was needed:
The blog was losing traction and therefore the amount of traffic it was bringing in was declining.  
Another article in the blog wasn't ranking on the SERP, competing for the same target keyword the trends blog was ranking for. 
What We Did
To refresh the blog, we updated it for the new year (2021) and added new images and internal links to product pages and other blogs. These small changes made a big difference in signaling freshness to people visiting a blog. To address the issue of the competing article, we removed all mentions of "modern" and "ideas" from the trends blog except for an anchor tag to send traffic to the article. 
The Results of the Refresh
Here is what happened after we completed the fireplace trends blog refresh:
Non-Competing Keywords
As soon as the keywords "modern" and "ideas" were removed from the fireplace trends article, the competing article started ranking for its own keywords on SERPs right away. This ensured that both articles simultaneously generate quality traffic for Acucraft. 
Relevant Keywords
At the time of writing this, the new fireplace trend blog ranked in the top 100 of over 470 keywords and in the top 10 for almost 300 relevant keywords.
More Clicks
The blog refresh increased clicks to the website by 450%. The click-through rate (CTR) for traffic from the blog jumped from 1.9% to an impressive 6.5%. 
Salable Traffic  
All of this new traffic is valued at over $550 per month, so without a doubt, the blog refresh had positive outcomes for Acucraft.   
Overall Results
In approximately seven months, the fireplace trends blog:
got almost 10,000 page views and over 6,700 SEO clicks.
appeared in 116 "People also ask" sections of SERPs increasing the reach of the blog to new users.
The blog now accounts for two of Acucraft's top traffic driving queries site-wide with "fireplace ideas" being the second-highest query and the refreshed target keyword "fireplace trends 2021" being the eighth.
All of this increased traffic is valued at over $21,100. Essentially, this digital marketing project paid for itself. 
The Bottom Line
There are two questions that we always ask ourselves about our content marketing projects: 
Are they bringing traffic?
Is that traffic driving business results?
In this Acucraft content marketing project, the answer to both questions is a resounding yes!
The fireplace trends blog that we wrote and refreshed has been Acucraft's #1 top traffic-producing blog for over five months and is still going strong! Proving that trend posts create big content marketing wins.
Within just one month after the refresh, traffic from our trends blog was valued at $8,257. This demonstrates what our content marketing team at Augarian already knew — it's worthwhile to invest in high-funnel blogs and monitor and refresh them as needed.
If you are looking to drive more relevant traffic and potential conversions to your website, consider letting our team create unique, high-quality SEO content for you by contacting us.