Performance Max campaigns, the all-in-one campaign type from Google, are here to stay. But are you equipped with the necessary skills to unlock their limitless potential? How do performance max campaigns work, and what's all the hype about?
When Performance Max campaigns debuted in late 2021, it promised to be the "jack of all trades" workhorse for your Google Ads account. This guide will teach you about the new features of Google's latest premiere campaign type, including who it's for and how to use it.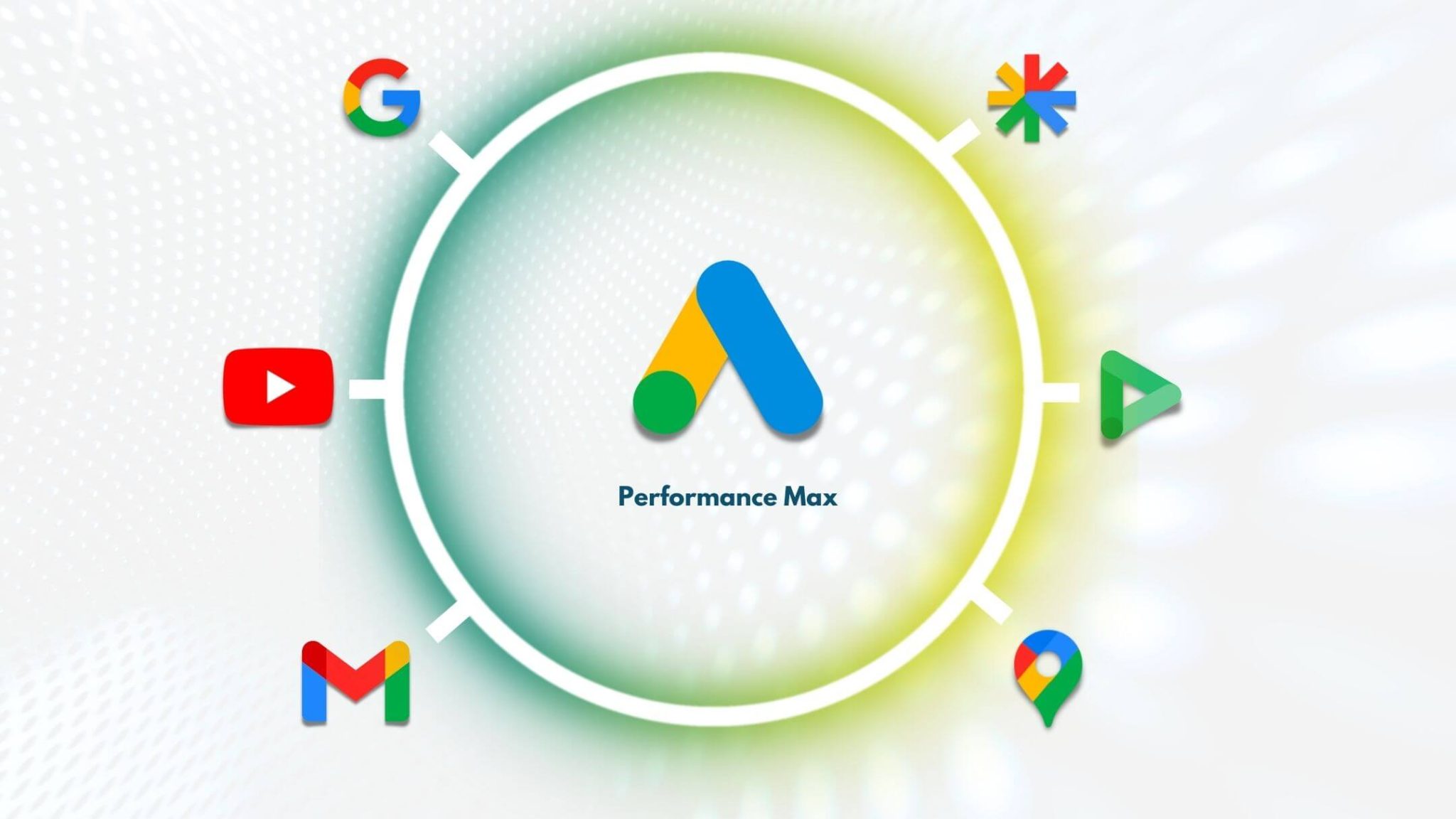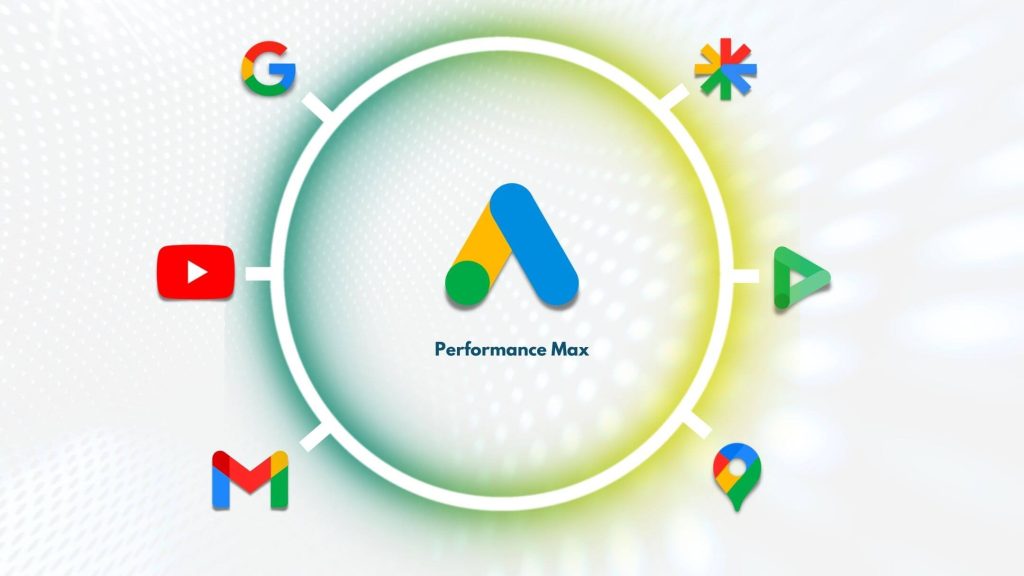 What is a Performance Max Campaign in Google Ads?
Google Ads Performance Max campaign (or Pmax for short) is a new campaign type intended to promote ads on all of Google's advertising channels from a single campaign. It uses automated learning to reach people on YouTube, Display, Search, Discovery, and Gmail advertising channels.
As a result, Pmax is an easy and efficient way to attack your entire marketing funnel in a consolidated campaign type to maximize the available budget for these efforts.
When Pmax Google campaigns rolled out in November 2021, it was simply a beta becoming a green-lit project from Google's development team. I believe that eventually, Google Ads Performance Max campaigns will be the standalone campaign type for accounts.
In just over two years, it has replaced smart shopping as the ideal shopping campaign type, it now has Display and Responsive Search capabilities, and it is even starting to outbid brand and non-brand search campaign queries.
Who Should Use Pmax?
Think you're ready to future-proof your Google paid media strategy with Performance Max campaigns? Performance Max campaigns are for you if you:
Are prepared to spend a daily budget of 10x your average CPA/CPL,
Have specific advertising goals,
Aren't limited to which channel your paid ads can appear on,
And are interested in maximizing performance across the marketing funnel.
By feeding the campaign your specific goals (like purchases, lead form completions, or donations), you're giving Google's machine learning the ability to self-optimize toward achieving those goals. This automated optimization is a clever way to consolidate your campaigns towards a single goal while reaching users across multiple marketing funnel stages.
Learn how Augurian drove a 97% increase in purchases for an e-commerce biz with Pmax. 
When should Pmax be used?
The number one reason you may want to use Performance Max campaigns is to scale your advertising efforts. Since Performance max is omnichannel, you can optimize Performance Max campaigns to help you reach a larger audience and achieve better results. Other good considerations include factors like new product launches or seasonal promotions that you, as a business, want to generate buzz around.
Ready to scale your advertising strategy? Our paid media agency experts can help you start. 
Performance Max vs. Smart Shopping 
The good news is that you won't have to decide between Smart Shopping and Performance Max campaigns because the Smart Shopping campaign type is now obsolete.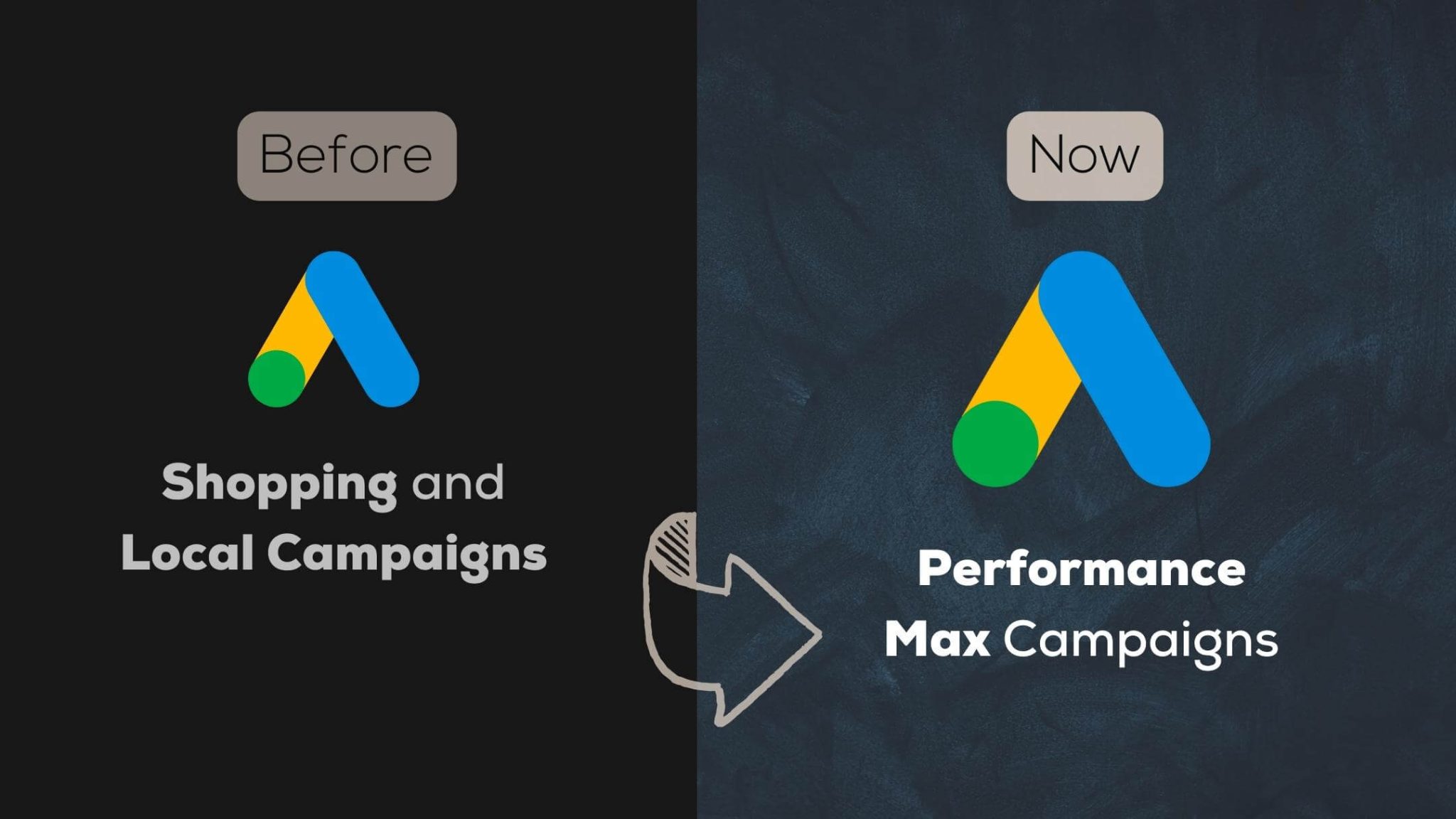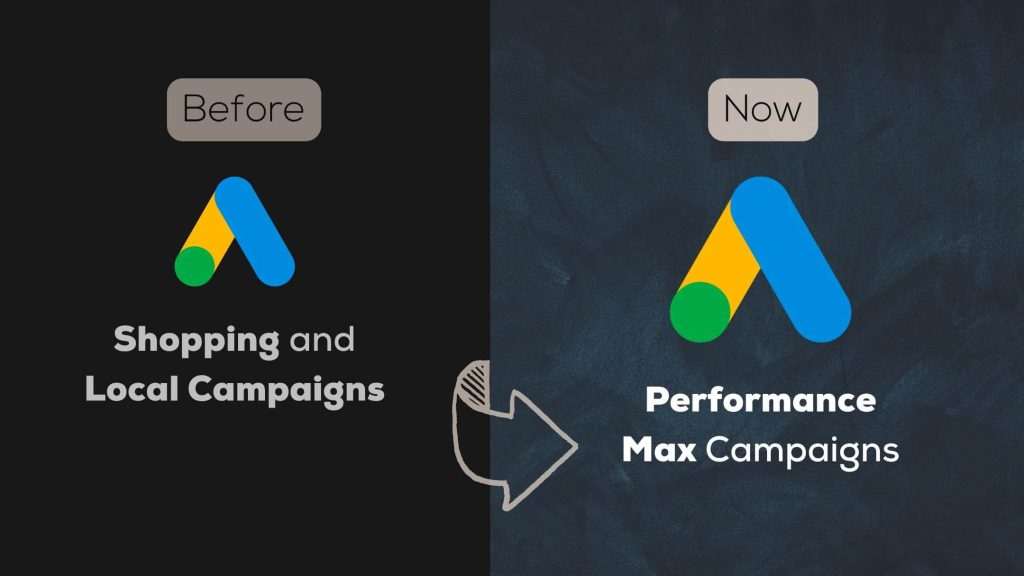 Smart shopping campaigns were officially sunsetted in September of 2022, and any account running those campaigns was upgraded automatically to Performance Max. This update saves you time and stress about which campaign type best suits your account goals.
Key Features of Google Performance Max Campaigns
No matter how much we explain the "what" of Pmax Google campaigns, the question you must be able to answer at the end of the day is the "why": Why should I, as an advertiser, use this new campaign type and how do I know I can trust it? 
There are pivotal advantages that Pmax campaign features bring to the table that simplify or even replace your current paid efforts. These features are designed to turn your skepticism into optimism by trusting that Google's machine learning knows what it's doing.
All-in-one Campaign Management
Casting a wider net for audience targeting with Audience Signals
Reaching audiences across multiple conversion objectives
Simple ad creation for all channels with Asset Groups
Continued updates and improvements from Google
All-in-one Campaign Management
Performance Max campaigns allow you to create a single campaign and let Google's machine learning technology do the rest, simplifying campaign management. Attack the entire marketing funnel with one consolidated effort using Pmax campaigns, and drive KPI success across multiple funnel stages without the stress of managing and spreading the budget thinly across campaign types.

Casting A Wider Net With Audience Signals
Performance Max campaigns optimize ad placement across multiple Google networks (Search, Display, Gmail, YouTube, and more), allowing businesses to reach a larger audience. This feature will enable you to optimize your Performance Max campaigns with Audience Signals.
These suggested targeting options inform the algorithm about who your target audience is. Audience signals combine Customer Lists, Affinity and In-Market audiences, Retargeting audiences, and other relevant audience types into one "north star" audience segment.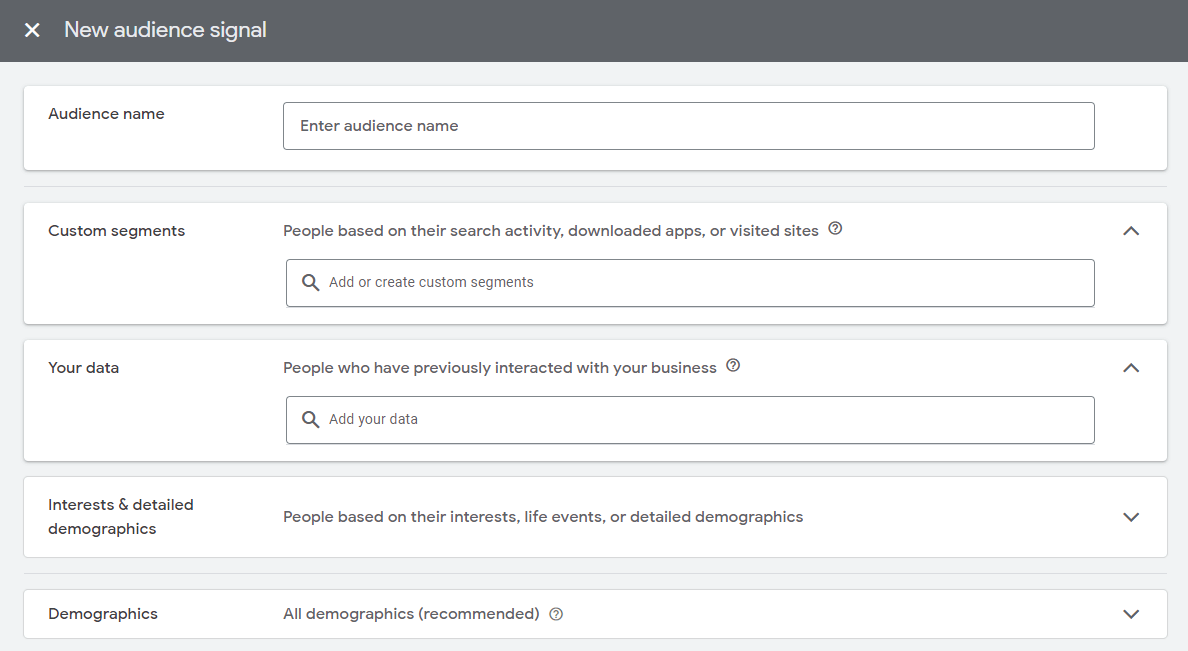 Reaching Audiences Across Multiple Conversion Objectives
If your business has multiple products or services (for example, individual products as well as subscription services), Pmax campaigns allow you to reach the right audience for each offering. By implementing your campaign goals during setup, Google's machine learning will optimize each goal to a target audience it determines is likely to convert.

Simple Ad Creation For All Channels With Asset Groups
Performance Max campaigns don't have ads; they have "Asset Groups." Think of it as a juggernaut ad, combining text, image, and video elements into one blanketed ad type. Asset groups simplify ad creation processes and make your ads extremely versatile across the Google network.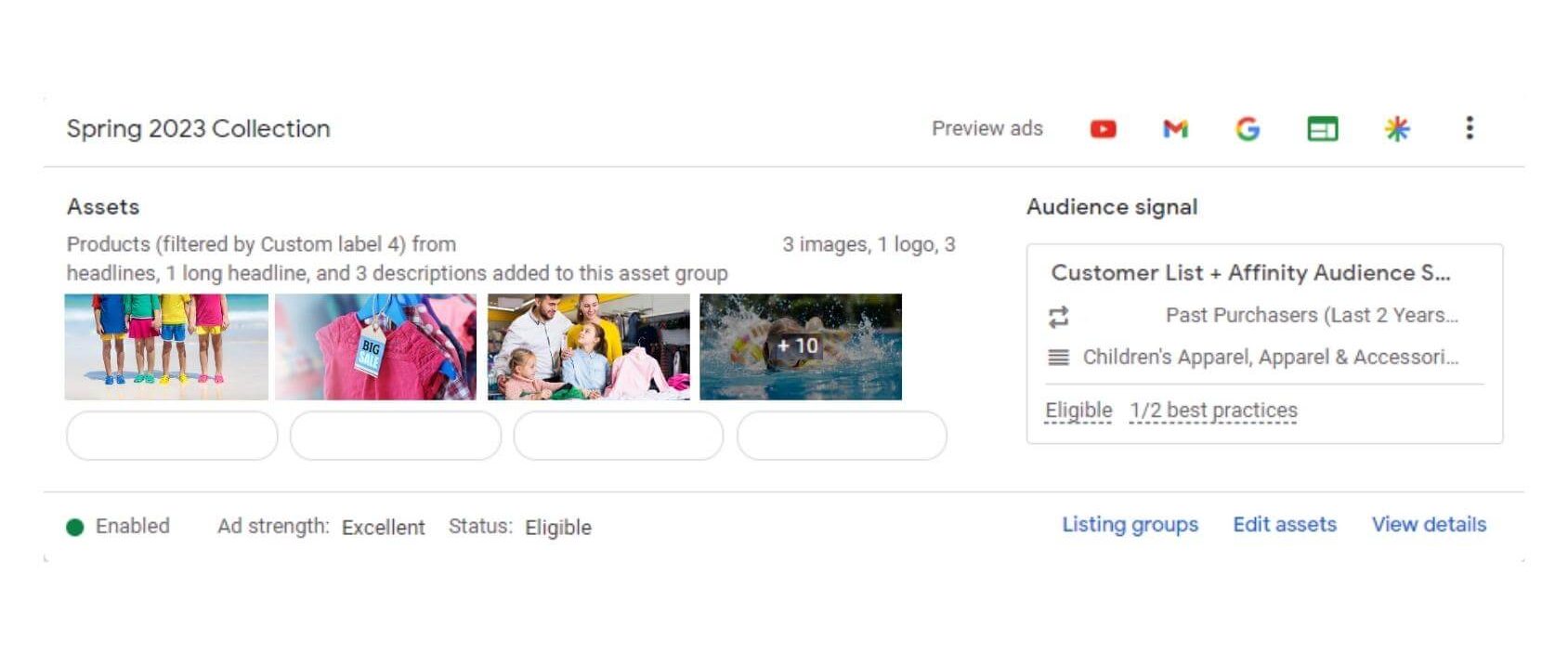 Continued Updates And Improvements From Google
On February 23rd, Google announced various new features for Performance Max campaigns, including Page URL feeds to guide machine learning toward important landing pages and a new video creation tool. Because this is the new premiere campaign type for Google, back-end optimization for Pmax will continue to be driven by user feedback and improving upon what's working.
Performance Max Ad Examples and Uses
It's important to note that Performance Max campaigns are very versatile; because there are so many different features in Pmax campaigns, you will find that they can be successful in various situations. If your account has enough budget and rich historical data, you can even optimize your account with multiple Performance Max campaigns.
Here are a few examples of ways you could optimize your Pmax campaigns aside from the "catch-all" standard strategy:
Product-Type Campaigns
Seasonal Campaigns
Local Campaigns
Product-Type Campaigns in Performance Max
You're a clothing retailer whose products include a wide variety of garment types: segmenting your products into different asset groups by product types is a suggestion that Google continuously brings to the table—for example, lumping people searching for cardigan sweaters into an entirely different audience than those searching for graphic tees. Product type segmentation with asset groups is crucial for the machine to cater to an ideal audience.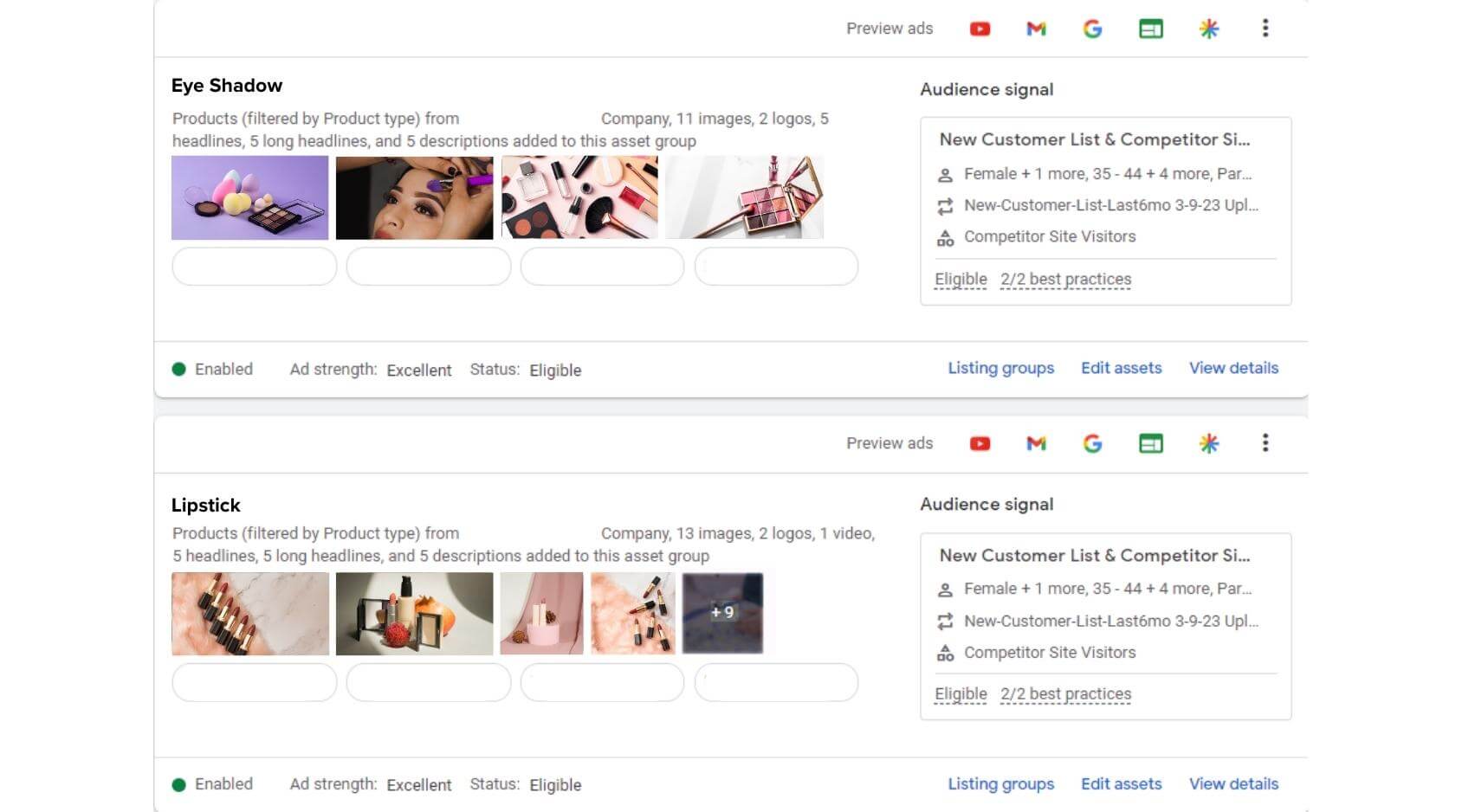 Seasonal Campaigns in Performance Max
You're a retailer who wants to promote a sale: Another way to segment your Performance Max campaign is to create separate asset groups for notable occasions in your fiscal year. For example, if you're a company that sells toys and electronics, it may be in and around the holiday season.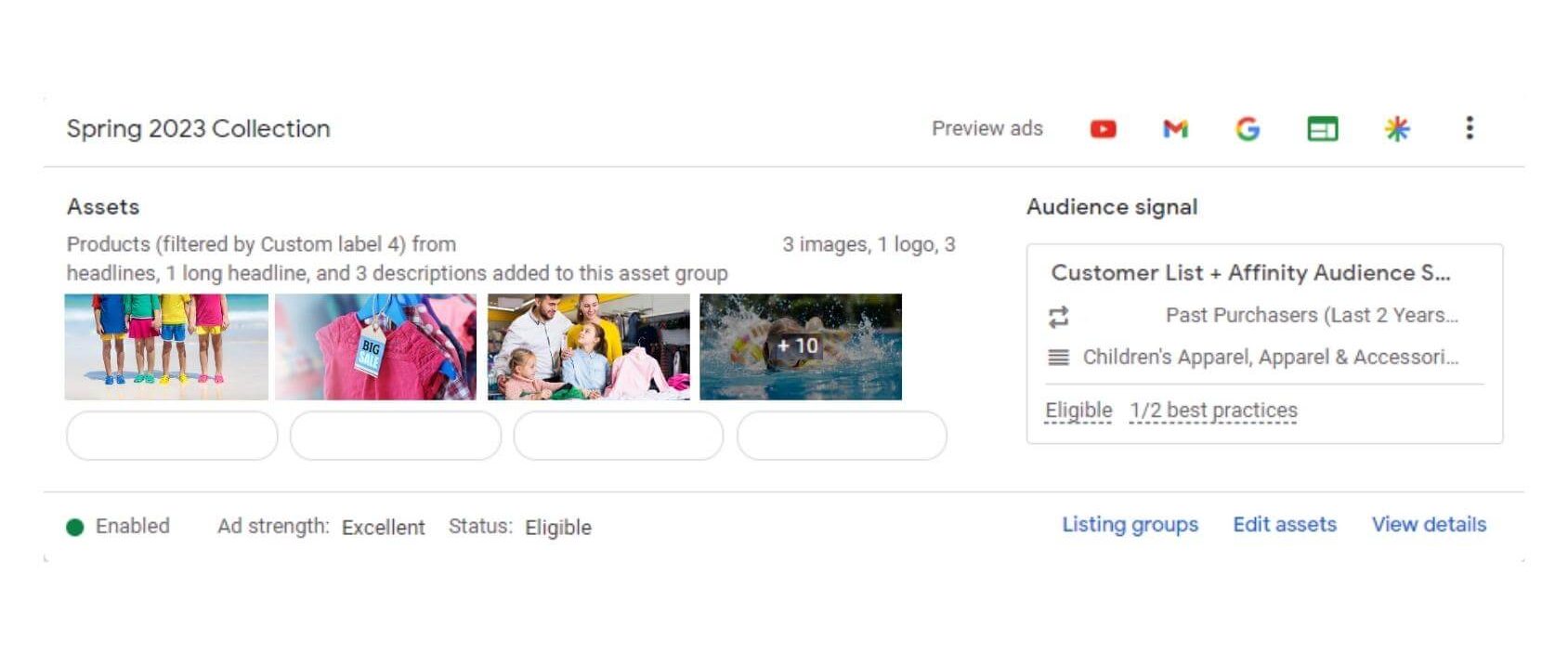 On the other hand, if you sell outdoor grilling equipment, it could be during July 4th weekend. Regardless of the occasion, optimizing your campaign to promote sale periods is a great way to leverage Pmax.
Local Campaigns in Performance Max
You're a theater looking to promote ticket sales for an upcoming play: Along with replacing Smart Shopping, Pmax campaigns have replaced Google's Local campaign type. Local Performance Max Campaigns can drive higher ROI for your business by leveraging the entire Google network to promote upcoming in-person events.

Learn how Augurian drove a 700% increase in ROAS for a historical museum with Pmax. 
Benefits of Performance Max Campaigns
Performance Max campaigns are a direct result of the continued path toward automation of paid media. By connecting Google's machine learning to your account strategy, you can unlock many business opportunities in one hyper-efficient campaign type.
The goal of Pmax is to minimize your time spent in day-to-day optimization and instead focus on overall growth and business goals for your account. If you provide the necessary data for the campaign to drive success, Performance Max campaigns will find ideal potential customers for your business objectives.
Ad coverage across the Google network
Finding additional customers who are likely to convert
Simple campaign management
Ad Coverage Across The Google Network
At the crux of it all, Performance Max's number one benefit is the ability to "maximize coverage across search queries while expanding to other channels to drive incremental success." All advertisers need a full-funnel approach to marketing, and Pmax enables you to do that from a single campaign to maximize your available budget across Google Ads inventory.
Finding Additional Customers Who Are Likely To Convert
Because Performance Max campaigns allow you to engage with customers across multiple channels, it unlocks multiple additional outlets for you to reach new customers. When you add your custom audience signals to inform the algorithm about your ideal customer, Performance Max will seek to find your ideal customers based on your signal, plus new customer segments that you were previously unaware of.
Simple Campaign Management
Let's face it, manually pulling levers for various campaign types is time-consuming and mundane. Let Performance Max campaigns take that off your plate with simple campaign management and easy ad optimization designed to let Google take the brunt of the day-to-day manual labor. As long as you provide the proper guidance with audience signals, robust ad creative, and smart product segmentation, Performance Max should be able to self-sustain itself with little help.
The Downsides of Performance Max Campaigns
Despite the new and exciting benefits of Performance Max campaigns, its greatest asset – automation – also has some limitations. Many marketers, myself included, like to be in control of the ad campaigns we create. It's how we optimize, it's how we report on success, and it's how we fix what's wrong.
With Performance Max, you're placing a large amount of trust that Google knows what they're doing, but that requires you to buy into the new way of marketing altogether.
Reporting
Limited Control
Cannibalization of other campaigns
Reporting
I will give Google some credit here; Performance Max reporting has improved with new reporting insight features since its inception. However, it's wise to accept that you will get less robust reporting with Pmax than with a standard search campaign. The main reason behind this is that there are no keywords and, therefore, no direct search term reporting.
A lack of keyword reporting is a significant barrier to entry for many marketers.
Limited Control
Performance Max campaigns are entirely automated; therefore, you cannot freely pull levers as you can with other campaigns. The good news is that you provide many indicators for driving campaign success during campaign setup. Still, at the end of the day, businesses will have little control over ad targeting, delivery, and overall performance.
Cannibalization of other campaigns
Despite Pmax's ability to reach the entire Google network, it is as much a curse as a blessing. Brand search and standard shopping, in particular, are highly affected when Performance Max goes live unless your Pmax campaign is extremely segmented (ex: only promoting a small subset of available products) to minimize the risk of cannibalization.
Can you add negative keywords to performance max campaigns?
One thing to note is that the February 2023 updates also brought the capability to add account and campaign-level negative keywords, a huge asset for Pmax campaigns.

How to Create a Performance Max Campaign
Performance Max campaigns are simple to build and follow many of the same principles as standard campaign types. This step-by-step guide on building a Performance Max campaign should help ease your fears about jumping into this new campaign type.
1. Choose Your Advertising Objective and Conversion Goals
Like other campaign types, it will be essential to steer your campaign toward an overall objective. Whether it's Sales, Leads, or Store Visits, it's the first step toward building your Pmax campaign. From there, you'll confirm your conversion goals. Account goals will be pre-populated, but you can adjust goals as you see fit.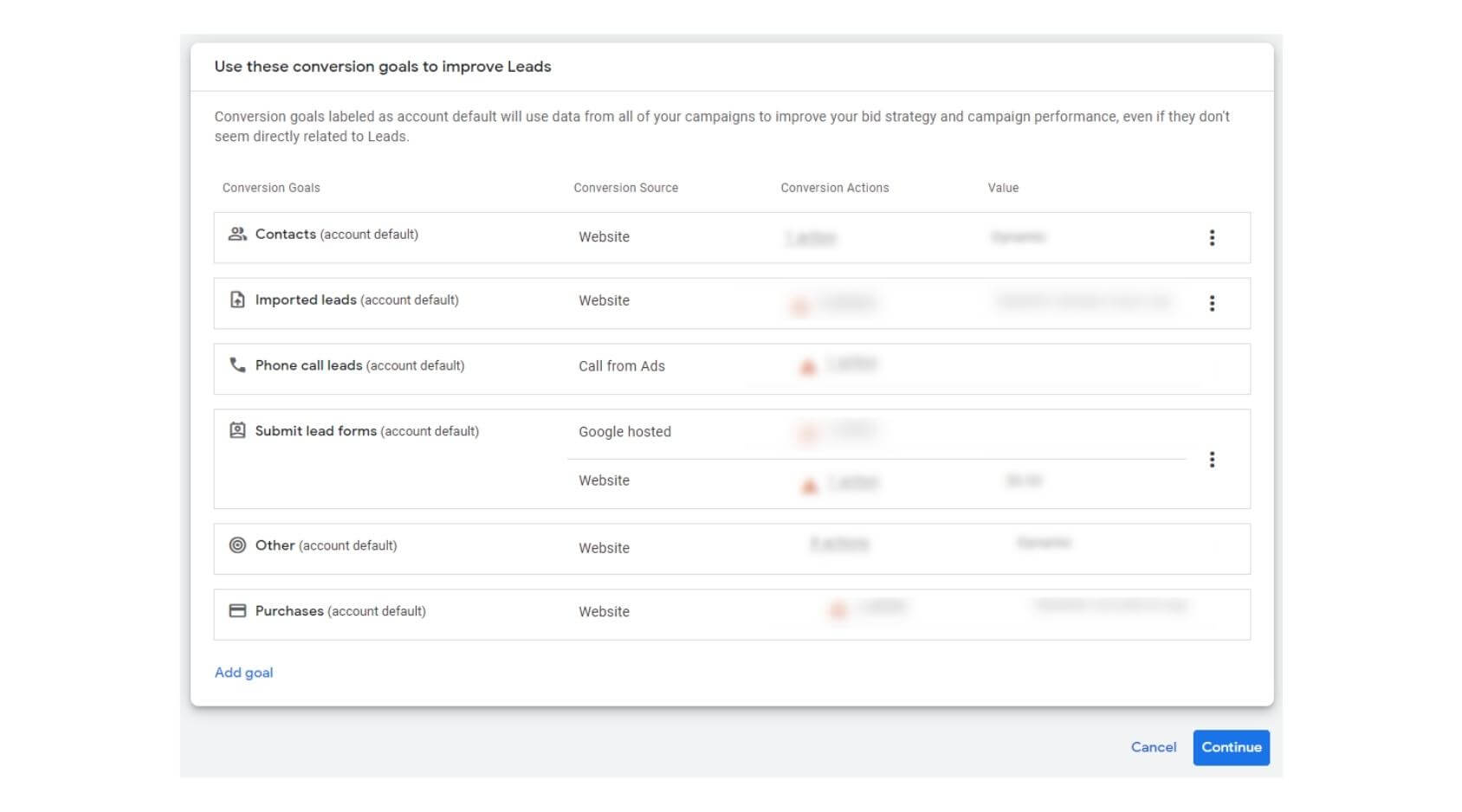 2. Select Your Bid Strategy
Because Performance Max uses smart bidding, only two different bid strategies are available. If your conversion actions have values (either pre-assigned or dynamic), we recommend the Maximize Conversion Value Bid strategy. This strategy also allows you to set a target Return on Ad Spend. If all of your conversion actions have the same value, use the Maximize Conversions bid strategy.

3. Select Language, Location, and URL expansion settings
With URL expansion on, you can promote your business on additional search queries, and Google may replace your ad URL with a more relevant landing page based on a user's search intent. Remember that with the February 2023 Page Feed addition, you now have greater control over URL expansion and where you want to serve.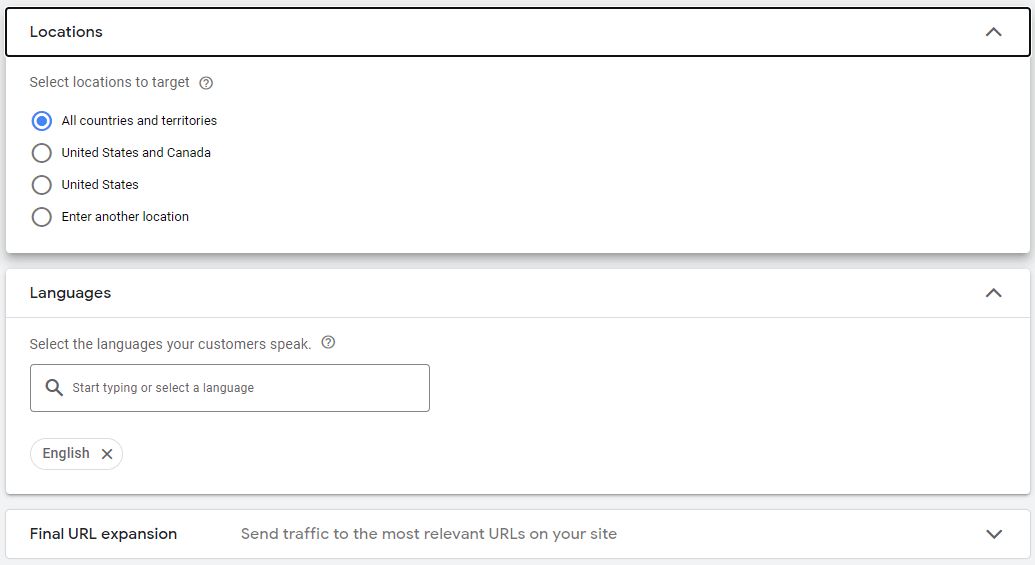 4. Create Asset Groups and Audience Signals
Decide your best action plan for segmenting your products (this will vary depending on sales or lead generation objectives), and create audience signals for your asset groups. Remember that the audience signals seek to inform google of an ideal persona to target, so use it more as a guiding light for the campaign. Then, add a wide variety of ad creative assets and copy to each asset group, and you're all set.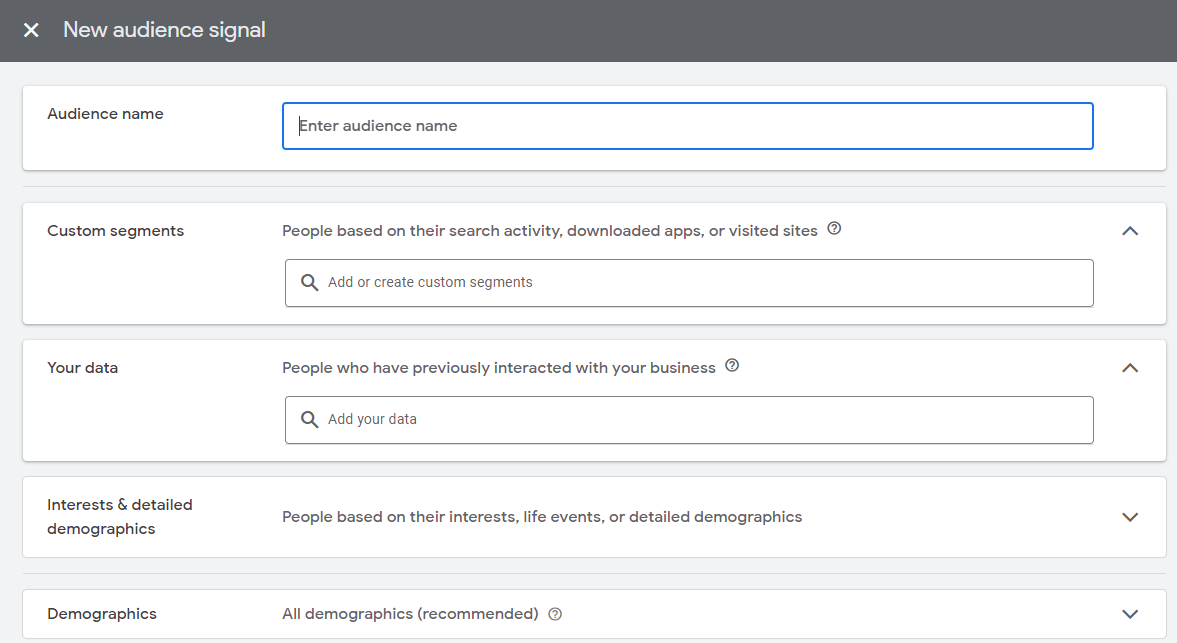 5. Set your budget
Long story short, only use Performance Max as a campaign type if you can at least afford to spend $50-$100 daily on the campaign. Your performance max budget is the average amount of money you want to spend per day. Your daily spend might fluctuate, but it will stay within its monthly spend limit (the daily budget multiplied by the number of days in a given month.)

How to Measure a Performance Max Campaign
Because Performance Max is versatile and capable of suiting multiple campaign objectives, the metrics that matter will vary by business. Measuring success comes down to what you're trying to achieve and what benchmarks you assign to define success. Experiment testing is also now available for Pmax, giving an easier route to A/B testing the campaign against your existing initiatives.
KPI Metrics
Search Categories Insights
Audience Insights
KPI Metrics for PMax
Focus on your Key Performance Indicators (KPIs), which will vary by campaign type. However, the leading performance indicators are Conversions, Revenue (or Conversion Value), and Return on Ad Spend (ROAS).
Conversion metrics like Conversion Rate and Cost Per Conversion are other helpful indicators of success, as well as click-based metrics like CPC (cost-per-click) and CTR (click-through-rate).
Search Categories Insights
As mentioned earlier, Pmax campaigns report no direct search terms. Instead, Google lumps your search queries into categories. From there, you can glimpse what customers are searching for and which categories provide the most value for your business. You can use this to inform ad copy and creative direction.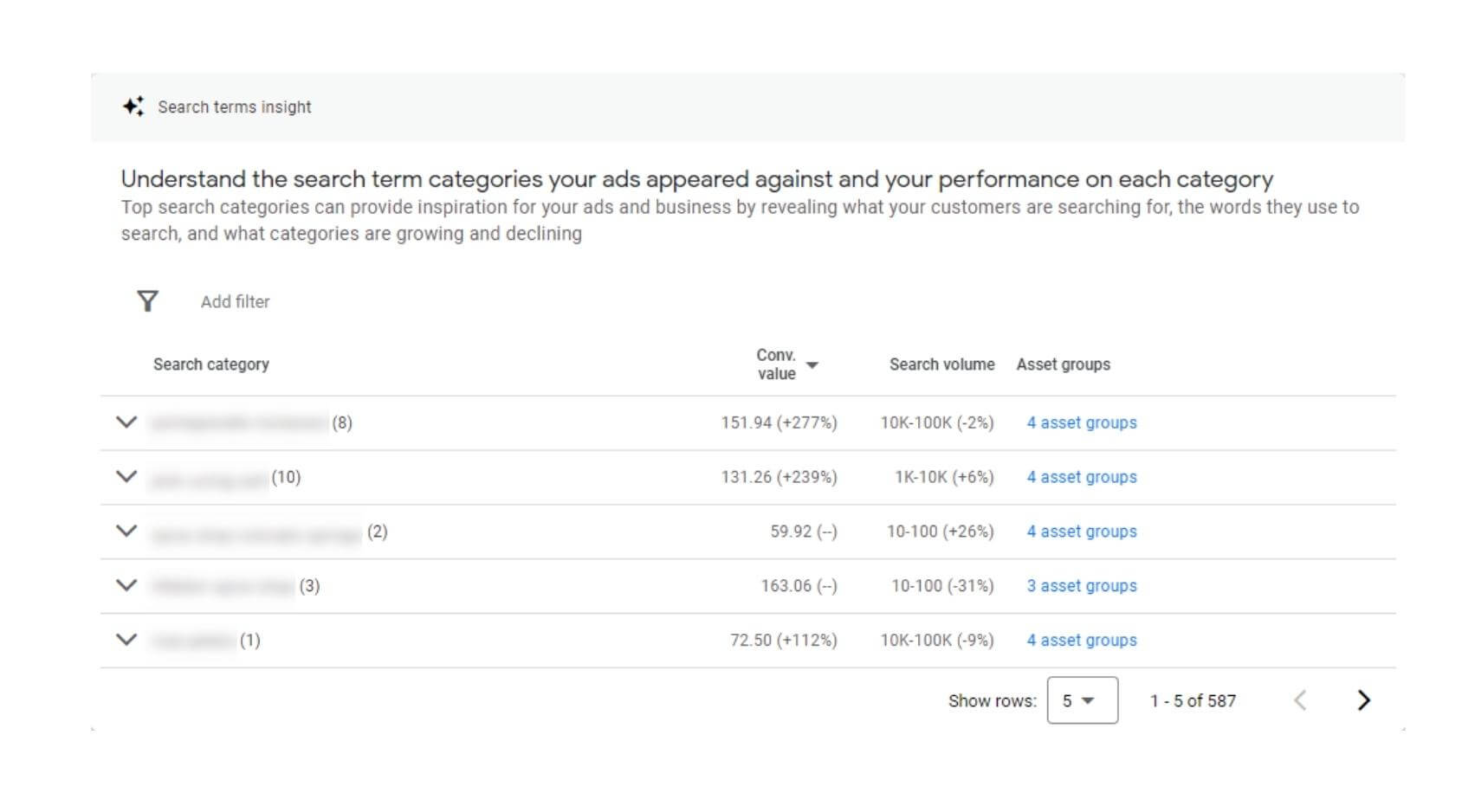 Audience Insights
Another helpful peek into performance max reporting is audience insights, which looks at relevant audience segments (either currently in your audience signal or outside of it) and delivers click and conversion data for these segments. You can look at the percentage share of Conversions each segment has, along with its "index" (how much more likely the segment is to convert than the general population).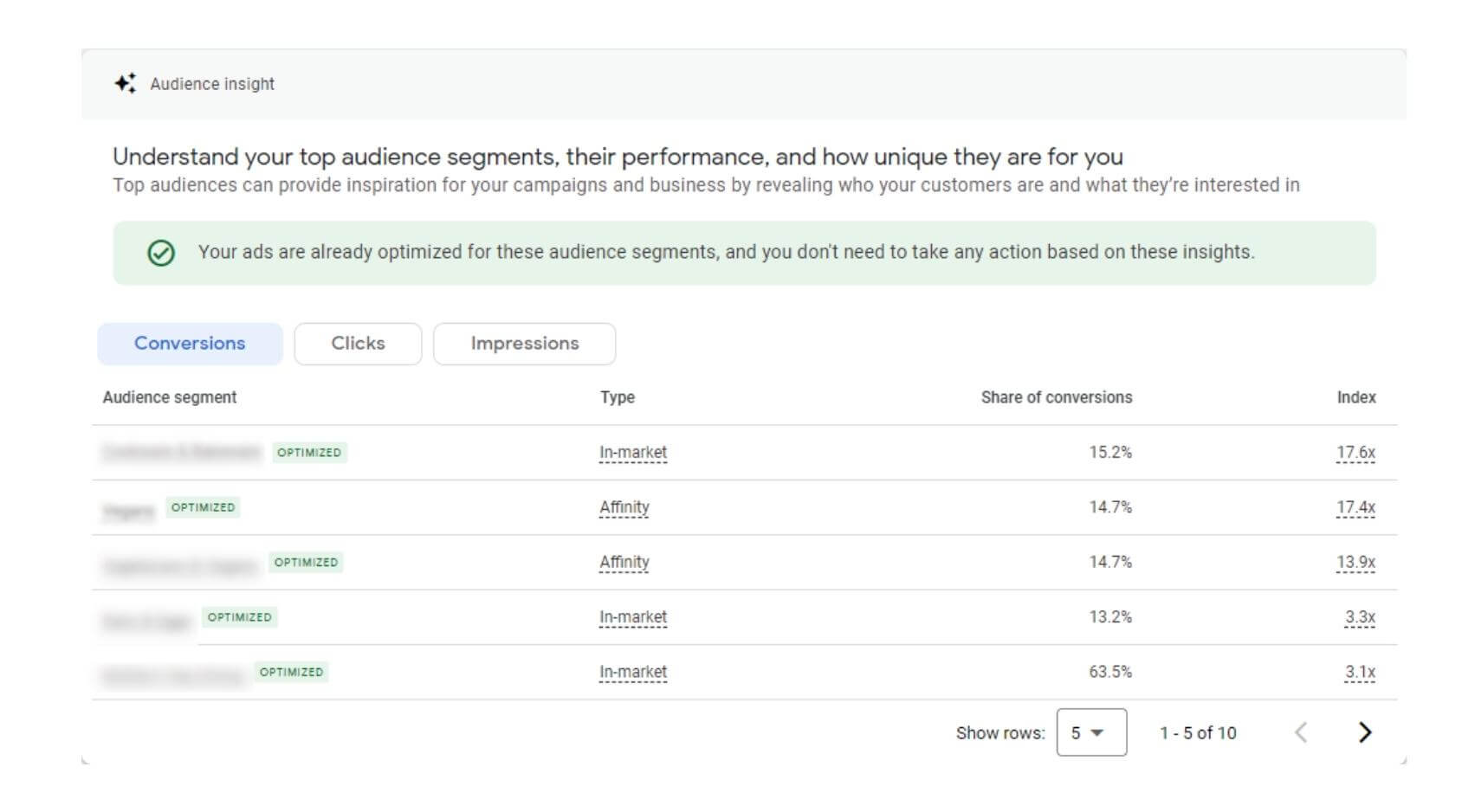 Performance Max Campaign Best Practices
Before you even think about setting your Performance Max campaigns live, it's critical to understand some best practices for success. Because Performance Max is still in its infancy regarding SEM, many marketers still need to learn how to set up this campaign type correctly.
With all the tools required to build and maintain a Pmax campaign, you can get the most out of your ads.
Give the campaign time to learn.
Plan Your Budgets
Match Ad Groups
Vary Assets
Optimize Your Campaigns
Give The Campaign Time To Learn
Do not pursue a Performance Max campaign strategy if you need quick results. There are necessary steps to complete before you even consider evaluating performance:
A two-week ramp-up period: called the "learning phase."
A four-week evaluation period: The block of time you will look at to evaluate performance, adding additional time for Conversion lag (if applicable).
Testing Pmax takes time; until then, you shouldn't change anything from an optimization standpoint until it has enough data.
Plan Adequate Performance Max Budgets
Give the campaign an adequate budget. Google recommends your Pmax campaign daily budget to be at least 10x your Cost Per Acquisition. This could look very different depending on your business.
Businesses looking to drive lead generation in particular need to understand that you need to have an adequate daily budget to drive success. If your average CPL is $50, you need to provide the campaign with at least a $500 daily budget.
Make Assets Match Ad Groups
Provide assets that match your asset group. Unless you're running a catch-all campaign (not often recommended and typically reserved for companies with little historical data), you will want to segment your asset groups. As a result, it's necessary to provide assets related to that asset group theme. You could also cater assets toward your audience signal if you have relevant data to back that certain groups of people have more interest in specific parts of your business.
Vary Your Assets
Add as many assets as you can. Go above and beyond in providing assets for your Performance Max campaigns. When it comes to feeding the algorithm information, the more the merrier. Try to maximize your available image assets, headlines, and descriptions.
Add a video if possible (hint hint, if you don't have available assets use the video builder), and apply campaign and account-level extensions if applicable. Give your campaign as much information as possible!
Optimizing Pmax Ads Campaigns
Dedicate yourself to improving the campaign. After the ramp-up period has concluded, the job's not over. Find out what's working, and use that to guide campaign optimization.
Also, take note of what isn't working and needs to improve. Use the insights tab, and evaluate asset group performance to ensure your campaign is as successful as possible.
While the campaign is automated, it's still up to you to guide it in the right direction. Continuously optimize your Performance Max campaign to ensure success.
Ready to Reach Your Performance Max Campaign Goals with Augurian's Paid Media Services?
Despite Performance Max campaigns only being available to the public since November 2021, it is a clear-cut winner as the campaign type of the future. Google created Performance Max with automation in mind, establishing it as a fully-automated campaign type backed by Google machine learning. But marketers must work in symbiosis with Pmax to ensure its success.
By providing your business goals, audience personas, creative assets, and more, you can direct Pmax campaigns to achieve success for your business. With anything new, marketing-related or not, there are growing pains.

Performance Max campaigns are not perfect and may never be. Nonetheless, Google Ads continues to roll out improvements. The February 2023 updates are just the beginning of a long and gradual process between man and machine. Many new core campaign types have enabled us to achieve SEM success, and Pmax looks to continue with that success.
The time is now if you have the financial and creative capabilities to launch a Performance Max campaign. Down the road, Performance Max might be the sole campaign type for Google Ads.
Explore our Performance Max wins – then ask us about our paid media services:
---
Read more related blog articles: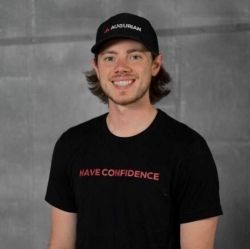 Latest posts by Payson Merkel
(see all)