When it comes to digital marketing, size actually does matter. Display advertising is critical to paid media marketing. It can drive quick conversions, boost brand awareness, generate clicks, and drive sales.
These advertising images or videos are placed on blogs, news sites, and niche websites, or harnessed for remarketing campaigns – and can result in a massive number of impressions, clicks, and sales for your business.
At Augurian, we're often asked which google display ad sizes should be included in a Google Ads campaign (formerly known as AdWords). To help answer this question, we put together this list of the most common banner ad sizes in 2020 (in pixels) based on performance.
If you're using Google Ads, it's critical to have an understanding of which banner sizes will serve you best. If you don't, you'll end up wasting a lot of time and money.
---
Below, we've even included the best ad sizes for mobile advertising. You'll find other important requirements there, too, like mobile ad formats, banner ad formats for Google Ads, and file sizes to help you get the best performance.
TOP 10 GOOGLE ADS DISPLAY AD SIZES BASED ON IMPRESSION SHARE
Not all ads are created equal, and it's important to know which of the most common Google display ad sizes will help you get more impressions, clicks, and conversions.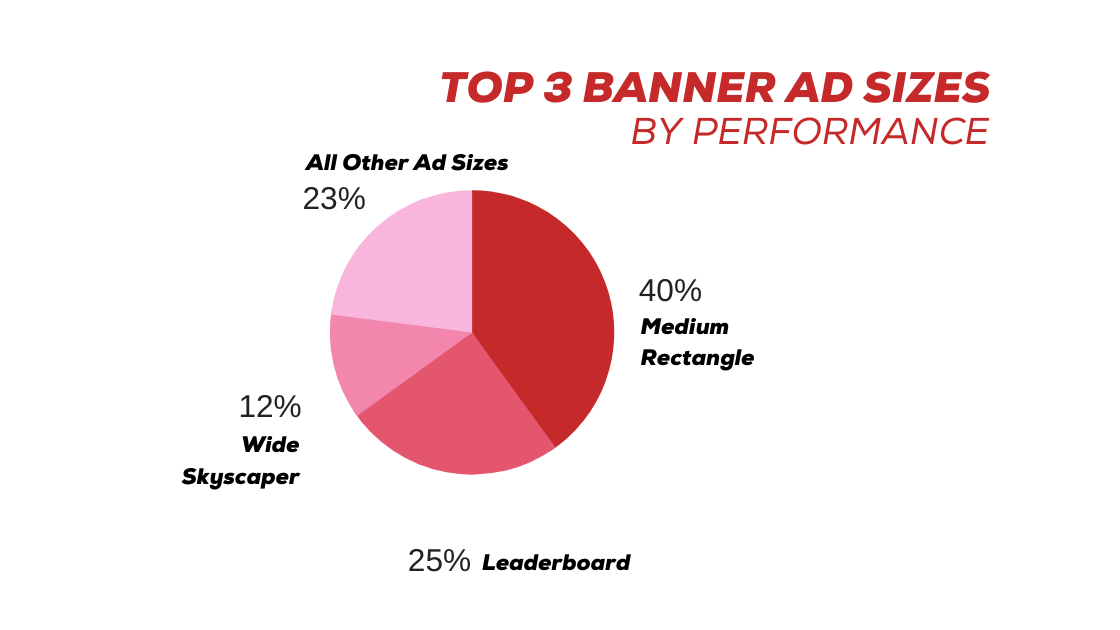 When it comes to optimizing Google Ads banner sizes, here are the top-performing display ad sizes to consider first:
Medium Rectangle (300×250)
Large Rectangle (336×280)
Leaderboard (728×90)
Half-Page (300×600)
Billboard (970×250)
Wide Skyscraper (160×600)
Banner (468×60)
Skyscraper (120×600)
Full-Screen Interstitial (320×480)
Mobile Leaderboard (320×50)
The top three (300×250, 728×90, and 160×600) take up 77% of all ad impressions, making them best performing Google Display Network banner ad sizes.
Medium Rectangle 300×250 
The medium rectangle is the most compact option. It won't take up too much space on the web page but still performs very well (especially when embedded within the text).
Advertisers like the medium rectangle because of its small size that is easy to display. Due to its size and simplicity, it's a great option for a Google Ads beginner that also offers excellent ROI with a click-through rate of .13%.
This ad size makes up 40% of all global ad inventory.
Leaderboard 728×90
The leaderboard banner is displayed at the top of a web page. It's most effective at reaching the most eyeballs, so it's put to use best if impressions are your number one priority.
This ad size performs very well, it boasts a .08% click-through rate. It gets you more ad inventory, which means you can increase your earnings when text and image ads are enabled.
This ad size makes up 25% of all global ad inventory.
Wide Skyscraper 160×600
Also known as a standing banner, this is the most common of the skyscraper banners because it performs the best, and it is the third-most used size of all banners.
This ad is fairly thin and long, but it's wider than its skyscraper counterpart. The wider dimension makes it viewable; it sits on the side of the page so the user sees it as they scroll. It is recommended to place this type of banner ad on every page of a site for incremental revenue, as it boasts a .11% click-through rate.
This ad size makes up 12% of all global ad inventory. 
These are the first three google ad sizes your design team should focus on creating. While there is no guarantee that your ads will succeed simply because you chose the most popular banner ad sizes, it is definitely a good place to start. A few other key aspects of banner ad creation to take into account are:
The copy used on banners
Color choice
Your call-to-action
Design choice
WHICH GOOGLE DISPLAY AD SIZES ARE BEST FOR MOBILE DEVICES?
With google display ads, mobile sizes can be optimized to fit a range of devices and include some of the smallest options available. The best performing Google mobile banner sizes include the 320×50 mobile leaderboard, 300×250 mobile ad, and the 320×480 interstitial ad.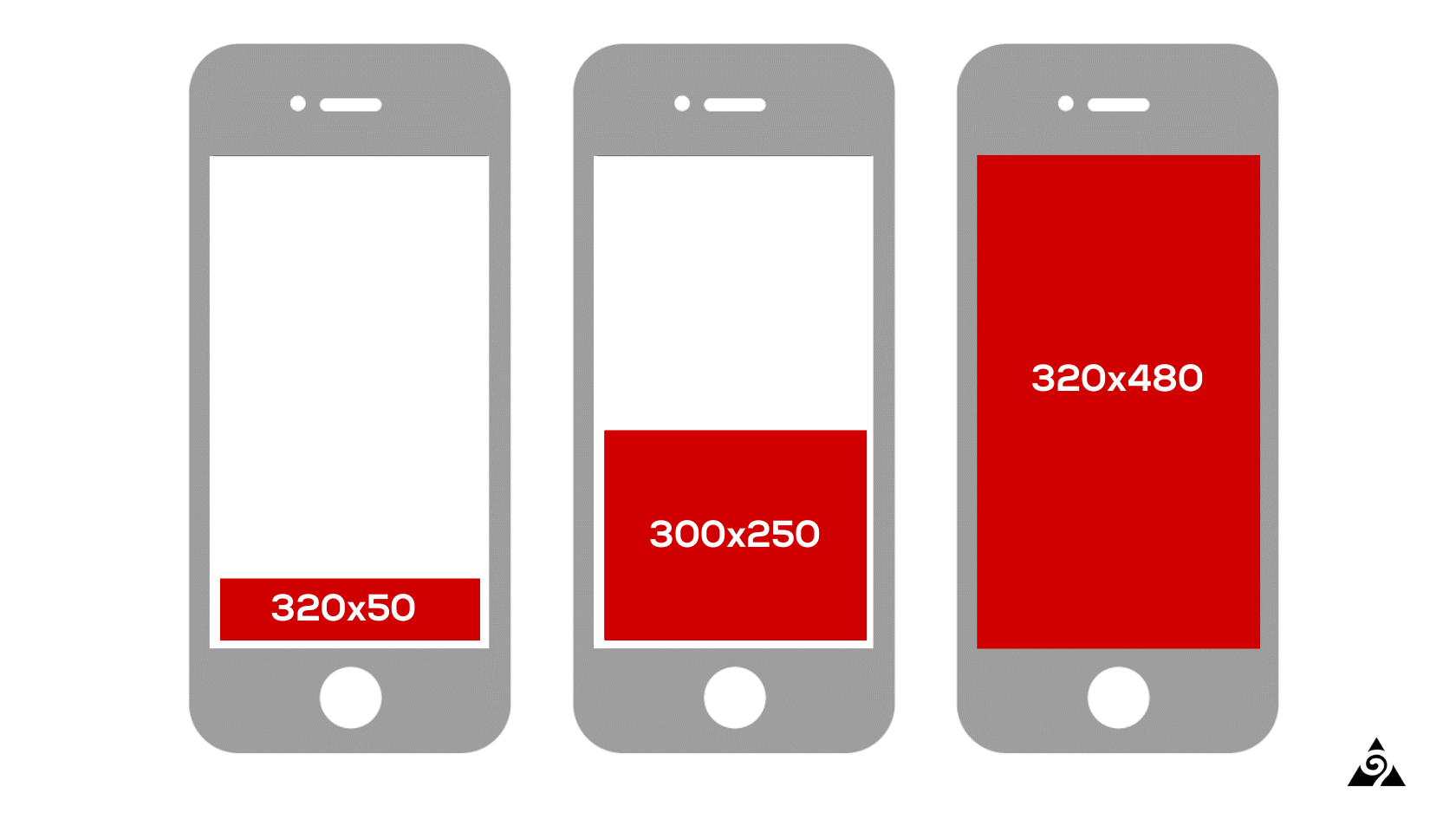 Mobile Leaderboard 320×50
The mobile leaderboard is one of the most common Google display mobile ad sizes in 2020. It usually lays along the bottom of the screen in an app and, as apps are one of the most common ways people consume content, it is highly recommended that advertisers use this.
It is notorious for low interaction, but with lots of impressions. Therefore, it's relatively cheap and great for brand awareness.
Medium Rectangle 300×250
Similar to the mobile banner ad but with a little more real estate, the 300×250 ad size is popular among the best performing display ad sizes as well. It's often embedded in text articles. The medium ad performs well as a text or an image ad, so it's very versatile.
It may not give enough room to drive high click-through or conversion rates, but it can be good in combination with other ad sizes.
One thing that is important to keep in mind when it comes to the medium rectangle banner is this: due to its widespread use, google has implemented specific guidelines for this banner.
If you fail to follow Google's rules they can remove your ad from their network (which covers around 2 million websites and reaches 90% of all internet users).
Full-Screen Interstitial 320×480
Full-screen interstitials are 320×480 mobile ads with much better conversion and click-through rates because they take up the entire screen.
The problem with them, however, is two-fold: Users can get frustrated by them (meaning accidental clicks or immediate dismissal) which leads to publishers showing them less (meaning fewer impressions).
While audiences are still becoming accustomed to the user experience of these ads, take advantage of them alongside banners for a good blend of ad sizes.
Why are Google Ad Sizes Important?
Although it may seem like the differences in the size of all these ads aren't very significant, they're proven to make a huge difference in an ad's efficacy.
Dimensions of display ads are developed for different purposes. The size of a banner impacts how, when, and indeed if a user notices it.
After all, the goal isn't only for users to see an ad, but rather get them to click on it and convert those leads into customers. It is crucial to remember that banner size doesn't guarantee the success of your ad campaign, but it is an important place to start.
MAX FILE SIZE & FORMAT
There does exist a handful of rules when it comes to file sizes and formatting. One thing to keep in mind is that Google only accepts files 150 kb or less.
It's also crucial to remember that your ad can not have a white background without a border. This rule is in place to make sure users will not mistake the ads they see are not produced by or affiliated with the website they're visiting.
In addition to file size and design stipulations, Google requires your ads to be in one of the following formats:
Additionally, Facebook has its own special rule regarding ads: images are required to contain 20% text or less – this includes logos.
Little rules like these can seem inconsequential, or perhaps even optional, but make no mistake – they are not. Ignoring them can dramatically limit your access to placements on publishers.
CUSTOM DISPLAY ADS VS. RESPONSIVE DISPLAY ADS
One final consideration is creating custom display ads (like the ones above) or one responsive display ad.
Responsive ads are easier to produce because you easily upload your creative assets (including logos, imagery, headlines, and description) and then Google will automatically display an ad based on the available space.
Custom display ads can perform better since Google has more control over what is shown, but best practice is to have both so that you have coverage for all sizes, on all devices. Learn more about creating a responsive display ad.
WANT TO KNOW MORE? 
Google Ads and display banner sizing are not the simplest topics to wrap your brain around, but that's where we come in. Our team of expert digital marketers can tell you more about the most popular display ad sizes and the best web ad sizes for your campaign.
Augurian specializes in digital marketing services including SEO, SEM, content marketing, analytics, and even strategic website migration. If you have more questions, explore our blog or speak to an Augur about your digital performance today.