Do you ever wonder if your content marketing strategy is actually effective? Bad content can mean losing readers and, ultimately, customers.
The good news? It's never too late to turn things around. Setting the right goals and tracking the right marketing metrics can set you on the course for success.
An investment in content that is high quality and relevant to buyers at each stage in the funnel makes all the difference in the world of content marketing. If you don't set measurable goals and the right key performance indicators (KPIs) aren't being measured then your content marketing analytics reports won't be reliable and the money you've spent on content marketing will be wasted.
At Augurian, SEO-driven content marketing is our specialty. We take a strategic approach and make your success our priority. Let's discuss what content marketing metrics are (and the best marketing metrics to track), how to measure content marketing performance, and why all of this matters to your business.
---
Skip to a section:
Audience Growth Metrics
Content Engagement Metrics
User Conversion Metrics
---
Content Marketing Metrics 
There are a variety of marketing metrics and KPIs that are useful in measuring the effectiveness of your content marketing strategy. Before we delve into which of these measurements to track –and why– let's first align on what metrics and KPIs are.
A metric is a measurable value used by marketing teams to demonstrate the effectiveness of marketing campaigns across channels.
A KPI (Key Performance Indicator) is a measurable, quantifiable value that demonstrates how effectively a company is achieving key business objectives.
Setting Goals For Content Performance
Publishing content without goals is a waste of time. It's likely that content will be shallow and accomplish nothing for your brand, Google rank, or organic traffic growth. Goal setting doesn't have to be complicated. In fact, goals are often as simple as:
Grow your audience
Drive engagement
Increase conversions
Audience Growth Metrics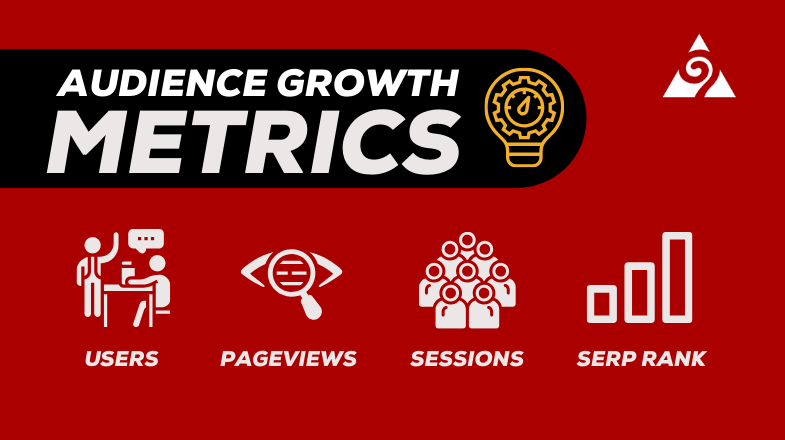 Audience growth is critical to success; you need it for business growth. When your audience is growing, you know your landing pages are working by driving new eyeballs to your content.
Measure audience growth by tracking these content metrics:
As you analyze these metrics, you'll gain actionable insights into which content performs best with each specific audience. This way, you have the tools to optimize your content even more.
When sifting through KPI data, ask these questions:
Are we attracting new readers?
Are we attracting the right type of people?
Are people coming back to read more of our content?
Are people visiting us from the right places?
Content Marketing KPIs for Audience Growth
This list of KPIs will help you dig deeper into the performance of your content and how it affects your audience-growth.
Users: The number of site visitors, or users, tells you more about traffic growth than audience growth – but it's still important. Before you can get too wrapped up in audience growth, you need to know that people are visiting your site.
New vs. Returning Users: Using Google Analytics, you can analyze new and returning users' behaviors to improve performance and turn new users into returning visitors. An increased number of returning users reveals that you're growing your audience of loyal customers.
Sessions: A session is a cluster of a user's interactions with your entire website within a time frame (until 30 minutes of inactivity). Using Google Analytics you can track these sessions to learn more about user interactions.
Sessions-per-user: This KPI describes the average number of sessions per user. More sessions per user means more returning users and a growing audience. Tracking sessions through Google Analytics can tell you when a blog post is successful – and when it may be causing users to leave.
Pageviews: The total number of times a specific page on your site has been viewed can tell you which pages perform better than others. This insight can tell you where your content needs work –and where it's working.
Unique Pageviews: This performance metric reveals if the same user has viewed the same page in the same session and then combines those visits into one 'unique pageview'. This is different from raw pageviews because it tells you the number of sessions in which the page was viewed.
SERP Rank / Impressions: An impression is recorded every time the link to your site page appears in the SERP for a user. SERP rank is the spot Google has placed your site on the SERP. A higher SERP rank is ideal because more users will see your page. Relevant keywords, relevant text, and a quality landing page are the best ways to increase your rank.
Location, Source, Medium: These KPIs tell you where your traffic is coming from and what channels delivered users to your content. This is so important because it tells you which audiences and channels to focus on. When viewed in tandem with other metrics, it can tell you if you're targeting the right audience.
Engagement METRICS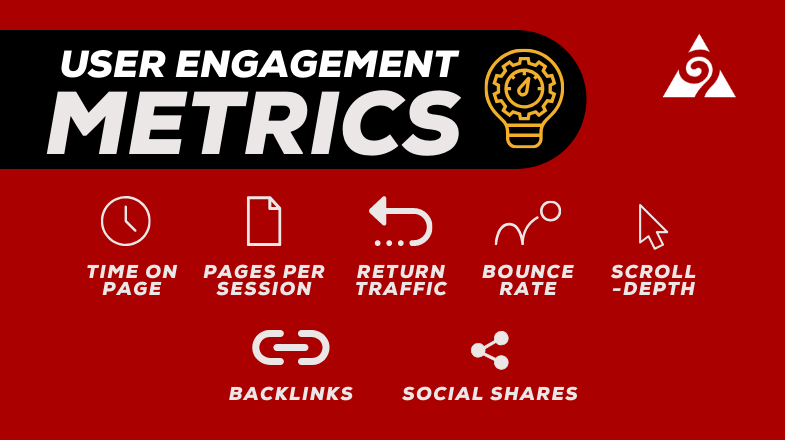 Content performance metrics don't end with audience growth. Deeper analysis can help you understand users and reveal even more about how that audience is interacting with your content.
Pay attention to these metrics and KPIs. Engagement cultivates a loyal community. If engagement is up, you know your strategy is working.
When tracking engagement, the main content metrics that matter are:
Time on page
Pages Per Session
Return Traffic
Consider these questions as you analyze engagement KPI data:
Are people spending the time we expect them to?
Are people visiting other pages on the site after?
Are people viewing most of the page?
Are people leaving comments?
Are we being mentioned more?
Content Marketing KPIs for Engagement
Want to figure out what you are doing right – and what you can improve on? These KPIs will help you measure engagement.
Time-on-Page: The average amount of time that a user has spent on a page is a great indication of the quality of traffic on a given page. Compared with similar pages, this metric signals whether users' needs are being satisfied.
Bounce Rate: This KPI offers the percentage of single-page sessions during which a user didn't interact with the page. If the goal is for users to interact with your site across multiple pages, a high bounce rate is a bad sign.
Pages-per-Session: The number of pages a user interacts with while visiting your website reveals the extent to which they engage with your content. More pages-per-session means more engagement, which means you're progressing towards your ultimate goal.
Scroll Depth: This KPI represents the percentage of a page viewed. This is an excellent indicator of user engagement. If the average scroll depth for your blogs is 10%, that's poor engagement and you may want to reconsider the quality of your content.
Comment Rate: The rate at which users comment on blogs or social media posts requires more attention than simply liking it. Comment rate is a good way to gauge how well you've cultivated a relevant and active community.
Social Shares: Retweets, repins, Facebook shares, etc. all illustrate the resonance of your content with your audience. High levels of social shares are one of the most relevant indicators of how publicly engaged your users are.
Backlinks: These are links directed to your website from a different website. A larger number of backlinks shows Google that your page is popular or important. A popular page with many backlinks suggests a high level of engagement –at least for that piece of content.
Referral Traffic: All the websites that are sharing and linking to your content are shown under this KPI. The more referral traffic you have, the more other audiences will see your content and drive new users to and more engagement with your content.
Conversion METRICS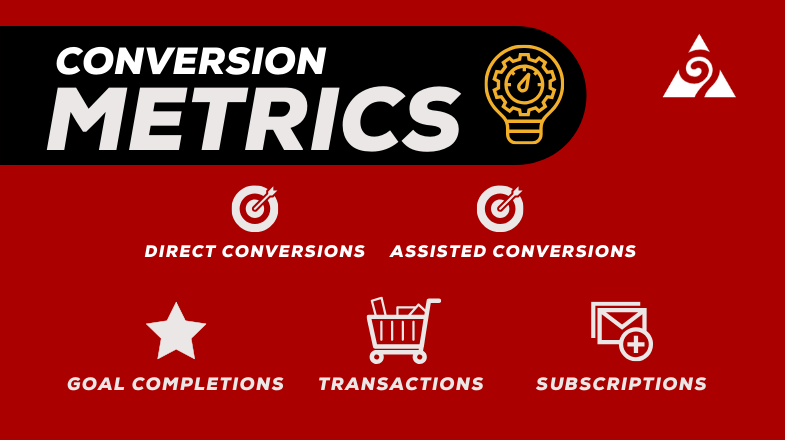 So you've grown your audience and increased engagement, but is anything tangible coming from all of your hard work?
Using marketing metrics to track conversions is the best way to stay on track with your content marketing goal of increased conversions. However, the term conversion doesn't have to mean making a sale; it can be something more casual like subscribing to your content or increasing brand awareness. These goals are unique to your campaign so you will need to measure them carefully.
The best marketing metrics to track conversions include…
Goal Completion
Transactions
Subscriptions
Consider these questions when analyzing conversion data:
Are they opting in to receive content updates?
Are they downloading the asset?
Are they converting later on?
Are they purchasing or converting directly?
Are we growing our search market share?
Is our readership/subscribers growing?
How many leads did it assist with or drive?
How much revenue did it assist with?
How much revenue did it directly drive?
Are we being mentioned more?
Are we driving the customer acquisition costs down?
Content Marketing KPIs for Conversions
This list of KPIs for conversions will help you uncover your goals' strengths and weaknesses. From these KPIs, you can make adjustments that will help you achieve your big-picture business goals.
Direct Conversions: This KPI measures the number of conversions that a certain channel completes. The location of the last click before the conversion is completed gets credit for it. This is an important metric to see where conversions are coming from. The larger the number, the greater role the channel plays in conversions.
Assisted Conversions: Different from direct conversion, this KPI measures the number of conversions that a channel assisted. These are indirect goal completions that occurred at some point after a user interacted with your content. A channel involved in anything other than the final click of a conversion is an assist.
Conversion KPIs for Lead Generation
Goal Completions: Google Analytics allows you to set up goals that you can use to track and measure the degree to which your content is helping you achieve these goals. This KPI is another direct measurement of your progress rather than an indicator.
Goal Conversion Rate: The sum of all individual goal conversions reveals how well your website helps achieve your goals. A high rate shows you what is working and a low rate shows you what isn't. The broader range of goals you track, the more complete the picture of a user's journey will be.
Email Subscription Rate: The rate at which users subscribe to email content is a good measurement of content performance, and a great outcome if you invest in email marketing as part of your content strategy. It means that your content is of such high quality that users will go out of their way to sign up for updates.
Conversion KPIs for Sales
Transaction: This KPI offers an excellent breakdown of where your transactions are coming from and can help you calculate your content marketing ROI. In Google Analytics, you can see what percentage of online transactions were generated by what source.
Time-to-purchase: The amount of time it takes for users to complete a purchase offers useful insight into where customers are getting stuck and which stages of the sales funnel you should focus your content creation.
Cost-per-click (CPC): This is the price that you (the advertiser) pay the publisher (a search engine or a website owner) every time a certain link is clicked. The cost is different across mediums and topics. You can use Google's 'Keyword Planner', a free analytics tool, to get an estimated average CPC.
Cost-per-acquisition (CPA): This measures the sum cost for you to gain one paying customer on a campaign or channel. What is so important here is that this isn't simply an indicator of what's going on, it's a true measure of the monetary impact of your marketing efforts.
How To Measure Content Marketing Success
Learning how to measure content marketing efforts helps you set better goals and gain actionable insights into the best ways to achieve them.
There are many KPIs to consider when setting goals around audience growth, engagement, and conversions, but it's simple to track them in Google Analytics. Once you start, your eyes will be opened to a whole new way to improve your content and your business.
Measure content marketing to help your business succeed. If managing all of this yourself sounds daunting, a content marketing agency like Augurian can help. We're experts in developing content marketing strategy, setting up measurement, and translating KPIs into actionable insights.
Madeline Blasberg gives great detail about how the company she works for, Leadpages, started as a content blog, and the trends she has noticed in the industry.

Content Marketing & Analytics 
Measuring content performance is integral to success. Tracking content performance with tools like Google Analytics ensures that you always have clean, accurate data to inform your strategic business decisions.
---
At Augurian, our data-driven content marketing strategy pairs with expert analytics and can be tailored to meet your unique business goals.
Reach out to an Augur, today, to discuss your digital marketing performance – or to learn more about content marketing services.