Successful marketing in 2020 involves an orchestra of moving parts. A business needs an excellent content marketing strategy –and an excellent team to implement it. While rolling out a successful strategy is usually easier said than done, the process can be made easier with the right content marketing tools.
Content Marketing Tools
Are you ready to build out your arsenal of content tools?
There are hundreds of options out there for tools, apps, software, and websites meant to present solutions for every genre of problems from content optimization to management, and more. Some are difficult to use; others are expensive, wasting your time and money. A select few are intuitive to use and deliver real value. These are designed to help you efficiently reach your goals and can make all the difference in your strategy.
"In this day and age, you always have to be testing new publishers, new platforms, different ways to get at that audience"

-Josh Becerra, Augurian President
You don't have to sift through them all yourself; we're here to share our expert knowledge. Use this guide to discover the best content marketing tools to fit your needs.
---
Skip to a section:
Content Management
Content Strategy
Content Analytics
Content Creation
Content Collaboration
---
Content Management Tools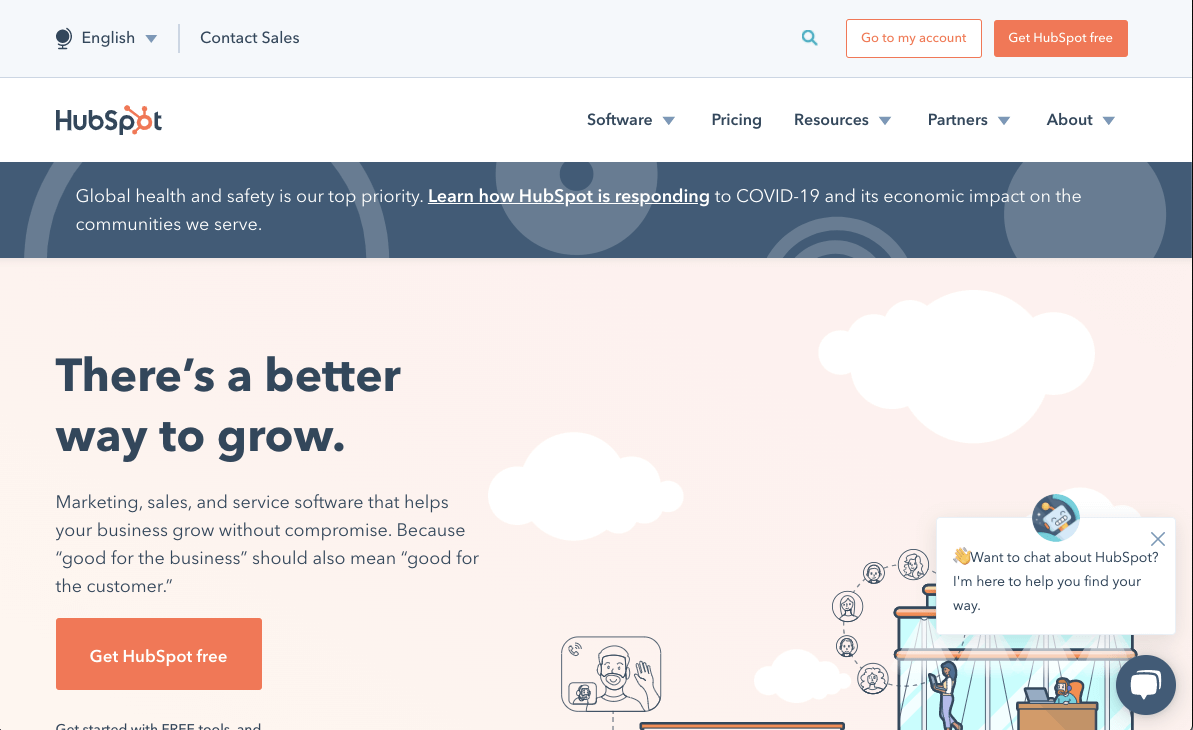 1. Hubspot
Why It's Great For Content Marketing: Hubspot is an all-in-one platform created to help you grow.
Hubspot was rated as one of the best content marketing tools in 2019, so it's no surprise that their marketing content management tools are high-quality and easy to use. It is an all-in-one inbound marketing, sales, and CRM platform that offers a marketing suite with different subscription levels, but the CRM is completely free. With Hubspot, you'll get the resources to create great content, optimize it, and ensure it goes out to the right audience.
Hubspot subscriptions range from $0/month to $3,200/month.
Bonus Tip: Make sure you utilize Hubspot's lead scoring feature, which lets you place point values to everyone within your contact database. This way, you're easily able to identify your leads and how to market to them. 

2. WordPress
Why it's Great for Content Marketing: WordPress is the most easy to use content management system available.
WordPress is the most used website building platform and CMS in the world. It's well known for being incredibly simple to use; if you can use software like Microsoft Word, you can build and manage content through WordPress. It offers exceptional SEO features and training that help you create SEO-friendly titles and meta descriptions, as well as permalink customization, XML sitemap generation and more. It also has a plugin structure that lets you tailor your website to perfectly fit your needs.
The WordPress software has subscription options ranging from free to $45/month. 
Bonus Tip: Use the MonsterInsights plugin to install Google Analytics. Google Analytics is a must-have tool and will quickly become one of the most powerful tools in your possession.
Content Strategy Tools 

3. Google's Free Tools
Why It's Great For Content Marketing: Google's free tools for content marketing make first-class resources available to everybody.
Many of Google's free tools land in top 10 marketing tool lists. The most impressive and useful for content marketing are:
Bonus Tip: Use Google Trends to find niche audiences. When looking for a new niche, always change your range from 'past 12 months' to '2004-present'. This way, you'll see what the search trend really looks like and if it's seasonal. 

4. PageOptimizer Pro
Why It's Great For Content Marketing: With PageOptimizer Pro you can quickly improve the rank of your published web content by identifying the exact page signals needed to win in the SERP.
PageOptimizer Pro is easy to use and quickly delivers results. This platform was voted one of the best content marketing tools of 2018 and has remained popular since. With it, you're able to directly compare specific pages and keywords with competing content and generate a report to get a personalized list of recommended improvements.
PageOptimizer Pro offers a variety of monthly subscription choices starting at $20/month.
Bonus Tip: For best results and accurate scoring, make sure you choose competitors with websites similar to yours to compare. If you choose competitors that rank below you, you're likely to have a lower score. 

5. Answer The Public
Why It's Great For Content Marketing: Answer The Public tells you the questions your audience wants answered so you can pick the most relevant content ideas.
Keyword research plays a huge role in the success of your content. This great tool that was created to visualize search questions and suggest autocomplete searches so that you can improve your content strategy and copy across all platforms. You can also use it to figure out what potential customers are searching for and optimize your content to direct those users to your page.
Answer the Public is free for basic features and has a range of subscription packages that cater to freelancers, large agencies, and everything in between.
Bonus Tip: Do you remember what a preposition is? Grammar in general is very important with an SEO tool like Answer the Public, but prepositions are actually necessary to get the most from the tool. 
Content Analytics Tools 

6. SEMRush
Why It's Great For Content Marketing: SEMRush is like the swiss army knife of content marketing tools.
When it comes to content marketing, optimizing content for SERPs is a must. SEMRush has been a trusted content marketing tool since 2017 and makes optimizing content easy. This multifaceted marketing toolkit offers engagement data so you can improve your search engine rank, organic research to let you explore and compare competitors, advertising research to help you budget wisely, and more.
But not without a price; SEMRush monthly subscriptions range from $100/month to $400/month.
Bonus Tip: Why are your competitors out-ranking you? It's likely to be keyword gaps. Use the Keyword Gaps tool to increase your rank and become a more competitive player in your field. 

7. MOZ
Why It's Great For Content Marketing: Moz content marketing software addresses every important aspect of SEO.
Moz is centered around helping you run a successful SEO campaign. Their content marketing software 'Moz Pro' offers excellent audience analysis tools. After all, the better you understand your audience the better you can optimize your content. 'Moz Local' caters specifically to small businesses. This unique offering is meant to make digital marketing as easy as possible for those who are inexperienced. It actually provides a customer success manager to assist with SEO insights.
There are three yearly subscription options for Moz software.
Bonus Tip: Use Moz Analytics to download your keyword rankings history report and make sure you turn on the function to get keyword ranking reports sent right to your inbox. 

8. Mouseflow
Why It's Great For Content Marketing: Mouseflow simplifies analytics and creates actionable insights.
Are you wondering what it is about your website that makes users struggle? The 'why' behind your visitors' behavior? Mouseflow is created to help you figure it out quickly and simply. This tool has some features like session replay, which shows you exactly how people use your site, and heat maps, which highlight activity trends that you need to be aware of. You can also keep track of your sales funnel and see where users are disappearing.
Mouseflow offers monthly subscription services that range from $29/month to $399/month.
Bonus Tip: Take advantage of the form analytics tool. Use it to see how long it takes users to complete a form and the impact of each field. Small details like these can have a much larger effect on conversions that you realize.

9. Yoast
Why It's Great For Content Marketing: This popular plugin solves issues you don't even know exist.
Yoast became a favorite content marketing tool in 2019, and in 2020 it's still the #1 WordPress SEO plugin. Their ultimate goal is to make SEO accessible to everyone, no need to be or hire an SEO expert. From suggesting internal links to preventing duplicate content, the list of things that the software tracks, updates, and allows you to have control over is enormous.
Yoast has a free version and the premium version costs $89/site. 
Bonus Tip: Pay attention to Yoast's readability analysis and take its advice. Google loves readable copy and so do actual people. 
Content CREATION Tools 

10. Grammarly
Why It's Great For Content Marketing: For those who don't live and breathe spelling and grammar, there is Grammarly.
Grammarly is one of the best content tools for writers. Whether you're a writer by profession or an avid social media user, this app and browser extension saves you from the majority embarrassing spelling and grammar mistakes. The software looks out for readability, effectiveness, and mistakes. When it comes to website content, grammar and spelling mistakes make you seem less authoritative and trustworthy.
Grammarly has free, premium, and business versions.
Bonus Tip: Do you find yourself constantly using a thesaurus app to spice up your vocabulary? Take one step out of that process by turning on the vocabulary suggestion feature. 

11. Canva
Why It's Great For Content Marketing: We're not all born to be graphic designers, but with Canva, anyone can make a decent graphic.
Canva is the multi-purpose graphics tool that just makes life easier. Stock photos won't always cut it. In this app, you can create all types of visual content from social media images and infographics to blog cover photos and more. It makes creating branded content as easy as dropping a photo into a template. There are a few different versions of Canva beginning with a free version.
The free version works for most people. It offers 100's of design types, thousands of free templates, and hundreds of thousands of free photos and graphics.
Bonus Tip: Canva lets you link hyperlinks to photos. Remember that these links only work if your document is downloaded as a PDF, but this feature is awesome if you're making an eBook, PDF or Lead Magnet. 

12. Tiny PNG
Why It's Great For Content Marketing: Frustrated with PNG load times? Tiny PNG was created to remedy that.
Tiny PNG reduces the file size of your PNG files without compromising the photo quality and integrity. With smaller file sizes you'll use less bandwidth and things will load faster. The best part is that you really can't spot a difference in quality between compressed and not compressed files and it's supported across all modern browsers, including mobile devices.
There is a free version, as well as a paid subscription called ' Web Interface Pro' that costs $25/year/user.
Bonus Tip: Decreasing file size optimizes your images for quicker load times. Take advantage of Tiny PNG's WordPress plugin to quickly optimize your images for your site.

13. HTML Cleaner
Why It's Great For Content Marketing: Everybody loves Microsoft Word, but when you copy this type of text, it makes a mess out of your code… unless you use HTML Cleaner.
Messy code is bad for the look and feel of your website and even worse for SEO. Your site code doesn't necessarily need to be perfect, but it needs to be clean and clear enough that search engines can tell what your page is about. Invalid code can have a small effect on ranking and cause usability issues like load time and a high bounce rate (which has negative consequences by itself).
HTML Cleaner has one version that is always free to use.
Bonus Tip: Keep in mind that the program doesn't allow you to clean a source if it has more than 75,000 characters. If this happens, just try cleaning it in two steps. 
Content Collaboration Tools 

14. Slack
Why It's Great For Content Marketing: Slack offers simpler communication no matter where you are for seamlessly collaborative content creation.
Especially now, when more people are working remotely than ever before, a program like Slack is invaluable. Giving coworkers the ability to collaborate and connect from anywhere allows creativity and productivity to keep flowing no matter what. Slack is also an excellent organization tool. Some offices even let it replace email, texting, and instant messaging for their teams because it's easier to keep communication compressed in one app.
Slack pricing ranges from free to $15/month/user.
Bonus Tip: With 'create and assign tasks' you can link Slack to whatever project management app you use and allow teams to keep their momentum going whether they're in the office or remote. 

15. Asana
Why It's Great For Content Marketing: Working remotely is made easy with Asana.
Asana is a work management platform designed with remote teams in mind so that they can stay connected, visualize their work, and seamlessly reach goals and meet deadlines. This app offers features to let you know what needs to be done, who is doing what, and when it needs to be done. Processes are streamlined, projects can be monitored and progress can be viewed in real-time.
Asana monthly subscription packages range from $0/month to $24.99/month.
Bonus Tip: Asana can be integrated with other collaboration and communication apps like Slack. For example, you can get notifications in Slack when changes are made to tasks in Asana. 
---
Want to know more about content marketing? 
Now that you've learned about the best content marketing software and content planning tools in the industry, you're equipped with the resources you need to roll out a content marketing strategy.
Surf our blog to learn more about digital marketing, or explore our content marketing services to find out how we can drive success for your business.
Want to chat about your content performance?
Reach out to a team member, today.