The analysts at our digital marketing agency provide expert insight and execution for SEO, SEM, analytics, and content marketing every day. When we're not busy crafting new strategies to help our clients win, we're surfing the web for fresh content to inspire us. 
As it turns out, our Augurs are curious listeners with a case of podcast fever. And not just digital marketing podcasts, either.
We surveyed our team (through a very official #slack poll) to find out which shows they've been tuning into lately, and the list turned out to be quite diverse.
The list we compiled reveals a selection of podcasts that dips into dozens of topics; science, technology, history, gaming, culture, and even the paranormal. Spooky.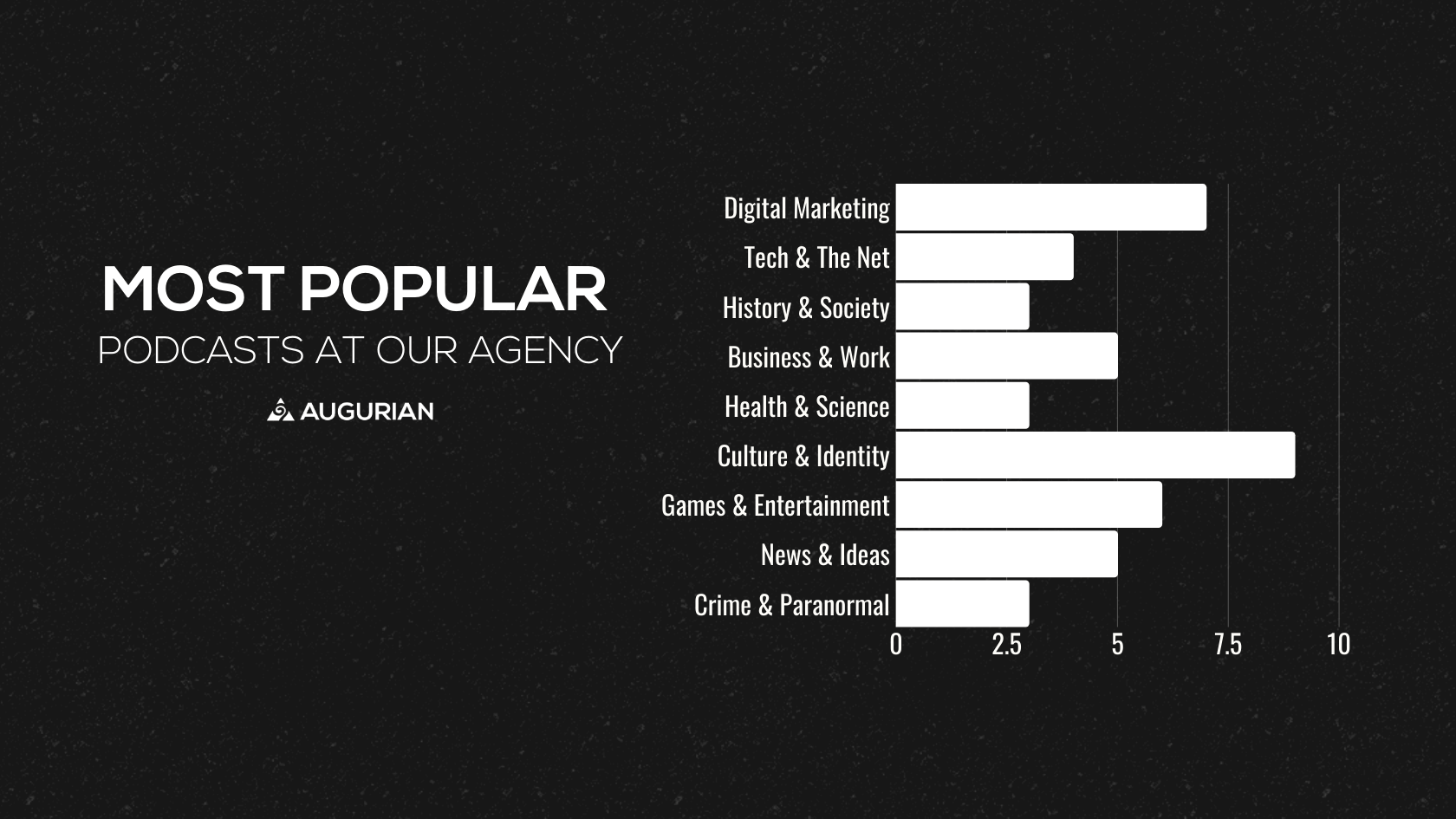 Surprisingly, shows around culture and identity were the most popular type among our team – after some of the best digital marketing podcasts, of course.
Several Augurs recommended NPR's How I Built This with Guy Raz, Revisionist History with Malcolm Gladwell, and the Joe Rogan Experience to be on their go-to lists.
Our Team's Favorite Podcasts Right Now
Ready for the full list? Here are our team's trending podcasts, grouped by category, starting with the genre that is most dear to us; digital marketing podcasts.
Digital Marketing

This digital marketing podcast features interviews with some of the leaders in SEO, including Rand Fishkin, Brian Dean, and Annie Cushing and is a smart place to discover new trends, tactics, tools, and thought leaders in the industry.
Online marketers share the secrets behind their success and offer tips on how to apply their lessons to your own campaigns – with excellent tools, events, and resources to boot.
A weekly podcast about cutting-edge paid search (PPC) strategy and Google Ads.
From leads to sales, this presenting duo shares strategies, tactics, and tools for driving successful paid traffic based on real-life stories from business owners and agencies.
This long-running series provides "expert commentary on breaking social media marketing news from Facebook, Instagram, Twitter, LinkedIn, Snapchat, and Pinterest."
Sitting at the intersection of marketing and technology, John and Christopher discuss what's new in business with expert guests to provide extra commentary.
Digital expert Mitch Joel delivers this once-a-week show to provide insights on the intersection of brands, consumers, and technology.
Technology & Internet Podcasts
Reply All with PJ Vogt & Alex Goldman
An exploration of internet culture and technology's influence on our modern life.
Pivot with Kara Swisher & Scott Galloway
A twice-a-week news program with bold insights and predictions for tech, business, and politics.
Reset with Vox's Arielle Duhaime-Ross
Three times a week, Arielle traverses the advances of technology across industries.
This series aims to "expose the hidden designs that have the power to hijack our attention, manipulate our choices and destabilize our real-world communities."
History, Politics, & Society
Through this enlightening podcast, New York Times bestselling author revisits overlooked or misunderstood historical events, people, and ideas.
Civics 101 by New Hampshire Public Radio
Because everybody needs a refresher course on how our U.S. democracy works.
Once an AP History teacher, Chris, and his friends offer history nerds and former high school slackers a chance to learn more about U.S. history – without the homework.
Business & Work
This wildly popular TED original podcast features intriguing interviews with a variety of extraordinary professionals, hosted by an inquisitive organizational psychologist.
Behind-the-scenes tips and advice on reaching business success –because it's always the first million that's the trickiest, right?
Startup with Alex Blumberg and Lisa Chow
How do entrepreneurs take and idea and turn it into a business? Alex and Lisa explore that process – first analyzing their own experience starting Gimlet Media.
This NPR-podcast explores the stories behind some of the world's best innovators, entrepreneurs, and idealists from some of the most successful companies in the world.
A deep-dive into the grind and challenges of building careers, and the misconceptions about successful comedians and other professionals, as told by the late-night TV host.
Health, Science & The Environment
Experts join the Science Guy in this scientific Q&A to answer a variety of quirky questions around dozens of hot topics in modern science.
This podcast looks to inspire and motivate the earth-conscious and eco-preneurial with news and information about campaigns, companies, and projects.
Aviva shares her 30+ years of natural medicine experience with health news and advice on women's and children's health, food, fitness, beauty, medicine, and more.
Culture & Identity 
In this now-finished podcast that's still quite worth a revisit, David explores a variety of systematic errors in human thought and culture.
Queer Eye's JVN transforms non-podcasters into proud-casters with his energy and passion, discussing a variety of topics from conservation to world culture and many more.
Mob Queens with Jessica Bendinger, & Michael Seligman
Acclaimed by the LA Times, this podcast examines the life of Anna Genovese – a "New York drag club maven and bass-ass mob wife" with a fascinating story to uncover.
A new series hosted by Mary Lambert (known for her breakthrough hit, 'same love' with Macklemore) and her partner on the topics of mental health, body image, and identity.
Dyking Out with Carolyn Bergier
Each week, NYC-based comedian Caloryn Bergier and a guest host invite comedians, musicians, academics, and even scorned ex-lovers on air to discuss lesbian life, news, and pop culture.
On Being with Krista Tippett
A Peabody Award-winning radio show and podcast that takes a spiritual approach to answer questions like "what does it mean to be human?" and "how do we want to live?".
Girl's Gotta Eat with Rayna Greenberg & Ashley Hesseltine
A weekly show with advice and comedic convo around today's burning questions around sex and dating.
Inspired by an on-air panic attack, ABC Newsman Dan Harris explores the concept of happiness through a series of interviews with smart, successful people.
A podcast featuring interviews with "designers, writers, artists, curators, musicians, and other luminaries of contemporary thought" that inquire into the broad world of creative culture.
Games & Entertainment 
Office Ladies with Jenna Fischer & Angela Kinsey
The Office co-stars Pam and Angela re-watch every episode of the sitcom they starred in with exclusive behind-the-scenes stories only they can tell.
Five of the editors from IGN Entertainment gather to discuss Nintendo games, news, opinions, and controversy.
Another gaming podcast covering Nintendo news and commentary from the internal team.
MuggleCast with Harry Potter Fans
For 15-years, this original Harry Potter podcast has been a haven for fans to enthuse over J.K. Rowling's Wizarding World and beyond.
Haken with Animal Crossing Fans
For fans of Animal Crossing, this podcast is a resource for players to comment on updates and share their experiences with the game.
Another fan-driven Harry Potter podcast where hosts reread and re-watch the wizarding series.
News & Ideas
This NPR podcast explores the notion of how things we're talking about being are being talked about somewhere else in the world, story by story, to uncover new aspects of familiar conversations.
With an air of comedy, Trevor Noah tackles the biggest stories in news, politics and pop culture.
UFC Commentator, and the former host of Fear Factor, attempts to impartially dissect various controversies and misinformation by spending 2-3 hours interviewing actual experts in the field.
Can't get enough TEDTalks? We can't either; which is why we love this ongoing series that traverses countless topics, ideas, aspirations, and inventions.
Jay sits down twice a week to have conversations with some of the most insightful people on the planet to "make wisdom go viral."
True Crime & Paranormal
Last Podcast On The Left with Ben Kissel, Marcus Parks, & Henry Zebrowski
A weekly podcast featuring werewolves, cults, true crime, iconic hauntings, and more – with a comedic twist.
A place for the curious and strange, this series documents "stories of ghosts, spirits, energy, the metaphysical world, paranormal activity, and other phenomena."
Serial with Sarah Koenig
A legendary investigative podcast that has won every major award for broadcasting – and even won a Peabody (the first-ever podcast to knab that honor).
What's Your Favorite Podcast Of The Moment?

Comment on LinkedIn, Facebook, Instagram, or Twitter to let us know which podcast series you're tuned into – and we'll make sure our team gives it a listen.
Follow Augurian for digital marketing tips and insights.
Curious about what we do?
Read about our services and explore our blog to learn more. 
#HaveConfidence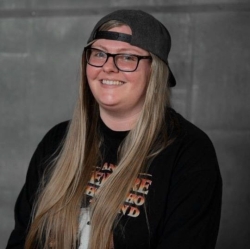 Latest posts by Cassie Burke
(see all)