Marketing During A Recession: Five Reasons Why It's So Important
There has been plenty of buzz in the media these days regarding a potential dip in the economy. Whether it be interest rates, inflation, or a crystal ball, it seems every economist has the perfect formula to predict the unpredictable. The truth, however, remains- the economy is cyclical. Recessions happen. It's best not to fear them, rather to look ahead to figure out how fluctuations in the market can help your business, rather than hurt it. Still, it's reasonable to see a downturn ahead and ask, "Should I keep investing in marketing during a recession?"
There are plenty of opportunities to give your business a leg up during a bear market.  It's easy for almost any business to make money during an economic boom, but it takes a business with market savvy to keep profits coming when challenges present themselves. They key to successful marketing during a recession is to understand how the nature of consumerism changes, while maintaining foresight regarding the future. Here are five things that companies should keep in mind when formulating their marketing strategy for a recession. 
1. Decreased Competition Results in Affordable Cost per Lead
Oftentimes, companies will rush to cut as many costs as they can once a recession occurs. In the world of digital marketing, this is great news. The bidding war to show up in search results becomes much less aggressive, fewer people are investing in a good SEO content strategy, and the cost of advertising space plummets. One could argue that a recession is, in fact, the best time to invest in good digital marketing, because while your actual spending remains the same, your relative spending will increase. The decreased cost per lead is essentially market share that is for sale at a discounted price. 
2. Fewer Product Launches Allow Increased Market Share
Two major drivers of market share are campaigns, and product launches. One area that often sees a decrease in funds during a recession is Research and Development. Consumers are less likely to gamble with a new product during a recession, and as a result, fewer new products are made. This leaves room for firms to seize that available market share by utilizing advertising.  
3. Consumer Needs Change, and Campaigns Need to Evolve
Many firms may be tempted to recycle existing content in hopes to whether the storm while cutting costs. This, however, is irresponsible. There are lots of changes in consumer spending during a recession. For example, many consumers during a recession will opt for much simpler luxury items like wine or a scented candle, rather than full scale luxuries like a new car or vacations. Businesses that are using content that caters to consumer spending during an economic boom will see disappointing results in their advertising efforts. Companies that Operate as a B2C firm should take a close look at this process, and learn how they can meet the evolving needs of their clients. B2B companies should also recognize that their clients are reevaluating where they should be spending. In any case, Businesses that recognize these changes and invest in keeping up with them will perform much better. 
4. Cutting Marketing Costs During a Recession Will Result in a Long-Term Loss
Cutting marketing costs will decrease brand awareness, search result ranking, and brand loyalty. Once those things are gone, they are very expensive to get back. The worst thing a business can do is sabotage their revenue by not advertising, and then try to recover with less money and more competition once the economy improves again. It's easy to feel overwhelmed while there is so much pressure being put on the economy, and on businesses. An important thing to keep in mind, though, is that a recession is only temporary. Companies that have enough foresight to invest in post-recession recovery will see exponential returns as the economy begins to grow again. 
5. Price Wars to Compete For Market Share Will Outlast a Recession
When there's an economic downtown, people spend less money. One might think that the way to drive sales during a recession would be to facilitate the process of spending less money. While promotions have a time and a place, relying on them too heavily could reap havoc on your business long term. It's true that some people base their purchase choice solely on price; however, those people only make up a small fraction of the market. Decreasing your margins to get those extra sales won't result in customer loyalty and will only result in a price war that lasts long after the recession to keep those customers, who have come to expect the lower price. 
The Bottom Line:

Good marketing strategy during economic downtimes will help a business perform well during a recession, and will help businesses recover quickly afterward. There are plenty of things for businesses to worry about when rumors of a recession surface, but marketing isn't one of them. Fluctuations always present an opportunity, and businesses should look at recessions as an opportunity to grow at a discounted price. Keeping these five things in mind can turn an ominous recession, into a win for a business.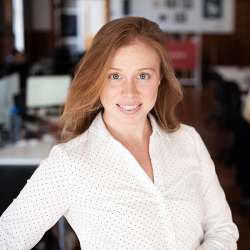 Latest posts by Lydia Andresen
(see all)