What's going on?
As you've likely seen on the news in recent days, Facebook has just been hit with a discrimination charge by the Department of Housing and Urban Development (HUD).
The United States government is effectively suing the social network for allegedly violating the Fair Housing Act, by "encouraging, enabling, and causing housing discrimination." It does this, HUD says, by allowing advertisers on the platform to exclude individuals in their targeting who are protected based on race, religion, familial status, disability, or other characteristics.
What sort of ad targeting is involved?
Some of these types of targeting may include: individuals who have expressed interest in "assistance dogs", "mobility scooters" or "deaf culture"; people who are aligned with interests in "Puerto Rico Islanders", "Hijab Fashion" or "Hispanic Culture"; people classified as "non-American-born" or "non-Christian"; and individuals currently living in specific zip codes; among other types of targeting.
According to HUD Secretary Ben Carson: "Facebook is discriminating against people based upon who they are and where they live… Using a computer to limit a person's housing choices can be just as discriminatory as slamming a door in someone's face."
What happens next?
These charges will either be brought before a US administrative law judge, or heard in a federal district court. They follow a recent complaint by HUD in August saying that "reasonable cause exists" that there had been a violation.
The argument brought by Facebook in response has been that HUD is insisting on "access to sensitive information – like user data – without adequate safeguards", but that they're "eager to find a solution."
How does this impact advertisers?
On March 19th, Facebook's COO, Sheryl Sandberg, said in a statement that it would be making changes to its platform, including the removal of housing advertisers' abilities to target by ZIP code, gender or age. In addition, advertisers offering housing, employment or credit items "will have a much smaller set" of targeting options to choose from.
However, digital advertising continues to be the wild west, where laws and regulations have yet to catch up to the targeting capabilities available to businesses online. While still in its infancy, advertisers are essentially the guinea pigs of the industry – and should ensure that they take all possible precautions in their digital advertising.
We believe that businesses do well in their online advertising when ensuring that their brand and messaging are inclusive and open-minded.
What are some recommendations or best practices for inclusive ad targeting?
In general, it is best to avoid specifying any sort of targeting that may single out or exclude protected individuals; this often means avoiding targeting around age, race, gender, sexual orientation, ethnicity, religion or different abilities. If including these categories in your targeting is absolutely necessary, ensure that it is for a reason explicitly related to your product – such as women's shoes, or 21+ events – and not simply due to assumptions about your target audiences.
Although it may often seem that including more specific demographic targeting in your campaigns could be helpful to performance, consider that there are often many other psychographic or behavioral indicators that can achieve the same – or better – reach for your brand.
Here's a real-life example: At one point in my career, I was managing advertising for a relatively large cosmetology school. About 90% of their student population consisted of individuals who identified as women – causing the client to feel the need to exclude men from their ad targeting. However, I convinced them to test a campaign in which we included our standard interest targeting – cosmetology, makeup, hair styling, and the like – while omitting any gender-specific targeting. We ultimately drove significantly increased returns from our test and discovered there was an untapped group of individuals identifying as male and interested in the school. It was not only great for their results but also their brand image.
In many cases, we've found that the less restrictive the audience targeting we employ, the better the results we see – while lowering the risk of excluding individuals who should not be excluded. Often, the algorithms in the platforms are able to do more with less – and may even find you some new audiences you never knew you had available to you.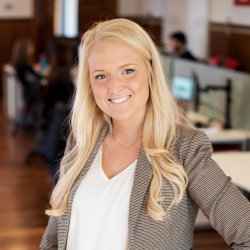 Latest posts by Austin Voigt
(see all)