We all know how important video content is in helping to promote your online brand – whether in advertising, or organic posts your organization publishes. However, it can be difficult to keep up with the complicated, ever-changing recommendations set forth by platforms like Facebook for what they prefer and favor on their timelines – and what you need to do to get your brand the most exposure.
The common thought in recent years has been that videos should be short and sweet – capture users' attention in the first three (or more recently, two) seconds, maybe run anywhere from six to 30 seconds, and essentially pique the user's interest so that they will choose to continue engaging with your brand outside of that short video – of their own volition.
However, Facebook recently made statements that contradict this notion – and it's important to understand why.
In a not-so-publicized statement made by the Facebook Newsroom in May of this year, new updates to their "video ranking" criteria were made, which were both slightly different from previous recommendations, and also more vague. According to our sources at Facebook, these changes were primarily made to "account for viewership behavioral changes as part of users consuming more long-form content on our platform via Watch and IGTV".
"Video Ranking" is Facebook's method of using proprietary algorithms to essentially score uploaded video content on their platform, in order to determine how engaging or valuable it will be to their users, and from there, how/where/when to distribute it (see "Understanding Video Distribution on Facebook" for more information).
The newly updated criteria for ranking organic video content is as follows:
Loyalty and intent:

Intent and repeat viewership are important factors we consider when surfacing videos to people in News Feed. Going forward, we will add more weight in ranking to videos that people seek out and return to week after week.

Video and viewing duration:

As we've shared in the past, it's important to ensure that videos capture viewers' attention for at least one minute. We will add more weight in ranking to videos that keep people engaged, especially on videos that are at least three minutes long.

Originality:

Last year we announced that we would limit distribution for unoriginal or repurposed content from other sources with limited or immaterial added value — as well as demote video content from Pages that are involved in sharing schemes. We will more strongly limit distribution and monetization for this kind of content.
The biggest changes here are the fact that Facebook is now encouraging brands to create and upload video content longer than three minutes; in the past, this length of video was often discouraged.
However, the caveat is that the longer-form (or even short form) videos must, first and foremost, be original and capture users' attention. Therefore, it will still be extremely important to ensure those first two to three seconds are highly engaging, and that users are encouraged to continue watching content all the way through. We can assume, from this updated ranking criteria, that any drop-off in viewership mid-video will very negatively impact the serving of your content. Get creative and keep it interesting, any way you can!
Something else that is extremely important to note here is that these video length recommendations are meant for organic social strategies – they are not intended for advertising strategies. According to our sources inside Facebook, 
[Video] ads should still be 15 seconds or less ideally. Given that ads are inserted into the user experience without the user explicitly asking for it, the content should be concise and direct to effectively deliver the message. 
Users consumption habits and attention span for ads vs. organic are two totally different beasts. It doesn't mean that you shouldn't use short form videos organically either. Short form will still likely get higher video completion rates, but potentially a bit less reach so it depends what the priority is.
Therefore, it's important to understand that short-form video content is still king – both organically, and from a paid perspective – however, long-form content (when done well) is beginning to show more strength for brands from an organic perspective. And, of course, all of these "rules" can and likely will change in the near future.
The best thing to do in these situations is to prioritize testing, monitor and learn from performance metrics, and stay adaptable to users' changing consumption habits into the future. 
We at Augurian also emphasize is cohesion between your paid and organic social teams; when everyone can learn and grow from each other, a brand's overall online presence improves exponentially.
Want to learn more about how our team has helped brands stay on top of changing online trends, worked together with organic social teams, or conducted content testing for businesses online? Reach out to us today to learn more about how we can give you confidence in your digital strategy.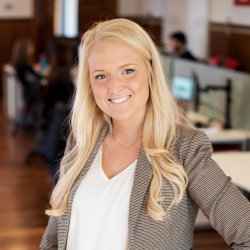 Latest posts by Austin Voigt
(see all)