Important higher funnel performance metrics that come out of the box with GA4.
In digital marketing, there is an emphasis on using performance data to help guide the investment of both time and resources. Universal Analytics has offered several metrics which have historically had value, however, GA4 brings new out-of-the-box metrics that can tell new stories about how effective your mid-funnel and upper-funnel tactics are.
The main difference being brought with GA4 include access to custom funnel reporting that used to cost a considerable amount of money to access in UA, predictive modeling for accounts with high volumes of data, and a more flexible data structure than UA. The implications of these changes are still being understood within the industry as GA4 gradually roles out.
Early indications are that GA4 should enhance our ability to answer questions around customer journeys, and continue to make informed data decisions as the data google has access to goes through changes over the next several years.
One of the implications of the more flexible data model is new out-of-the-box metrics that help answer questions about user retention for longer sales cycles. Let's examine that a bit.
Historical upper funnel measurement practices:
Depending on your analytics measurement setup it is possible to have a robust understanding of which upper-funnel tactics like blogging, display, or social media ads are driving new customers. This is a fairly straightforward exercise for eCommerce, but still possible for clients who rely on leads.
Closed-loop analytics can help connect the offline outcomes of your upper funnel activities in a way that provides insight to future buys. Closed-Loop Analytics allow you to see how much revenue is being generated from specific digital marketing channels if that is being collected in your CRM. Explore our collection of videos to learn more about Closed-Loop Analytics.
That being said many clients do not have that level of sophistication when it comes to measurement, and still want to make the best use of their time and investment without heavily investing in new analytics processes.
Universal analytics did provide some helpful metrics in this regard. Common metrics to consider would be conversions or assisted conversions, while these metrics are good often times the amount of data available is sparse, and it can take some time to collect enough data to make a decision. Other metrics that are most useful in making decisions after include time on site or pages per session, but these out-of-the-box metrics lacked the ability to tell the story of what tactics are really bringing users back to the website.
Definitions:
DAU (daily active user) / MAU (monthly active user)
DAU/MAU is the percentage of users who engaged in the last 24 hours out of the users who engaged in the last 30 days.
WAU (weekly active user) / MAU (monthly active user)
WAU/MAU is the percentage of users who engaged in the last 168 hours out of the users who engaged in the last 30 days.
A New Approach to Thinking about Upper Funnel:
I'm very pleased with these new metrics as they allow you to answer the question of what is bringing people back from the website with more accuracy. These dimensions can be used to look at which pages, ad copy, publishers, audiences, keywords, or events correlate with users coming back to the website through GA4 custom reporting.
Using these metrics you can make decisions about which activities have been most successful in bringing back engaged users, and develop hypotheses as to why, for further testing. It's possible to set this up within the exploration tab.
Select either DAU/MAU or WAU/MAU as your metrics and decide which dimension you'd like to analyze.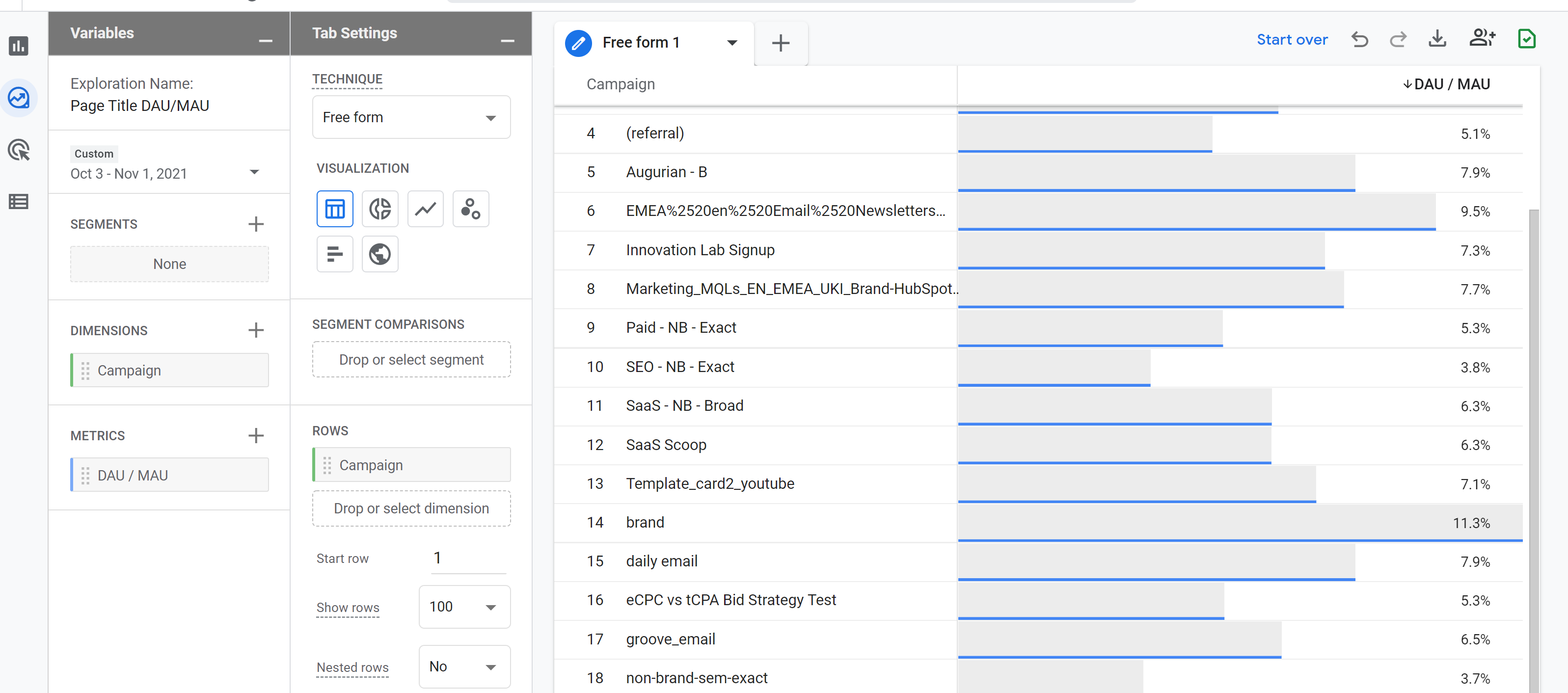 If you are interested in getting starting with GA4 Augurian is happy to help.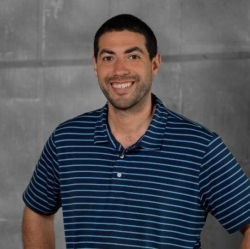 Latest posts by Derrick Turner
(see all)