If your company's lead generation strategy is solely focused on creating a high volume of leads, it is most likely experiencing poor lead quality and a low percentage of leads are turning into opportunities or sales. To address this problem, a company's digital marketing team is often tasked with pouring more effort into driving more leads.
Higher volume is not the answer.
Based on our work with B2B clients who seek lead generation that yields more opportunities and sales, we know that focusing on post-conversion marketing is the answer. Leads need to be nurtured through their buying decision. This means it is essential to share relevant and timely messaging, which happens best when marketing and sales teams are aligned.
We often see a disconnect in that alignment when these teams aren't on the same page. It's the main reason most companies don't see results from their lead generation efforts. In our experience, focusing on optimizing post-conversion marketing efforts is the way to ensure your efforts are connected and get results.
Here are the steps we implement to optimize post-conversion marketing:
Align Sales and Marketing Efforts
Align sales and marketing efforts by proactively identifying top-line metrics, creating shared reports, and properly aligning budgets. Identifying top-line metrics in advance will help both teams define success. Shared reporting will create transparency and build trust because both teams will be speaking the same language and can clearly track toward goals and make adjustments as needed. Properly aligning budgets will ensure quality leads are contacted and deals are closed by your sales team.
It's key to consistently track progress, continue to meet and fund the post-conversion part of the decision cycle to nurture audiences through the final stages of decision-making.
Address Barriers and Use Data to Overcome Them
At Augurian, we understand that there are often multiple stakeholders in our client's decision making process. We help our direct contacts or "internal champions," as we like to call them, justify results by addressing cultural, political, or resource-constrained barriers that may be preventing progress and feel overwhelming to overcome. We leverage an L10 meeting process, which we've modeled after Gino Wickman's, EOSWorldwide,  Entrepreneurial Operating System (EOS) This allows us to identify, discuss, and solve any issues or barriers by outlining clear next steps to solve or remove them, with accountability assigned to a single team member for this next step. This process helps our internal champions tell a coherent and data driven story to key stakeholders.
Understand and Address Your Target Audience's Problem
For B2B, there are often multiple stakeholders involved in decision making that need to hear different messages to address their needs. We use a few different frameworks to breakout messaging by audience. One framework that's resonated with clients and has driven great return on investment is the Strategic Partnership Framework from the book "Eat their Lunch."
This framework uncovers the main value propositions that address each stakeholders' needs in the decision making process. Messages are broken out hierarchically with strategic partner messaging having the greatest impact followed by business results, service, and product messaging. These main messages align well with organizational structures where strategic partner messaging usually focuses on executives or C-suite audiences, business results focus on managers, and service/product messaging focuses more on analysts and entry level employees.
If your lead generation strategy isn't producing high quality leads, the probability of turning leads into opportunities and sales is low. By following this process to optimize post-conversion marketing, a company can set itself up for higher quality lead generation that translates into healthy and sustainable marketing and sales team coordinated efforts and effective results.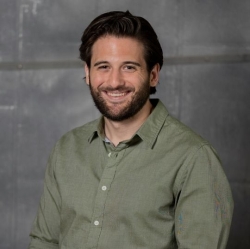 Latest posts by Arin Arpinar
(see all)