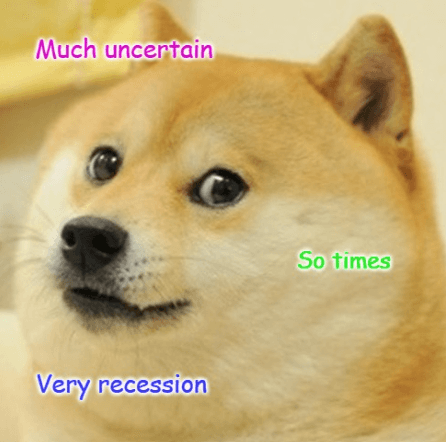 Unless you live under a rock, you've probably heard the terms "recession" and "uncertainty" communicated more frequently in the news and at work recently.
In all seriousness, this is a difficult time for many Americans, and we can empathize with individuals and businesses feeling overwhelmed by the ambiguity.
This blog will predominantly focus on how to approach your paid media in a recession, but the general insights are applicable to any marketer.
Paid Media Platform Costs Are Rising
We've heard from our Google reps on the rising cost of CPCs over time and witnessed it firsthand, but this past year has seen a significant backlash after the tailwinds of 2020 through 2021. Looking at a meta-analysis of our agency's data, we found that CPCs are up 39% YoY for both search and shopping campaigns, and we don't expect to see CPCs drop in 2023.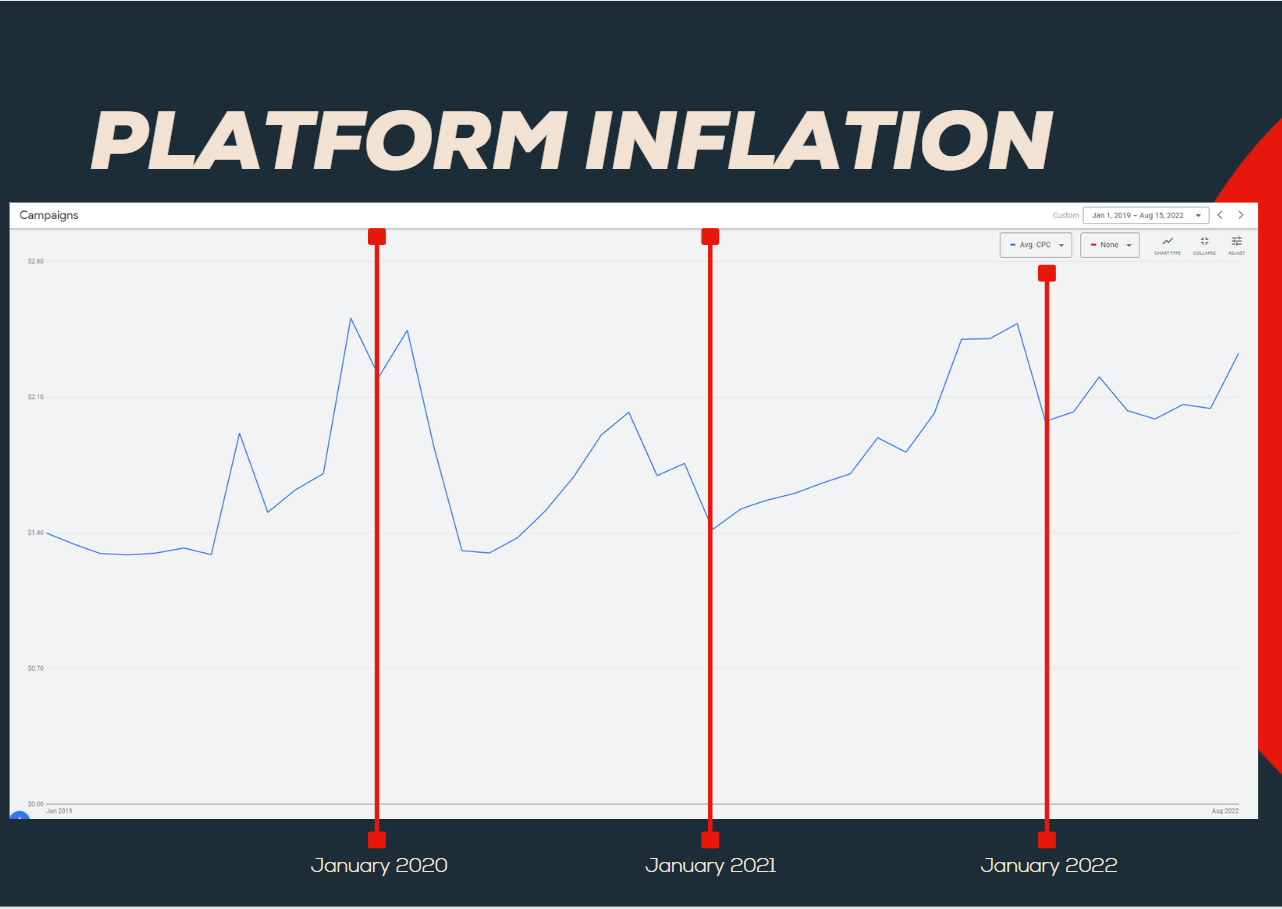 Many industry leaders have highlighted some of the primary considerations that went into this, like Clearbit, who recently hosted a webinar on the rising costs of paid media. Their discussion pointed to a few factors leading to an inflation in the paid media landscape:
Economic considerations related to supply and demand, e.g., supply chain issues, the War in Ukraine, and the Fed raising interest rates.
Buying behavior is changing. From a social media standpoint, social media users are less inclined to leave the platform they were on and usually scroll endlessly unless a unicorn piece of content catches their attention. From a search standpoint, limited options are available, and being at the top of the SERP is everything. Being the first result can decide whether you get the business or not. That lower inventory and increased on-demand consumer needs lead to that heightened cost.
We have a flattening of big tech with more platforms arising, like TikTok, which create more supply lines and spaces to capture people's attention, making it tougher to compete for that attention as an advertiser.
Lastly, privacy restrictions are taking away targeting options, leading to higher cost. Over time, we've noticed a significant reduction in the targeting levers in Facebook Ads, Google Ads, and other channels.
How To Address the Rising Cost
The reality is that many businesses are losing profits because of all of the noise. However, those who can afford to, keep a level head and remain forward-thinking with the obstacle ahead.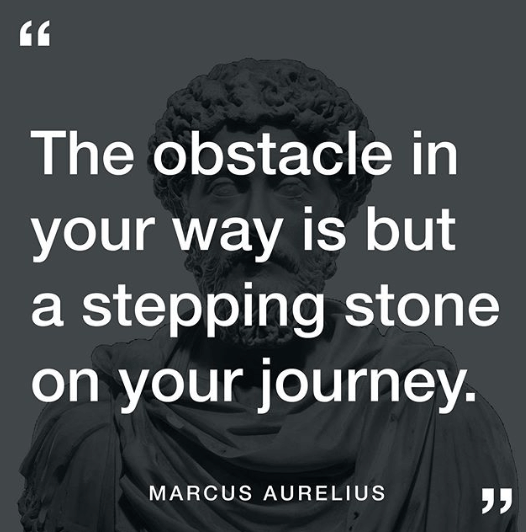 I want to reframe this obstacle as a chance to improve your paid media investment in the short and long term.
Here are some strategies we started implementing to support our clients during the uncertain economic conditions ahead:
1. Stop listening to the buzz and get specific about how the market impacts your bottom line
Some of our clients have seen a significant hit. As a result, they've dropped their spend or consolidated their paid media mix in the short term. Others are ramping up their spending. Some businesses thrive on volatility and fulfill an essential need in the market during this time.
So step one is identifying whether the uncertainty is good or bad for you. As I'm sure you'll find once you unpack the situation, it's not that black and white. I recommend connecting with your client to better understand a customer's true cost, AKA customer acquisition cost (CAC).
For example, start with the basic CAC formula:
CAC =  Advertising Spend + Your Agency's Retainer / New Customer
Then, request your client's other marketing cost data to unpack the cost of acquiring a customer, factoring in the cost of other marketing tactics.
If you have that, then unpack the cost of acquiring a customer, factoring in operations and other business expenses. The deeper you go, the better you'll understand the implications of the decisions ahead and overall profitability.
2. Get back to marketing fundamentals and focus on your core
This is a great time to audit your campaign's audience or messaging. Marketing is about getting the right message to the right person at the right time. In paid media, we can lose sight of that in all that data and reliance on Google's automation.
We need to teach Google to give us more of what we want and need, to pilot our systems to ensure we're not missing opportunities and wasting our client's budget. It's never perfect, but looking at your audience data in Google Ads is a great place to start.
I like looking at an account level and segmenting for different metrics. For example, for our lead gen. clients, I've been looking at age, household income, gender, device, Google-owned audience, and location data to better understand the highest converting consumers. Then, I go deeper and look at search term data to develop some segmentation recommendations.
I've found household income to be an incredibly impactful lens to look at to come up with strategy adjustments. For example, one of our clients' highest lead-driving income brackets was in the top 10% of HHI, while impression share was fairly even across the board.


We decided to break out our campaigns to focus on maximizing our budget with that top 10% HHI audience, which intuitively made sense. More affluent consumers are less affected by the noise.
We also adjusted our ad copy for this campaign and our other campaigns based on a framework from Harvard Business. The framework breaks consumers into four profiles related to their behaviors during a recession. Here are the four profiles:
The slam-on-the-breakers
The pained-but-patient
The comfortably well-off
The live-for-today
The article further breaks down purchases into four categories: essentials, treats, postponables, and expendables, and demonstrates how each audience profile approaches each purchasing category.
I've identified which category those consumers fall into for each of my clients. This lens looks at things, especially from a consumer standpoint, but can also be a reasonably used framework for B2B businesses.
Price sensitivity is an obvious callout. If you can feasibly run a promotion, it's worth considering pushing the product. Otherwise, one of my favorite strategies to run is countdown ads. Countdown ads create urgency around an offer. It doesn't have to be a significant price reduction, but the increase in urgency leads to consumers feeling more inclined to make a decision.
Conversion rates are usually the first number we see declining, so finding ways to increase that metric by improving your landing page experience can drive a significant uptick in performance. Before conversion rates start hurting, create scarcity and urgency in your messaging to drive greater action.
3. Don't neglect awareness and edge tactics
Often clients will lose some of their brand traffic during or after a recession. This happens because the client stopped investing in touchpoints beyond paid search, which tends to be more bottom-funnel, and only captures existing demand.
At Augurian, we're looking at helping our clients with current demand capturing and new demand generation. This means generating traffic from new platforms. We typically keep around 10-20% of our budget focused on awareness tactics. Usually, that number is more on the lower end during a recession.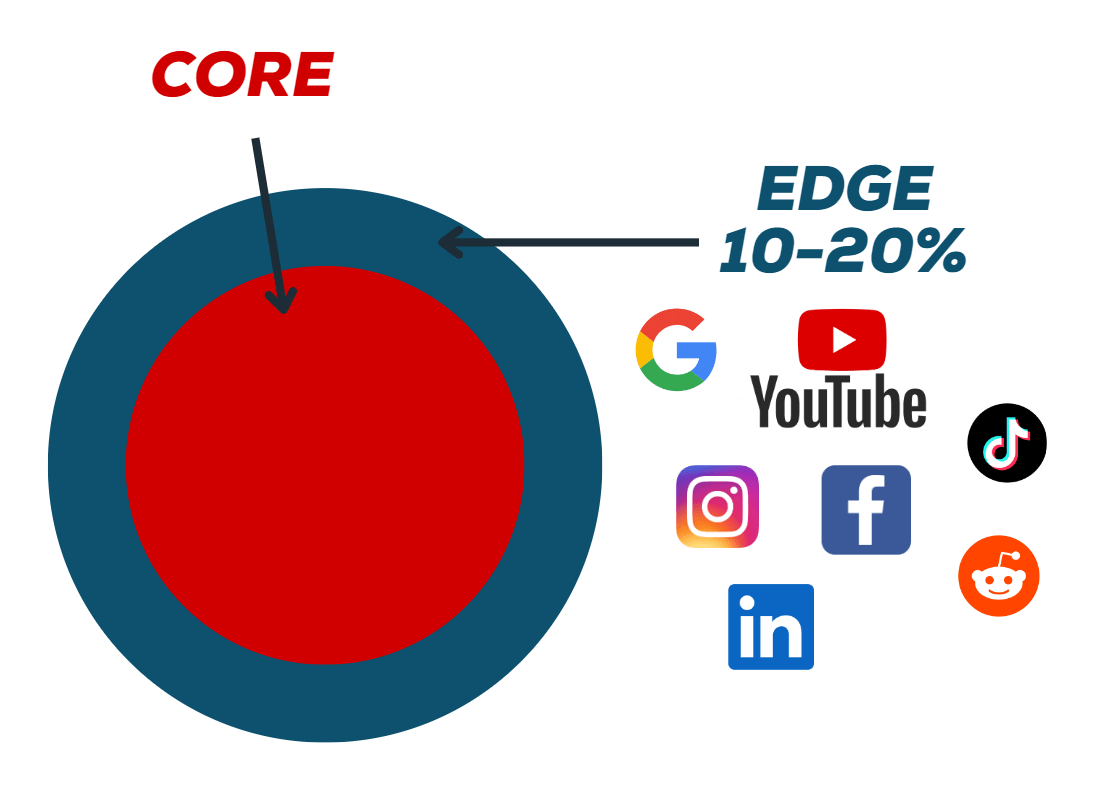 For example, when a client wants to cut the budget, the first strategy we see canned are awareness tactics because those tactics don't tie as easily to immediate business impact.
In the long run, this leads to a decline in brand searches and direct traffic due to this lack of investment. We're hit with a double whammy: less value in the short term and a multiplied value loss in the long run that we have to make up due to the lost brand and direct traffic over time, which are often your returning customers.
Then, the client comes back and asks: "What happened to all our brand traffic? Why did we lose all that value?"
To avoid this situation, at least pencil in 10% of your total budget for awareness. Awareness strategies are generally much cheaper than lead generation strategies. Baseline CPCs might even be more affordable during this time because your competitors are pulling back.
Consider testing strategies like YouTube Ads to build audiences based on viewers who have viewed your ads, Reddit Ads to get 10k+ relevant impressions (depending on the audience), often under $100/month, or Google Display's custom intent targeting to keep driving new traffic to your site.
Rather than focusing on current demand capturing during this time, keep generating new demand with relevant prospects, even if now isn't a good time for their business.
4. Manage expectations with the client and internal stakeholders
Managing expectations is arguably the trickiest but most important part for agencies. If I learned anything from marketing during Covid-19, it's that demonstrating calmness and confidence in what we know and can control vs. what we don't know and cannot control is crucial during the uncertainty.
Listen to clients' needs and partner with them; this goes beyond a marketing strategy. Understand their true customer acquisition cost, factoring in operational and material costs. Factor in the bigger picture and show what you have control over from a paid media standpoint.
There are no guaranteed performance outcomes because things are constantly changing. However, we can provide direction and guidance. We can provide partnership when clients are open and honest about their struggles to demonstrate that we're there for them during the good times and bad. Such is life.
Even if that situation is not in our best interest, if paid media is softening, and your client is struggling to drive enough profit in the short term to stay afloat, it can be best to break up for both parties. Ideally, you're playing the long game and can reconnect further down the line, either on the same business or a new venture.
5. Pick your strategy: short-term profit vs. staying in the game
This will likely come from your clients to a degree, but it also should be coming from your recommendation. Most of our clients are running campaigns across multiple publishers. In times like these, you either need to decide to double down or cut your losses and focus on what you do well.
I recommend looking at your core tactics and understanding if your core audiences are fully funded. Then, rank your other channels from high to low from an ROI standpoint to see which are most important in the short term.
Next, conduct a long-term analysis to understand how the brand has been trending over time. Where are there tailwinds? Where are there headwinds? A SWOT Analysis is a great exercise to gather all of your thoughts in one spot.
The best place to be is to look at your paid media investment like any other financial investment. As Warren Buffet puts it, "be fearful when others are greedy, and greedy when others are fearful." Consider where opportunities are available and use the framework of dollar cost averaging.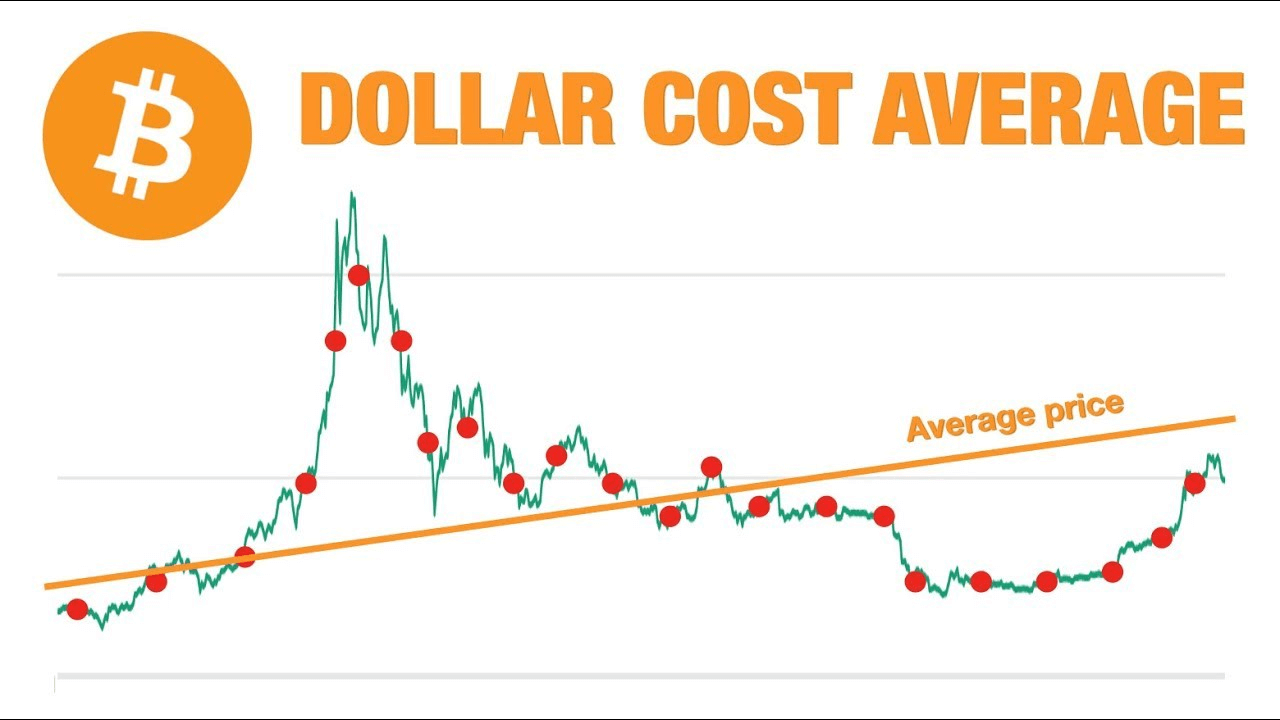 In simple terms, dollar cost averaging means business as usual. No matter the noise. No matter the highs and lows. The goal is to stay the course and weather the storm. The investments you make now will have a ripple effect in the long run.
Competitors might be dropping out, so we should have a budget ready to stay the course and get clicks at potentially lower CPCs. Of course, some businesses are too cash-strapped to take that approach, but if you can take the risk, it's worth it now.
Have Confidence
At the end of the day, businesses and people aren't just numbers on a spreadsheet. They have real consequences. While we can't control what's going on externally in the market, we can control how we show up and support our clients.
If there's anything we can learn from the uncertainty of Covid, it's that we can get through it one day at a time by just showing up and doing our best.
While this situation is real and stress-inducing for many, if you're a paid media practitioner, you don't have the luxury of chalking things up to uncertainty and leaving it at that. We have to lead our clients and have a point of view on how to approach the uncertainty.
---
If you'd enjoy working with a company that keeps your best interests at heart, read more about how Augurian Paid Media team can help you have confidence in your marketing investments.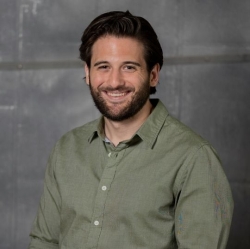 Latest posts by Arin Arpinar
(see all)