Earlier this week, Facebook announced it would be reinstating a small test of its search ad placements, known as "Sponsored Results," on mobile apps and in its Marketplace.
The news comes in the wake of Facebook's recent earnings report, which showed rapidly declining revenue growth, as a result of the overall diminishing space for advertising on their platform.
As with any website, there are a finite number of eyeballs to advertise to, and pages to advertise on – so although Facebook is the largest social network in the world, its wealth of advertising real estate is rapidly dwindling due to its popularity with marketers.
The new search ad test is currently only open to a select few automotive and retail/ecommerce brands as a value-add placement – meaning they're not being charged to play the guinea pig. While they do have the ability to select the placement and opt into it themselves, they do not have the option to choose their own keywords or phrases at this time.
In terms of ad format, these placements appear very similar to those in the mobile News Feed – with a headline/image/text format. They are also clearly labeled as "sponsored" ads.
According to an email from product manager Zoheb Hajiyani, Facebook will be "…evaluating whether these ads are beneficial for people and businesses before deciding whether to expand" and allow other advertisers to join in. Ecommerce brands specifically will likely find value in these placements if they are made more widely available.
When Facebook first instated "Sponsored Result" testing in 2012, they were facing a similar situation in terms of desperately seeking new revenue streams to maintain its growth (at that time, the culprit was their mishandled IPO). However, they ultimately did not see success with the new ad format at that time and decided to discontinue it.
This time around, with the issue at hand being the increasing scarcity of ad placements, advertisers might expect to see increased impression and click prices in the platform, as supply dwindles and demand continues to increase. Testing other social platforms – especially those that are relatively new, and therefore less competitive – will be a strong strategy moving forward to bolster brands' digital initiatives. Don't put all of your eggs in one Facebook basket.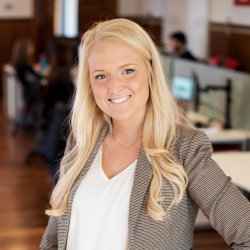 Latest posts by Austin Voigt
(see all)