2020 was a great year to escape reality by binge-watching your favorite shows or discovering new ones.  When the marketers at Augurian are not busy building confidence in our clients brands by creating winning digital strategies, we love to recharge with our go-to programs! So we're unveiling our agency's favorite shows from 2020.
Our Augurs have a wide variety of genres they like to watch, from a horror/thriller series at night to shows for the whole family during the day. We surveyed the team asking them what their three favorite TV shows were in 2020.  The shows did not have to come out in 2020, just shows they liked to watch in the last year.
The goal of the survey was to see what TV series lifted the spirits of our Augurs, so that maybe you can use them as a mood booster for yourself!
We will go through each show, by genre, until we reach the most popular type of TV show at the end of the list!  Maybe this will spark an idea for the next series you want to watch, depending on your mood. So, without further-or-do, here are our agency's favorite shows from 2020: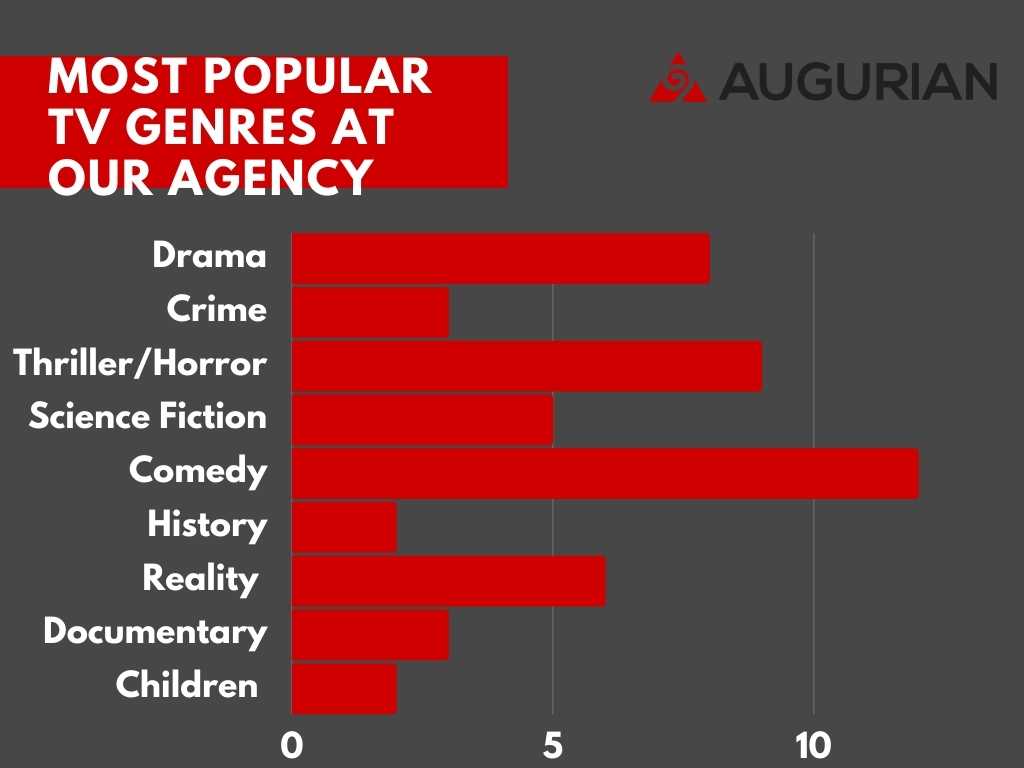 History Shows
Sometimes it's fun to look back, see where we came from and be thankful we have indoor bathrooms!
Vikings-Hulu, Amazon
Living in Minnesota I thought this series would have more votes!  SKOL! Vikings follows Ragnar Lothbrok and his family exploring and raiding from shore to shore, as Vikings do!
The Last Kingdom-Netflix
Another Viking themed show, The Last Kingdom follows Alfred the Great who comes from two different worlds, born as Saxon, but raised a Viking.  The show follows Alfred as he defends his kingdom from invaders, but later seeks to claim his ancestral birthright of his name.
children shows
When a show makes our children happy, they make us happy!
Bluey-Hulu, Disney Plus
Bluey is an Australian Blue Heeler puppy who lives with her mom, dad and sister. The family and their friends make adventures out of seemingly ordinary situations.
Peppa Pig-CBS All Access
This show stars a little Pig named Peppa, her brother George and their family of pigs.  The two have exciting journeys not only with their family, but friends who are rabbits, sheep, cats and more!
crime
Not that you would ever break the law, but it is fun to watch others try to successfully do it.
La Casa De Papel-Netflix
Follow an unusual group of robbers lead by a criminal mastermind called "The Professor" as they try to pull of the biggest heist in recorded history by stealing 2.4 billion euros in Spain.
Narcos-Netflix
This show looks at the criminal exploits of Columbian Drug Lord Pablo Escobar, his rise to power and interactions with those who get in his way.
Fargo-Hulu
Each season of Fargo has crimes in different time periods executed by people who have various degrees of proficiency in crime.
documentary
Explore stories that give you a different prospective on the world through a wide variety of events.
Down to Earth with Zac Efron-Netflix
We might not have been able to travel as much as we would have liked in 2020, so we can live vicariously through Efron's adventures. Zac and "Wellness Expert" Darin Olien search the world for new ways to live healthy and sustainable lives.
The Last Dance-Netflix
The 1996 Chicago Bulls are arguably the best basketball team of all time.  Follow the dynasty in their last season together on the NBA court and their quest at another championship.
Tiger King-Netflix
The Tiger King was the talk of the internet at the start of the year and made a huge cultural impact in 2020.  Two rival tiger breeders, Joe Exotic and Carole Baskins interact with many other eccentric characters as they try to run their own animal habitats.
science fiction
This year many of us wanted a break from planet Earth, these shows gave us an escape as to what is beyond our world.
The Mandalorian-Disney Plus
In the Star Wars Galaxy, a skilled bounty hunter must capture and protect the cutest little creature, who ends up being an incredibly powerful being.
The Orville-Hulu 
Taking place in the Star Trek Galaxy, Captain Ed Mercer gets a shot at leading a ship of misfits and protecting Earth from unknown threats.
Upload-Amazon
A man gets the option to choose what the afterlife is after his consciousness is uploaded into a virtual world.
Reality
Sometimes our lives can feel mundane and somewhat 'vanilla', then we watch Reality TV to be reminded that the world is far more entertaining.
90 Day Fiancé-Hulu
Imagine meeting someone and only having 90 days to decide to marry them.  This show sees four women traveling to the United States to meet their possible fiancé for the first time to see if they are the one.
Love Island UK-Hulu
Some say "love is a game", well at Love Island, it is a game.  Singles try to find love before they get voted out of paradise.
House Hunters-Discovery Plus, Hulu 
A great show for giving prospect house hunters tips on what to look for during the tough task of finding a new home.
Jersey Shore-CBS All Access, MTV, Hulu
A house of larger than life personalities live, argue and party together on the Jersey Shore.
Survivor-Netflix, Hulu, CBS All Access 
Stranded in remote locations, contestants try to out-last each other by competing in challenges to become the lone survivor and win a huge cash prize.
Chef's Table-Netflix
See what inspires some of the most talented chefs in the world.
drama
These shows give the viewer a look into unique characters with climactic storylines that pull you in.
Westworld-HBO Max
A look into the near feature, where amusement parks allow you to do whatever you want in a new world.
I May Destroy You-HBO Max
A show that give the viewer a unique look at the landscape of dating and relationships in the world we live in today.
Yellowstone-Peacock
A family in Montana holds firm against forces encroaching on their ranch.
The Crown-Netflix
This show follows Queen Elizabeth II's and her families lives through the second half of the twentieth century.
The Queen's Gambit-Netflix
An orphan dominates the male dominated world of chess during the 1960s.
Thriller/horror
Staying inside most of 2020 was boring, but these show helped spark some nail-biting excitement from our couches.
The Haunting of Hill House-Netflix
A family is haunted by the supernatural memories of their old home and the events that forced them to vacate.
Dark-Netflix 
Two children go missing which exposes the double lives and fractured relationships in a German community.
American Horror Story-Netflix
A truly spine-chilling series involving many different creepy locations, murders, spirits, and disturbing creatures, all intertwined.
The Outsider-HBO Max
Based on the Steven King novel, this show follows an investigator who tried to solve a supernatural murder in a close knit community.
Bates Motel-Netflix
A prequel to the famous horror movie Psycho, this series follows a young Norman Bates and his very strange upbringing.
Ozark-Netflix
A financial advisor must move across the country in order to launder money to keep his family safe from a drug boss.
Stranger Things-Netflix 
A team of friends must save one of their own from a creepy dimension with the help of a girl who has super powers.
comedy
After a long year full of drama, we all needed a chance to forget the world's problems and have a laugh.
Archer-Hulu
An animated look at a less than professional, but effective secret agent.
Community-Netflix, Hulu
A group of outcasts come together to help each other through community college.
The Simpsons-Disney Plus
One of the most famous shows of all time gives us a look at a normal family getting into crazy situations.
King of the Hill-Hulu
A look into the lives of a propane salesman and his Texas family, which consists of a silly son and wife who is a substitute teacher.
The Office-Peacock
A mockumentary that follows normal office life at a paper sales company with many colorful characters.
Woke-Hulu
This series follows a cartoonist names Keef who is on the verge of success until an unexpected event changes his path.
Dave-Hulu
An comedic look into the life of rapper Lil Dicky and his rise to fame.
Schitt's Creek-Netflix
When a rich family runs out of money, they must leave their luxurious lives and come back together at Schitt's Creek.
The Mick-Hulu
A reckless hustler looking for her next big pay day finds it by being the guardian to her three very rich nieces and nephews.
Emily in Paris-Netflix
A young American marketer gets hired at a Paris Ad Agency to provide a unique US Midwest perspective.
the top three tv shows to watch according to augurs are…
3. dave-Hulu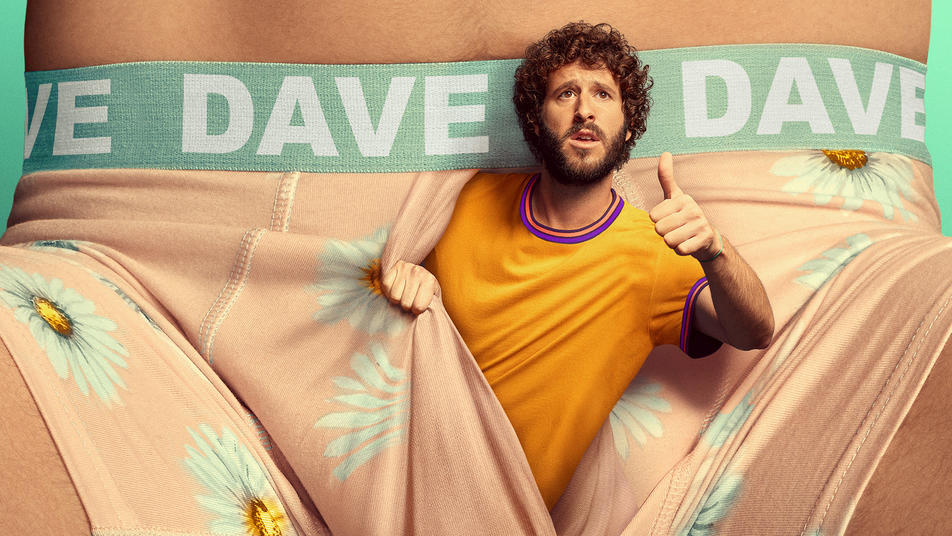 2. The Mandolorian-Disney plus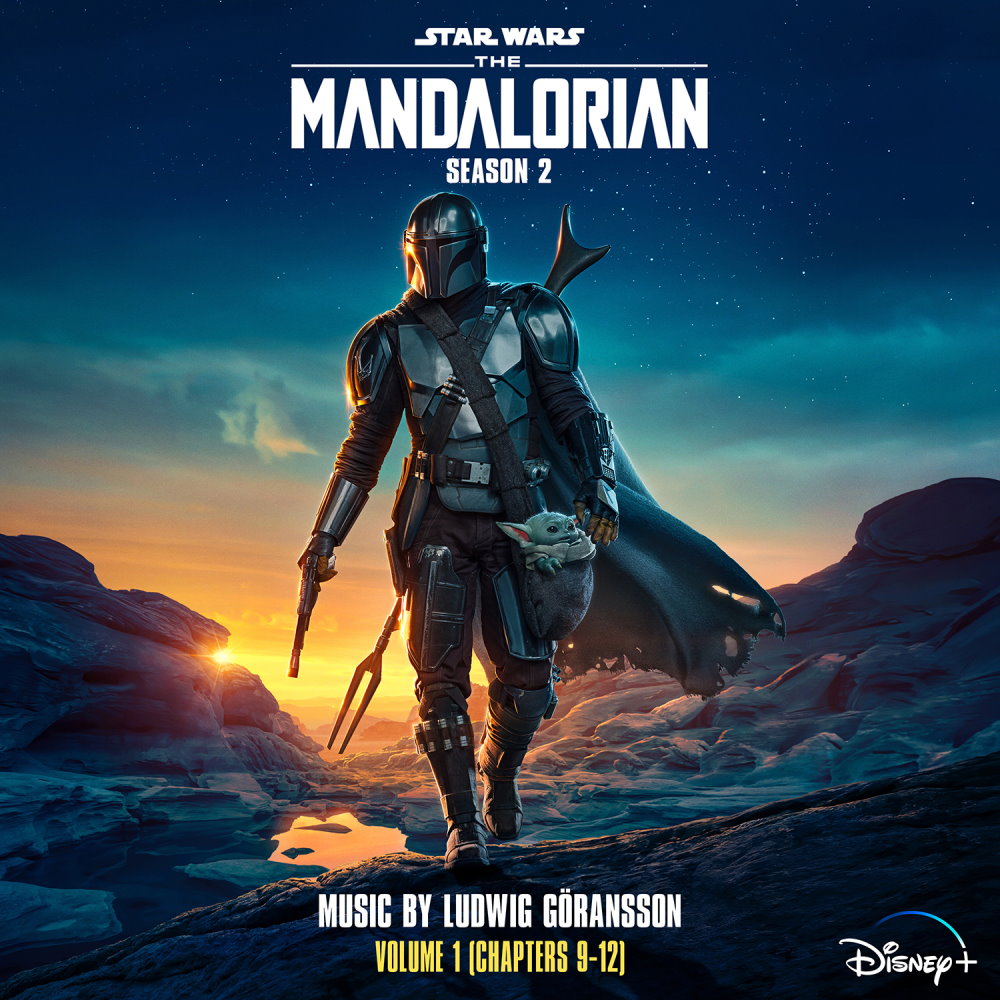 1. The Queen's gambit-Netflix
Hopefully our Agency's Favorite Shows From 2020 list can help cut down your browsing time!  We hope you all are having a safe and healthy 2021!
WHAT'S YOUR FAVORITE tv series OF THE MOMENT?

Comment on LinkedIn, Facebook, Instagram, or Twitter to let us know which series series you're watching!
Follow Augurian for digital marketing tips and insights.
Curious about what we do?