Have you ever wanted to know the price of a product or service and turned to a Google search for your answer? Of course you have! Up until now you normally would have to find the manufacturer or service provider's website, click into the site and navigate to the page that lists the price you're looking for. Well, thats not the case anymore! With new Adwords Price Extensions advertisers can showcase their top services or products and how much they cost.  Here is an example: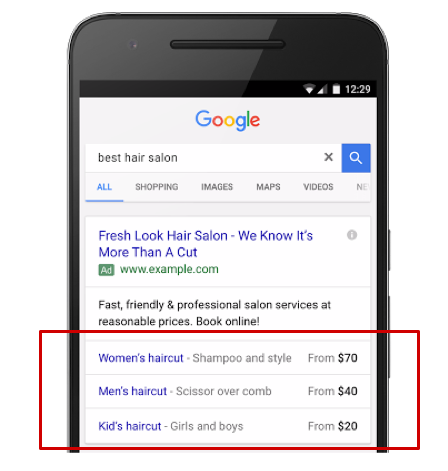 Imagine how the combination of a phone call extension and these new Adwords price extensions could work together. In the example above your child might need a haircut. When you see this ad with the new Adwords price extensions you'll see how much a Kids Haircut costs and can just click to call using the phone call extension.
For more information on getting started – check out Google's Blog on these new Adwords price extensions.