It can be a challenge to gain traction right out of the gate when starting a new paid media partnership. Learn how our Augurs jump-start success for our clients faster by swiftly aligning on goals and allocating team resources. In this video, Jasmine Hippe (Paid Media Analyst) tells Derrick Turner, (Director of Services) more about how Augurian spurs success from the very start when launching a new paid media partnership.
transcription
How to Overcome Obstacles in Client Communication
Derrick Turner: Good morning. My name is Derrick Turner, I'm the director of services here at Augurian. I'm here with Jasmine today, who's going to talk to us a little bit about getting traction when we get started with the paid media relationship. Jasmine, recently you were talking to me about a situation where you had a little trouble getting traction right out of the gate. Can you tell me a little bit about that?
Jasmine Hippe: Yes. I was working with a client and we were really struggling to get traction on some of these foundational things. We were really struggling specifically with getting the right creative content in our hands.
Derrick: Can you tell me about how you were able to overcome that situation?
Jasmine: Yes. I really started with getting everybody, all the right people in the same room, making sure that they're aware of the resources that we can provide them as well as the resources that they could provide us that really help us drive success in our campaigns.
Derrick: Yes.
Jasmine: Beyond that, making sure that we're all aligned on the same goals that we're all working toward the same thing was really huge.
Derrick: Yes. I was in the media, I think in terms of just driving confidence, a lot of organizations aren't necessarily used to working with digital marketers. Just having the time for people to come in and know what their role is, and be able to ask questions and have that candid chat with each other can be a really good thing. How's it going since you were able to have that meeting?
Jasmine: It's going really well, we're getting a lot of new creative out there a lot of new initiatives. We're starting to actually test some of these ideas that were kind of talked about in the sales process, but never actually executed on once we were on-boarded.
Derrick: What did you find to be an effective tool in terms of driving that alignment?
Jasmine: I actually employed this particular method of messaging with this client, so really contrasting what is with what could be, so looking at what we're doing now the results we're seeing and comparing that against where we could be, maybe what some of our better competitors were doing. I think that really helped everybody see the gap naturally and ask, "What can we do to close that gap?"
Derrick: Yes, I really liked that format. I know a few other Augurs have started to adopt it in similar situations. I think that was really awesome situation.
Jasmine: Thanks.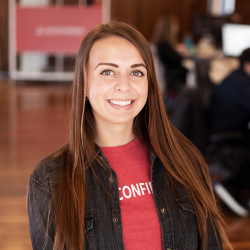 Latest posts by Jasmine Hippe
(see all)