In this video Alec talks about the two levers you can pull to start getting the most out of your Google Local Pack.
Augurian used these two levers to get a 100% year-over-year increase in revenue directly attributed to the Local Pack. For this client in the education space – this was a $200K increase. Talk about getting the most out of your Google local pack – that's the way to do it!
Google's Local Pack offers an effective way to organically reach audiences near a specific business. As users increasingly search online with their mobile devices, the benefits of Google's Local Pack remain crystal clear. Learn, how can you harness the power of local search for your business by getting the most out of your Google Local Pack.
Transcription
Josh: Hi, Everybody, this is Josh from Augurian.
Alec: I'm Alec, I'm a manager of organic search here at Augurian.
Josh: Alec was telling me a little bit about the success that we're having with the Local Pack for a client that's in the education space. They just had a big enrollment period and tons of revenue was driven through the Local Pack. Tell us a little bit about that.
Alec: Yes, through optimizing a couple of different elements of the site and external websites for local search, we were able to bring in revenue for this client, increasing it your over year by 100%, which is fantastic to see.
Josh: Yes, and it's hundreds of thousands of dollars. When you go from two to four, that's a big deal.
Alec: Exactly.
Josh: That's what excited me about this. First, before we get too far into it, let's tell everybody what the Local Pack actually is.
Alec: Yes. The local pack will show up in the search results for local keywords. A local keyword is basically just your normal everyday average keyword, but with some sort of location element.
Josh: Sure, so whatever, "Bar, Minneapolis" – you're looking for something in a very specific location?
Alec: Absolutely. The Local Pack is that miniature map with the three listings beneath it that show up there. It's typically, not always, but typically, the first organic search result that pops up for a local search. It's pretty valuable real estate for a website.
Josh: Yes, you want to be in the top three not in the "click the button and see the other 10 results"?
Alec: Absolutely.
Josh: Tell us, what were the ways that we were able to get this success for the client?
Alec: Yes. We pulled two levers. The first one was making pretty standard optimizations to their Google My Business account. That's all about making sure that all the basics are there and optimized. It's things like the name, address, phone number, business hours. Making sure that there's a business description, or services, Pictures and videos of the business location, and of the services. It's always great to have.
Josh: What was the second lever?
Alec: The second lever was creating accounts on internet yellow pages or citation websites. These are websites like Yelp and Angie's List. Basically websites that people visit to get more information about local businesses?
Josh: What's most important about that? You've already explained to me, but you should explain to them. It's consistency.
Alec: Yes, exactly. The main play there is consistency. Search engines when they're determining which websites deserve to rank in the Local Pack for local keywords, they are looking for consistency of information with the name, address and phone number, across every website that they are finding that information on. If search engines are confident that the information that's being provided by those websites, and by your own website, is consistent – the greater chance your website has a ranking in the Local Pack. At the end of the day, search engines want to provide searchers with the most accurate and relevant information possible. Consistency is key.
Josh: I was blown away by Local Pack and its importance in driving revenue for businesses that have these local brick and mortar sites. If you're one of those, heed Alec's advice. Work on those two levers and if you need some help, make sure you give us a call here at Augurian.
Alec: Absolutely.
Josh: Thanks, Alec, great work.
Alec: Thank you.
Josh: All right, we'll see you.
Alec: See you.
Josh: Bye.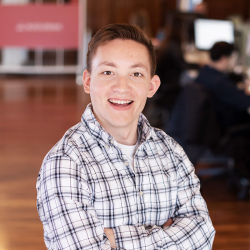 Latest posts by Alec Tedham
(see all)