We're here to tell you that blog refreshes drive results. How can we be so sure, you ask? Because all of the great strategies and tactics we instruct our clients to use – we use, on Augurian.com. Yup, we drink our own KoolAid and we're going to share the results of a blog refresh we recently completed.
What Blog Refreshes Can Deliver
Improvement in rankings
Increases in traffic
Better user behavior
More goal completions
One Of Our Legacy Blog Posts Needed Updating
Over 4 years ago we wrote a blog about AdWords Bidding Strategies. It was a good blog and was doing a decent job at driving traffic, but it still wasn't ranking as high as we would have liked. Knowing that blog refreshes drive results, we saw an opportunity to improve its organic rankings and reach more of the right traffic.
What Needed To Be Done
We assessed the legacy blog and understood that it needed:
to be updated to reflect Google's update from 'AdWords' to 'Google Ads'
to have outdated tips and terminology removed
to improve the user experience with more images (screenshots) and relevant video
more internal links, a better meta description and other standard items
On October 14, 2020 we republished AdWords Bid Strategies Explained.
Did The Blog Refresh Drive Results?
In the 3.5 month period after republishing the blog we've:
improved our average position by 32.3 places, to an average position of 28.3 vs 60.6.
improved our ranking of the target keyword: Google Ads Bidding Strategies to position 3.5.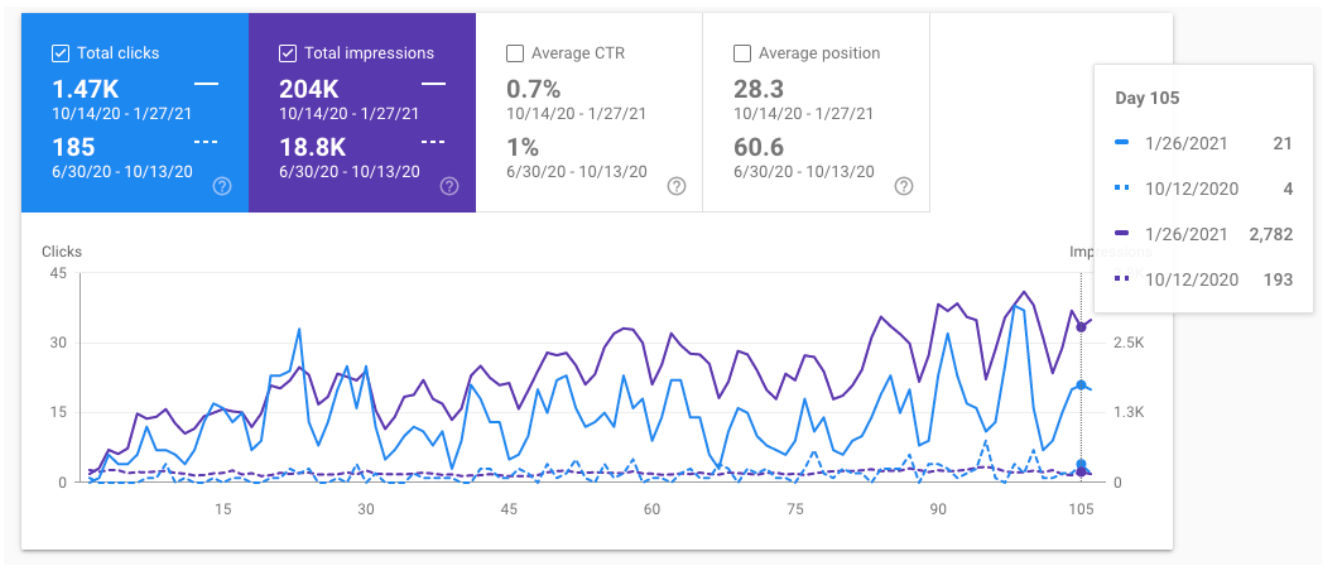 We now rank in the top 100 for 500+ keywords – and in the top 10 for 150+ keywords.
Previously we weren't really ranking at all for our target keyword, and now we're on page one and getting really high-quality clicks.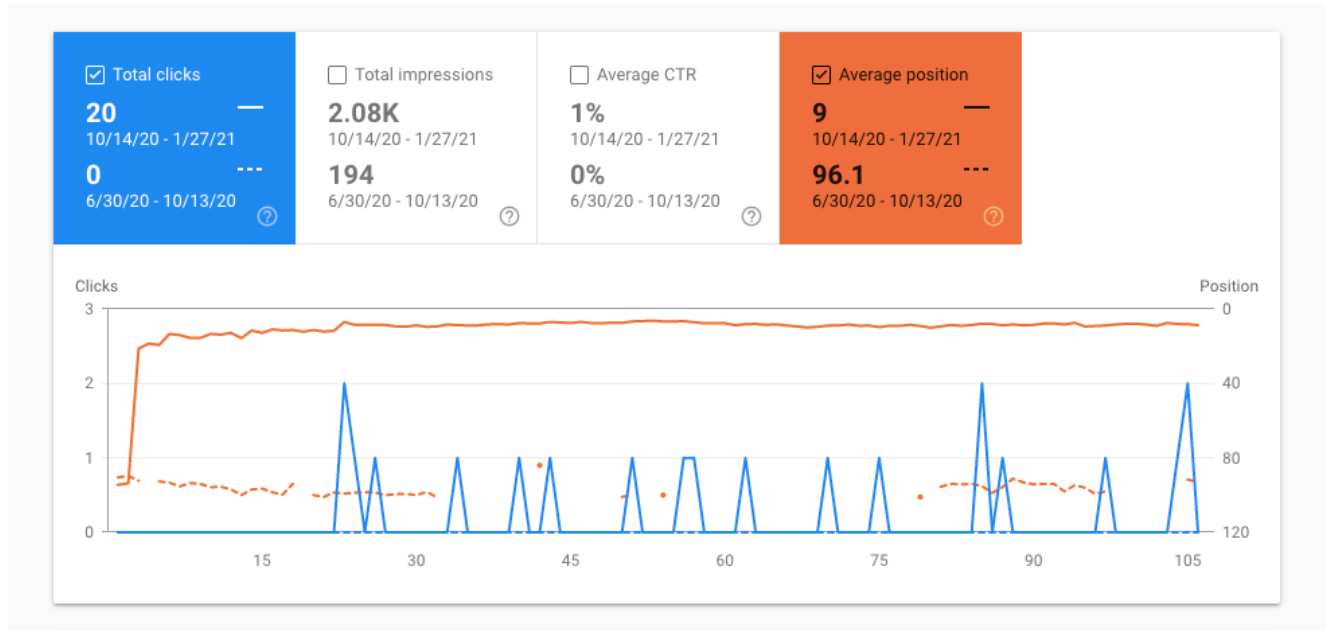 Did The Refresh Drive Quality Traffic?
So, now that we're getting more traffic, the question becomes – how quality is that new traffic. When you compare the 3.5 months prior to the refresh to the 3.5 months following the refresh, the answer is a resounding 'YES' the traffic is in fact high quality.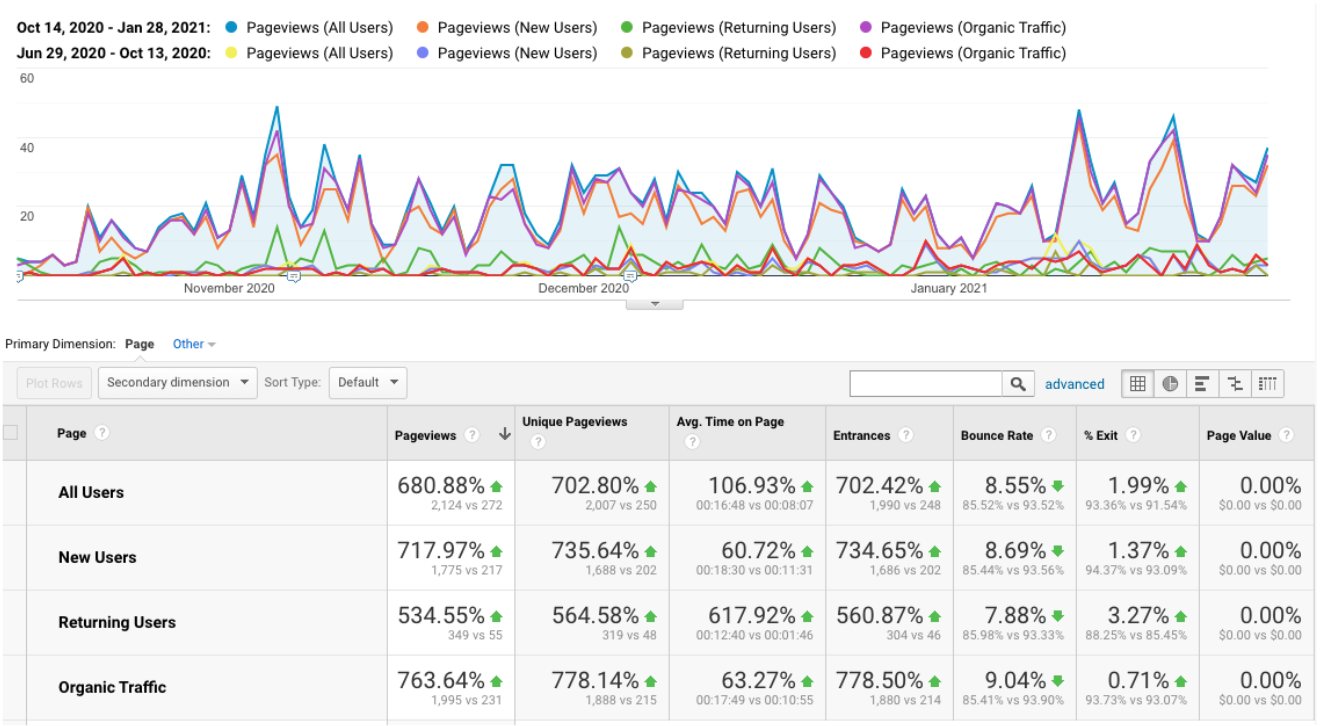 We're seeing:
760% growth in page views from organic users (almost 2k organic pageviews vs 231 in 3.5 months prior)
534% growth in returning users (359 vs 55 in 3.5 months prior)
The returning users spend 617% more time on page (12:40 vs 1:46 in 3.5 months prior)
How Is That New Traffic Converting?
In the end, the results a blog refresh can drive is by looking at the incremental conversions that take place after the refresh is published. In our blog refresh we saw:
Goal completions from returning users up 39.71% (292 vs. 209 in prior 3.5 months)
Abandonment is down -23.44% for these users.
Organic user conversions are up by 19.51%
Unique new leads are up 400% from organic (10 vs 2) 
Conclusion
When done right, blog refreshes drive results. We are constantly doing blog refreshes for clients and on our own site – and they always pay off. If you're interested in understanding more about blog refreshes as part of Augurian's content marketing services, please contact us.