One of the more controversial topics of paid search advertising is bidding on competitor brand name keywords in Google Adwords. Some have argued that this is a violation of trademark laws, however, courts have held up that it is generally okay as long as you are not trying to deceive the user. Though it is likely fine as long as you follow those guidelines, know that plenty of thought-leaders give caution to competitor brand bidding.
With that in mind, let's take a look at 10 companies that are currently getting outbid on their own brand keywords, and see if we can find any interesting strategies.
Acorns
This SERP is pretty interesting. Acorns, the popular spare change investment app, is getting outbid by Acorn, a British-TV streaming service. This may be an intentional strategy by Acorns, since they are ranking first organically below the paid ads. This gives them a huge chunk of real estate on the SERP that is all connected. While we obviously don't have access to their analytics, it would be interesting to see how this strategy affects click-through rates and cost per click for both the paid and organic listing.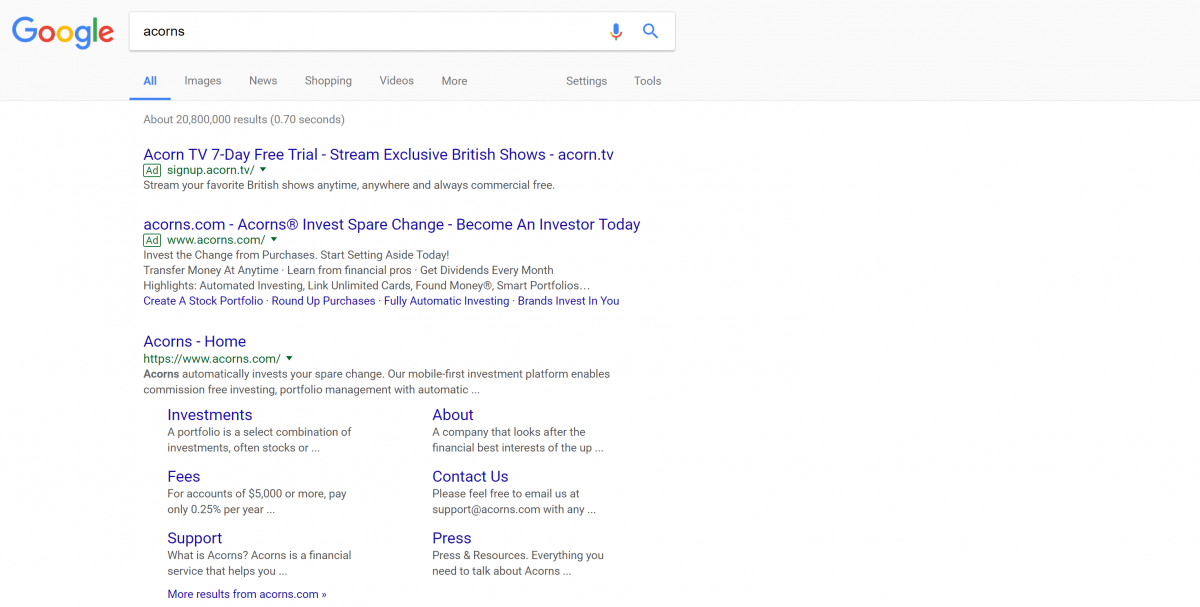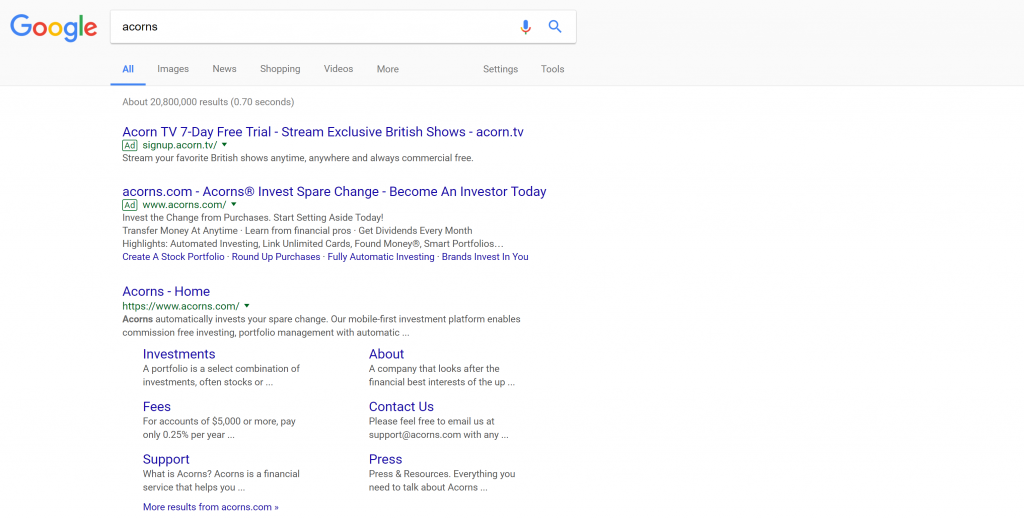 Code42
This is a case of a company simply not bidding on their own branded search. On top of that, Druva (a competitor) is bidding on it. You can see their headline calls out a features comparison page where they point out why their software is better. This strategy can work well for Druva, especially when Code 42 is not even attempting to combat it.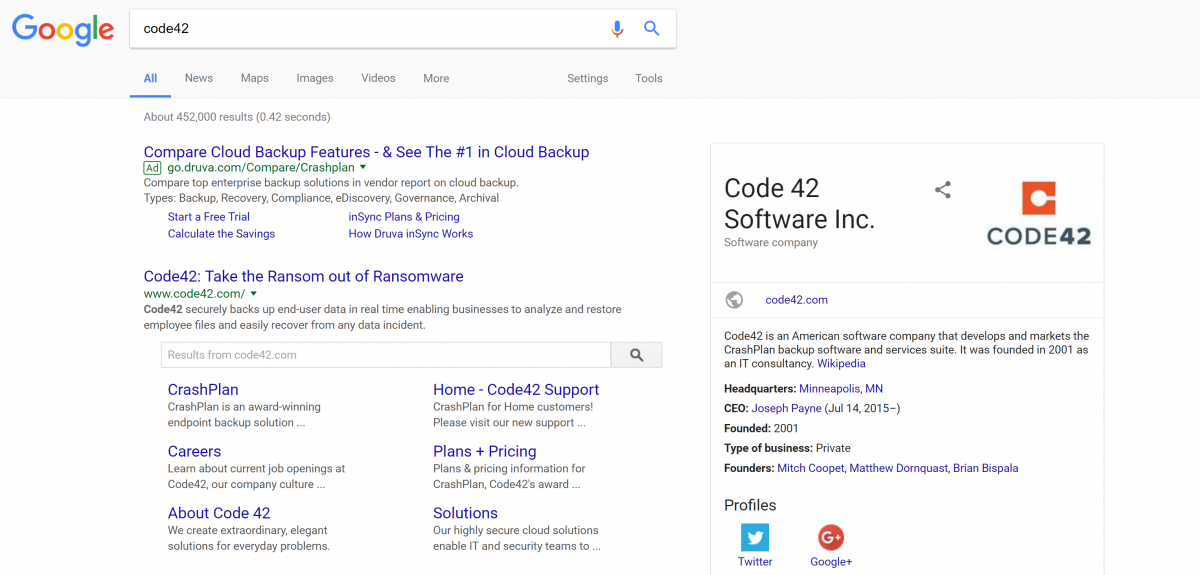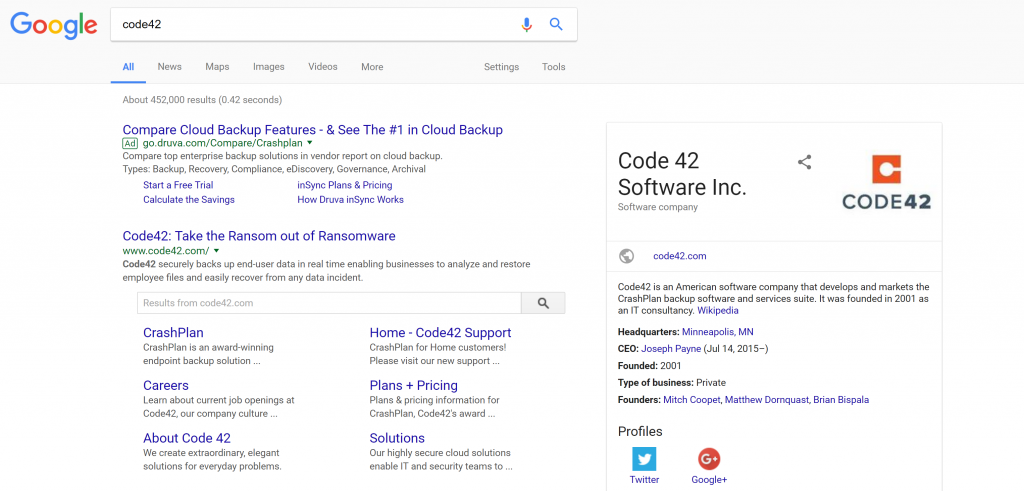 Microsoft Dynamics CRM
In the case of Microsoft Dynamics, they are getting outbid by two competitors, Salesforce and Zoho. Notice how they are both taking advantage of extensions to take up even more real estate of what is basically Microsoft's SERP. Salesforce uses a review extension with Fortune calling it "One of the Most Admired Software Companies". Zoho uses sitelink extensions to allow people to hit different landing pages, such as pricing or integrations, based on what information they are looking for. These are both great strategies to potentially take conversions away from your competition.


Infusionsoft
Infusionsoft is widely known as very powerful, yet overly complicated CRM software, leading some to refer to it as "Confusionsoft". Competitors take advantage of this well-known criticism, calling out their simple alternatives.


Another interesting strategy some of Infusionsoft's competitors are using is to advertise on keywords such as "Infusionsoft complaints".


Inside Sales
Though they don't appear to be direct competitors, Salesforce is outbidding Inside Sales on their own branded search term. You can also see two other companies bidding on the keyword, although they are below Inside Sales.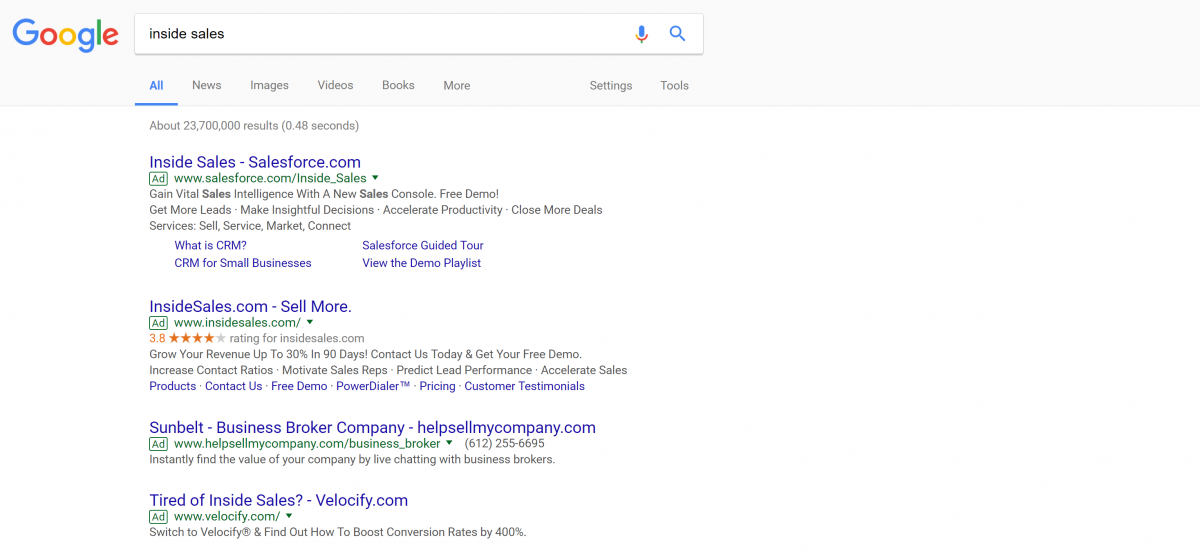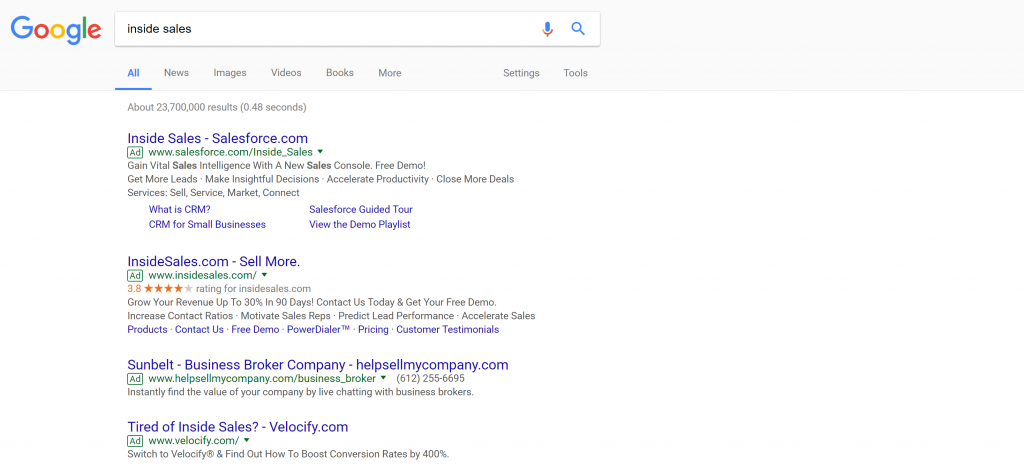 Invoca
Invoca, a call tracking software company, is getting outbid by two competitors on their branded search keyword. As you can see, CallRail shows a review from G2 Crowd calling them the "#1 in Customer Satisfaction". This is likely to draw some attention away from Invoca and will likely convince a percentage of people to at look into CallRail.


Oracle CRM
Lastly, this example shows two major software companies actually both getting outbid on their branded search keyword – by each other! Here is the SERP for "oracle crm", showing Salesforce at the top.


Salesforce
However, when you search for Salesforce, Oracle appears to be getting some revenge! Is this a viable strategy for the two, or are they simply driving each other's costs up? It likely remains to be seen.


The biggest trend here is that SaaS companies are most likely to use this strategy. Which makes sense – they are more likely to convert on a large online sale than most industries. However, just because you aren't selling software doesn't mean you should ignore competitor brand bidding.
These various competitor brand bidding strategies are important to consider in your overall PPC strategy. Are you bidding on competitors' search terms? Are they bidding on yours? If you haven't considered this in the past, it may be time to start looking into it.