Work is one of those things that's required of us whether we like it or not, so our advice to you is to learn how to like it. It's not as difficult as it seems to make the workplace more enjoyable; there are many quick ways to improve the office environment.
It's unlikely that you'll want to spend seven days a week at the office even if you do think work is fun – or that everyone will have the same concept of a happy workplace regardless. You cannot please everyone, but you can attract and be attracted to companies with similar values.
As an individual looking for a better workplace, you should search for a company culture that aligns with your own. As a leader, it's essential to sustain a culture that demonstrates the values you hope to attract in future employees.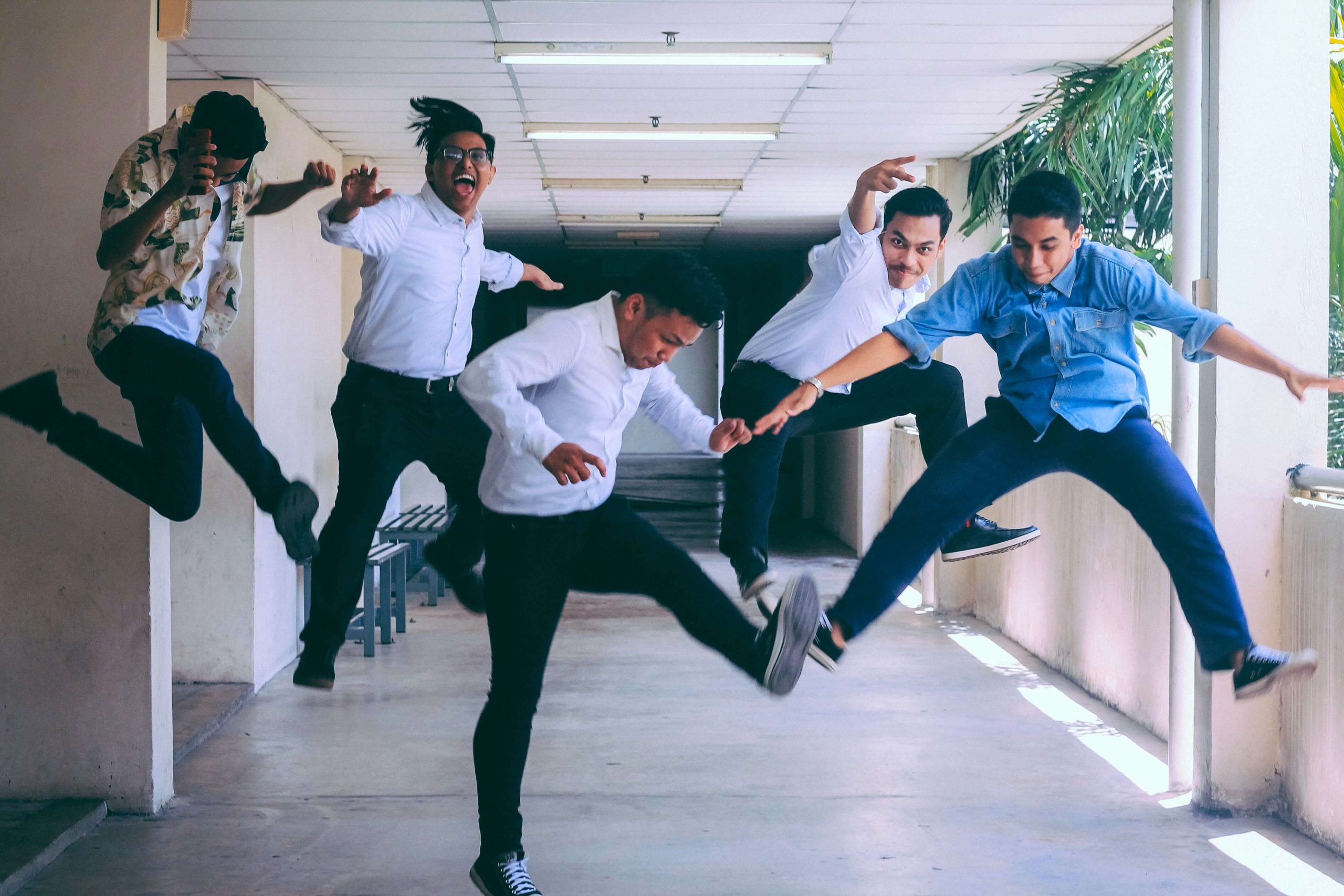 Happy employees stay in their jobs four times longer than their unhappy counterparts. Here are 9 things you should be doing to make the workplace more enjoyable for yourself and your team.
Have fun at work with these ideas to improve the workplace environment.
How to Make Work More Enjoyable
There are many different approaches to a more enjoyable workplace, some less time-consuming than others. It can feel overwhelming or intimidating, but if you find yourself asking questions like "how do I make work more fun for employees" or wondering "how to increase employee happiness at work," – you are that much farther ahead than your competitors.
Here are a few things Augurian has done to create a space full of happy coworkers that are actually fun to work with.
1. Establish And Live By Core Values
It's one thing to throw a list of values together that you mention in your quarterly team meeting, but it's a different thing to implement them throughout your work. One of the easiest ways to foster a happy workplace is by creating a team full of individuals who have the same goals and expectations.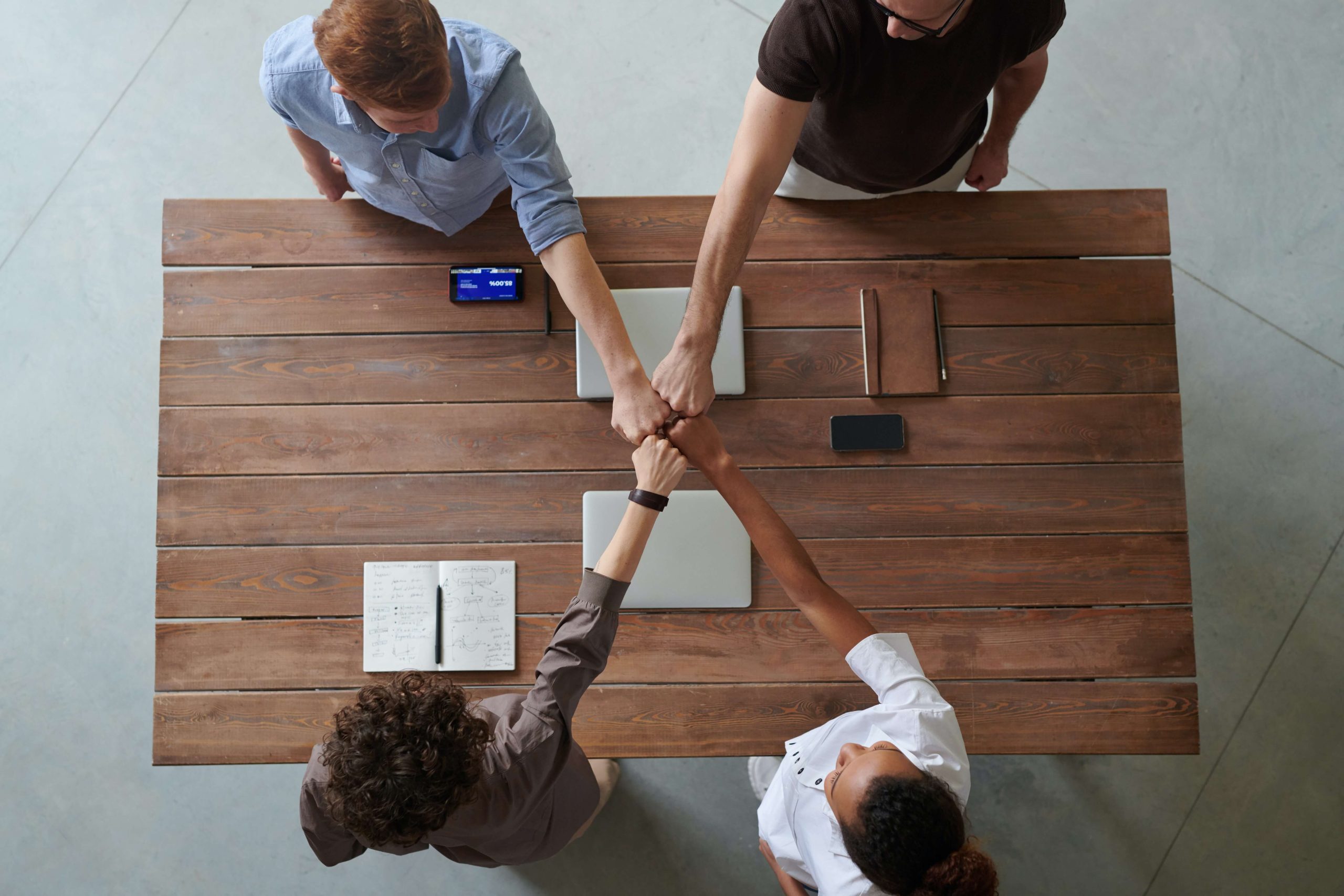 At Augurian, we value hard workers who know how to have fun at work and appreciate autonomy. Of course, not all companies are like this; some value a quiet space and a simple office. Either is okay, as long as you communicate that, so clients, future employees, and your current team know what to expect.
2. Create a Welcoming and Inclusive Culture
It's 2022; if you're working for a company that isn't inclusive and isn't budging – leave. 
If you're an employer hoping to improve in this area, it may seem like a big issue to account for, and that's because it is. The most important pieces are not being naive, being open to criticism and making changes, and investing in educating your leaders. Leadership sets the tone for the rest of the organization, don't let them display the wrong one.
Diversity, Equity, Inclusion, and Belonging
"DEIB is about building up a workforce that is representative of society as a whole – in all its diversity of backgrounds and perspectives – and doesn't make any employees feel like they are less than others."
This article from Paddle HR does a great job of explaining the importance of having a clear understanding of DEIB in the workplace.
Employee Groups
A good option if you're looking for ways to start these discussions in the office is by introducing an Employee Assistant Program. These are typically packages with a number of resources for your team. Another option is to allocate a budget and resources for Employee Resource Groups; this is typically a heavier lift but well worth it.
BetterUp has a terrific blog full of resources on well-being, inclusion, and diversity.
3. Celebrate Wins
One survey found that "65% of employees haven't received any form of recognition for good work in the last year."
Not giving your employees recognition is a great way to drive them away. If you're wondering how to have happy employees, the answer is simple – reward them, acknowledge them.
Give minor #Kudos every day or announce big wins once a week. Take five minutes out of your day to write down what one of your coworkers did to impress you and actively celebrate that in one way or another.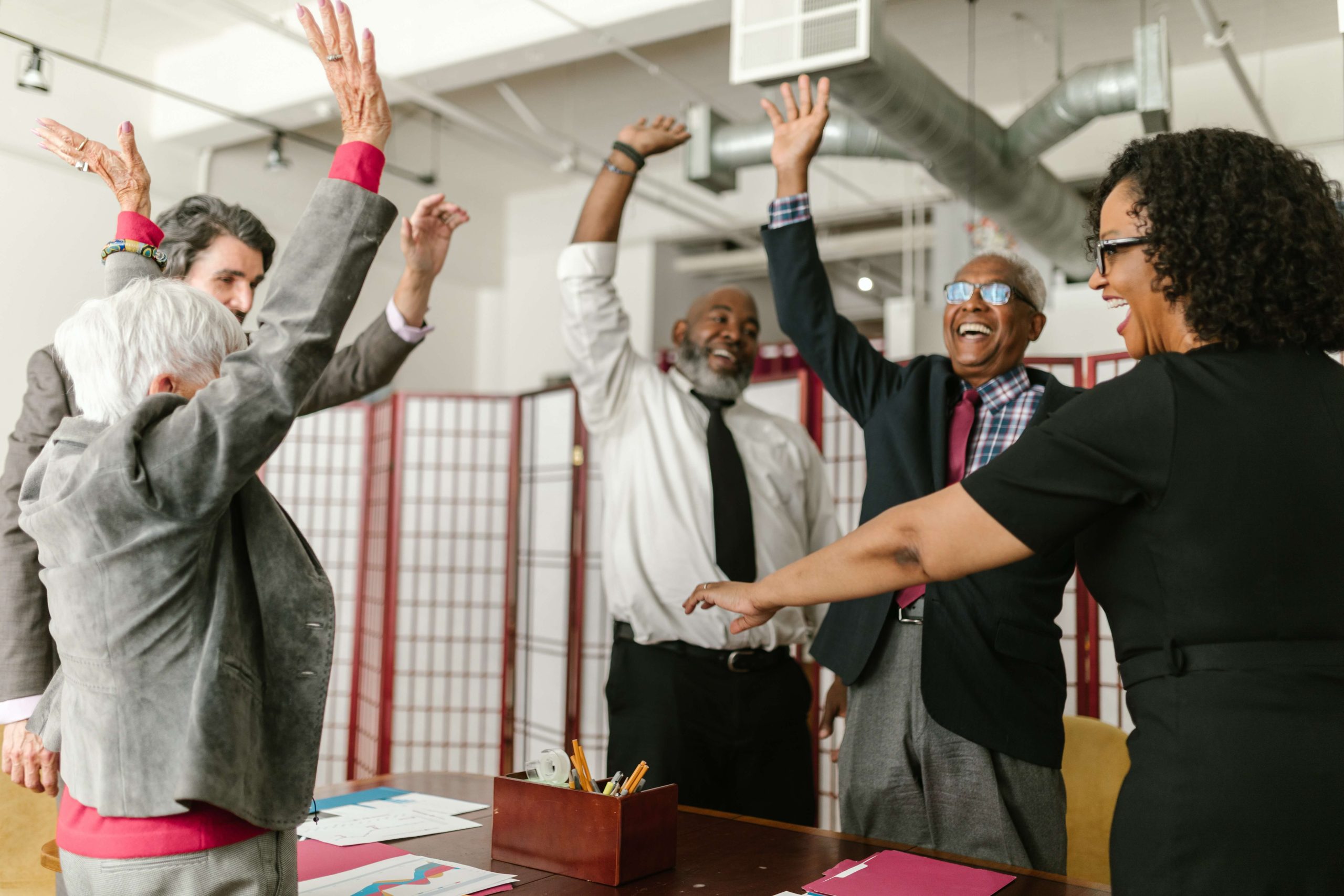 4. Happy Hours
Happy Hours = Happy Office
If you're wondering how to make work fun, happy hours are a real quick solution. They are a great way to encourage genuine relationships amongst coworkers to get to know each other personally.
You can even do it inside the office! Grab a couple of drink options and end the workday 30 minutes early; it's a really cheap way to get those conversations flowing. Relationships outside of work are a key contributor to employee happiness, and employee happiness leads to success, so beers = business…. right?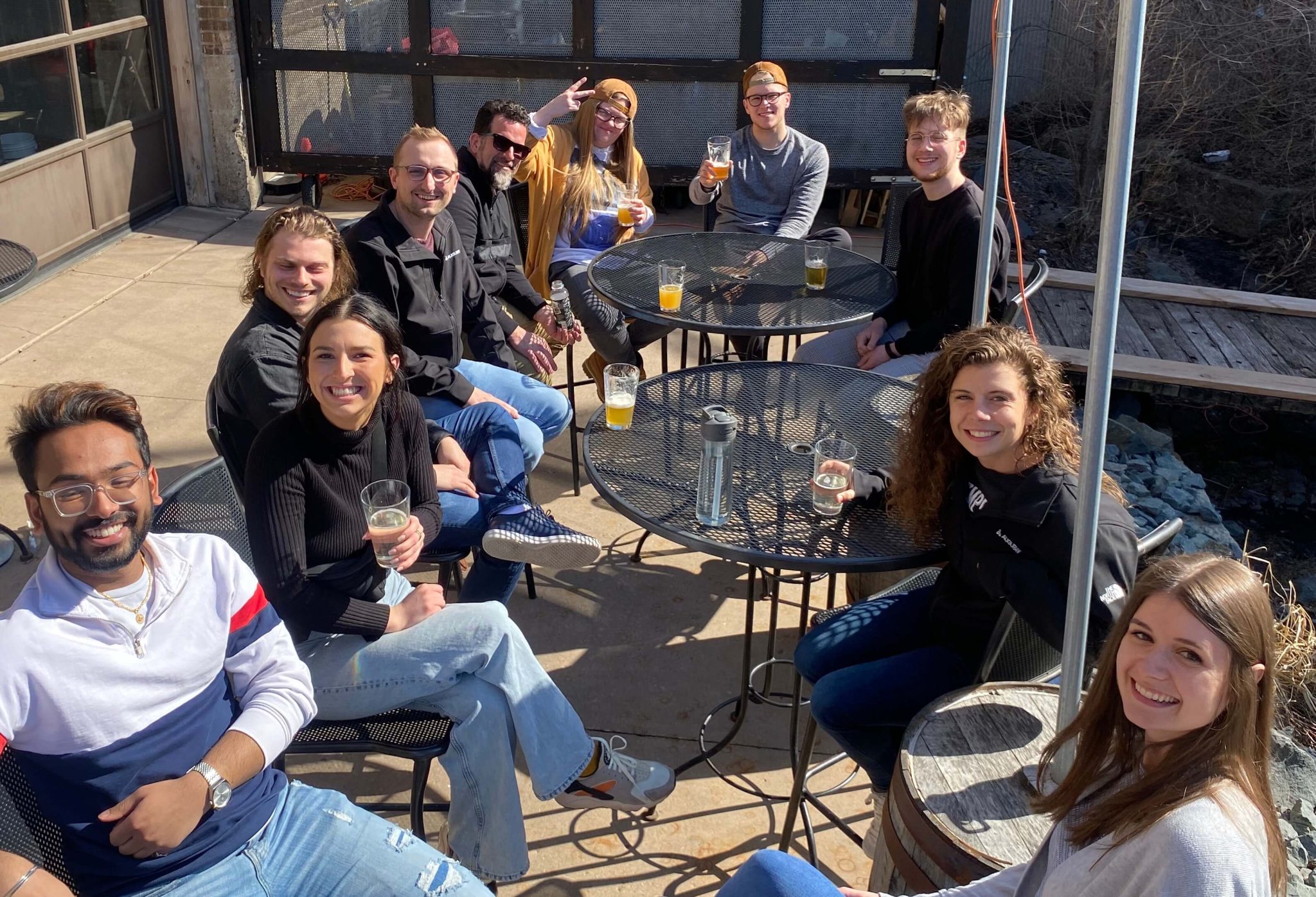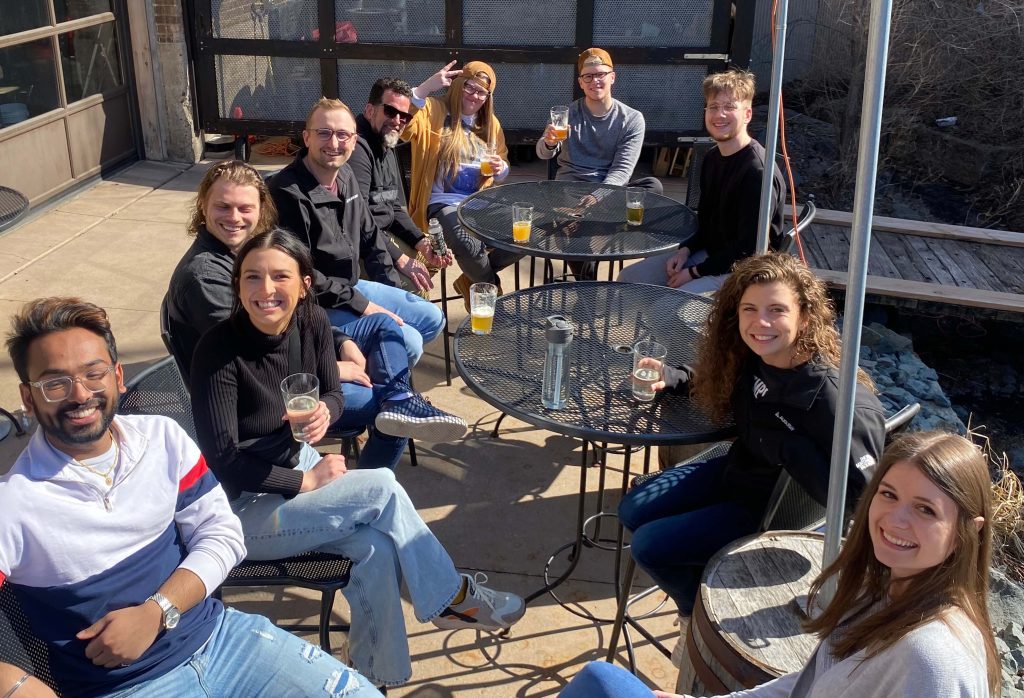 5. Recognize Events
Another piece that will contribute to workplace improvement is simply showing that you care. The bottom line is that your employees and coworkers have lives outside of work, and it's more than likely a lot to juggle.
Add a calendar or some way of acknowledging different days in the office. At the very least, you should be acknowledging employee birthdays and anniversaries. By recognizing different days and milestones in one's life, we remind them, and ourselves, that they are more than just an employee.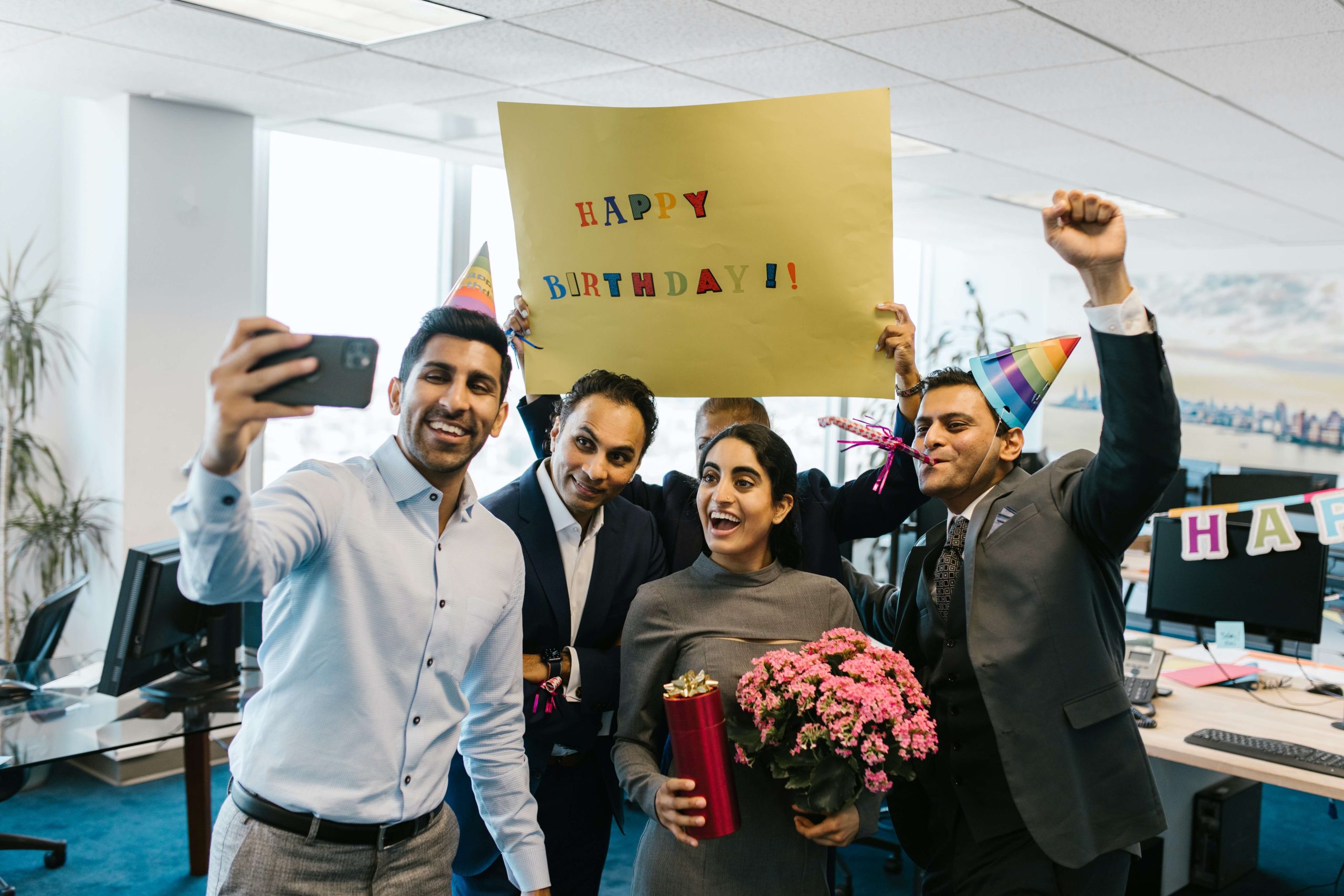 Life Events
It can be hard to recognize every life event, especially if you have a big team. But if there are any steps you can take to focus on this a little more, your employees will notice.
Send them a Home Depot gift card when they buy their first house, get them a baby gift when they announce a pregnancy or send a card around for everyone to sign on someone's fifth anniversary at the company.
It doesn't have to be grand or expensive, but it does have to be thoughtful. We are all humans achieving great things every day, and we should be treating each other as such.
Celebrate and Decorate
We all want to be able to say that work is fun, and it's pretty easy to put in place. Buy a few decorations for each day, and then store them, so you have them ready for next year!
Here are a few things we celebrate or decorate for at Augurian:
Holiday's
Employee Birthdays
Employee Anniversaries
Company Milestones
Awareness Days or Months
Promotions
Goal Completions

6. Treat Your Employees Like Adults
Treat your employees like adults. This is one of the simplest suggestions to make the workplace better, yet it can be so hard to come by.
"85% of employees reported their morale was negatively impacted by micromanaging bosses."
We don't have the ability to make someone do something they don't want to do. In life and at work, it is more beneficial to let someone prove to you that they can get their job done without their boss hovering, having to ask to take bathroom breaks, and feeling scared to go on a walk during the workday.
If you give employees freedom and they then choose to abuse it, you can cross that bridge when you get there. But until that happens, this is how to improve your workplace environment.
7. Encourage Breaks
Every individual has a different idea of breaks, whether it's an hour in the middle of their day to get groceries or walks around the block before and after lunch – it's not your job as an employer to decide that.
It is your job, however, to allow the freedom to take those breaks. If you're the boss, demonstrate stepping away from work to your team. If your boss asks why you keep working through your lunch break, be honest with them.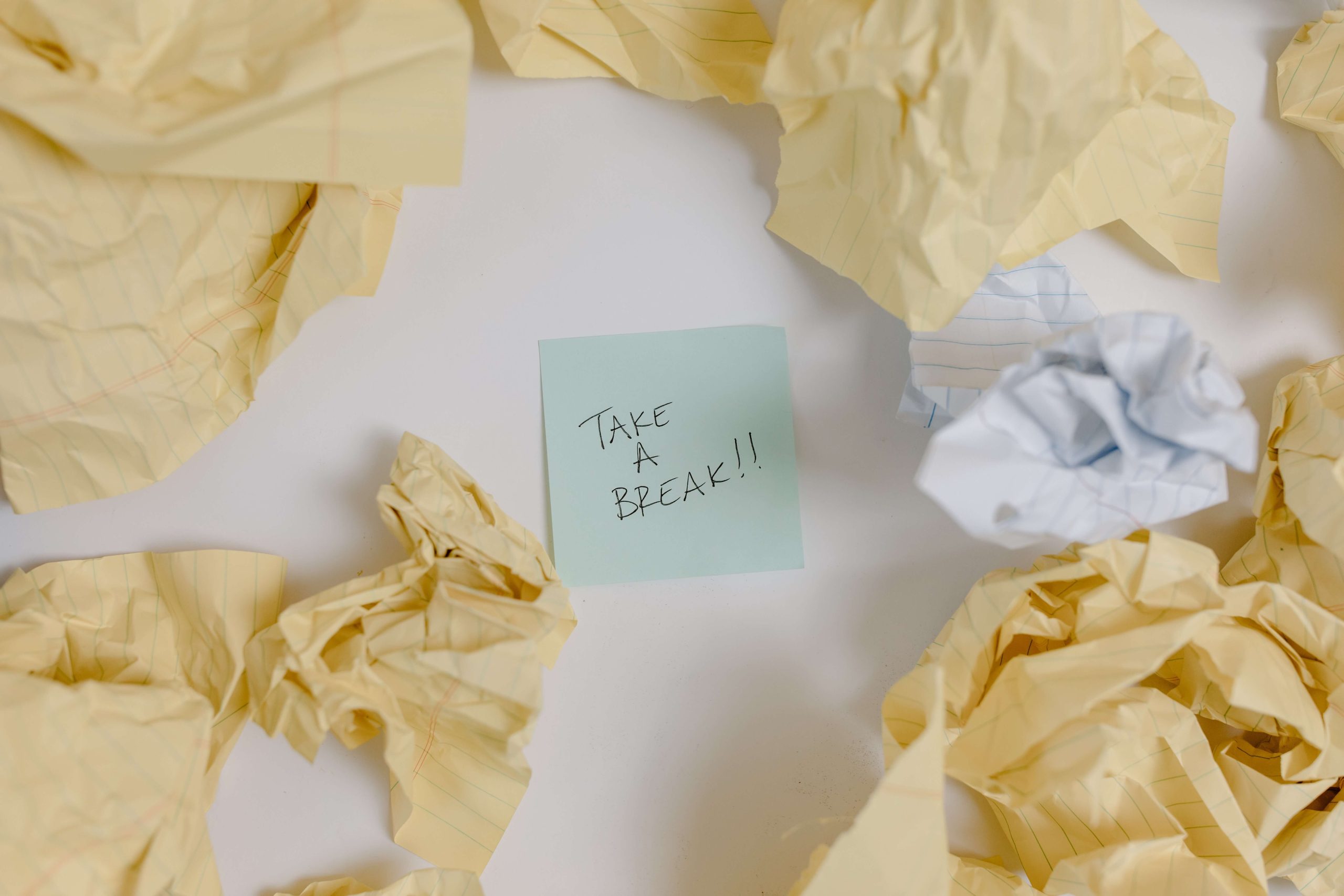 Allowing vs. Encouraging 
According to Forbes magazine, "40% of American workers feel uncomfortable during a break at work."
There are many pieces to this issue, the first being allowing breaks and the second being encouraging them. If 40% of workers feel uncomfortable during their breaks, this is likely because they think they're doing something wrong. As leaders, it's crucial to remove this concern.
How to Encourage Breaks
A quick solution to this issue is having an allotted range of time that employees should be taking breaks  –so that they don't feel guilty when they decide to take one.
If your team tracks their time hourly throughout the day, there should also be a spot to track the breaks. This helps remove the uncomfortable feeling of being away from your desk during the day.
8. Get Out of the Office
Wondering how to make your office more fun? Leave the office!
We spend enough time sitting at our desks or in meeting rooms. Instead, encourage your employees to do their 1:1s over coffee at the nearest coffee shop. Or, rally your coworkers to go for a walk around the neighborhood for your early morning team meeting.
The answer to how you bring fun into the office may simply be to bring it out of the office. Switch up your routine now and again, and you may start to think work is fun!
Volunteering
Volunteering is an excellent option for workplace improvement and having fun in the office. It's a nice switch-up, everyone is always in a good mood, and you're helping those that need it most. There are many ways to volunteer as a company.
Look into your local food shelves for large events that need hosting
Call your local nursing homes or senior housing associations to help with yard work
Turn your office into a drop off location for donations
Buy some gloves and garbage bags and get some of your team members to pick up the garbage around the office
Research your local animal shelters. They often team up with other companies in the area to host larger events
Make blankets or write cards to give to the hospitals in your area.
Travel is often a big inconvenience for many people. If your team is able to, there are usually tons of opportunities to grocery shop or drop people off at their appointments
Office Outings
Company outings for relationship building are the latest fad in the business world. There are so many things to do at this point, both in-person and virtually. ClassBento is an excellent organization for virtual team-building events.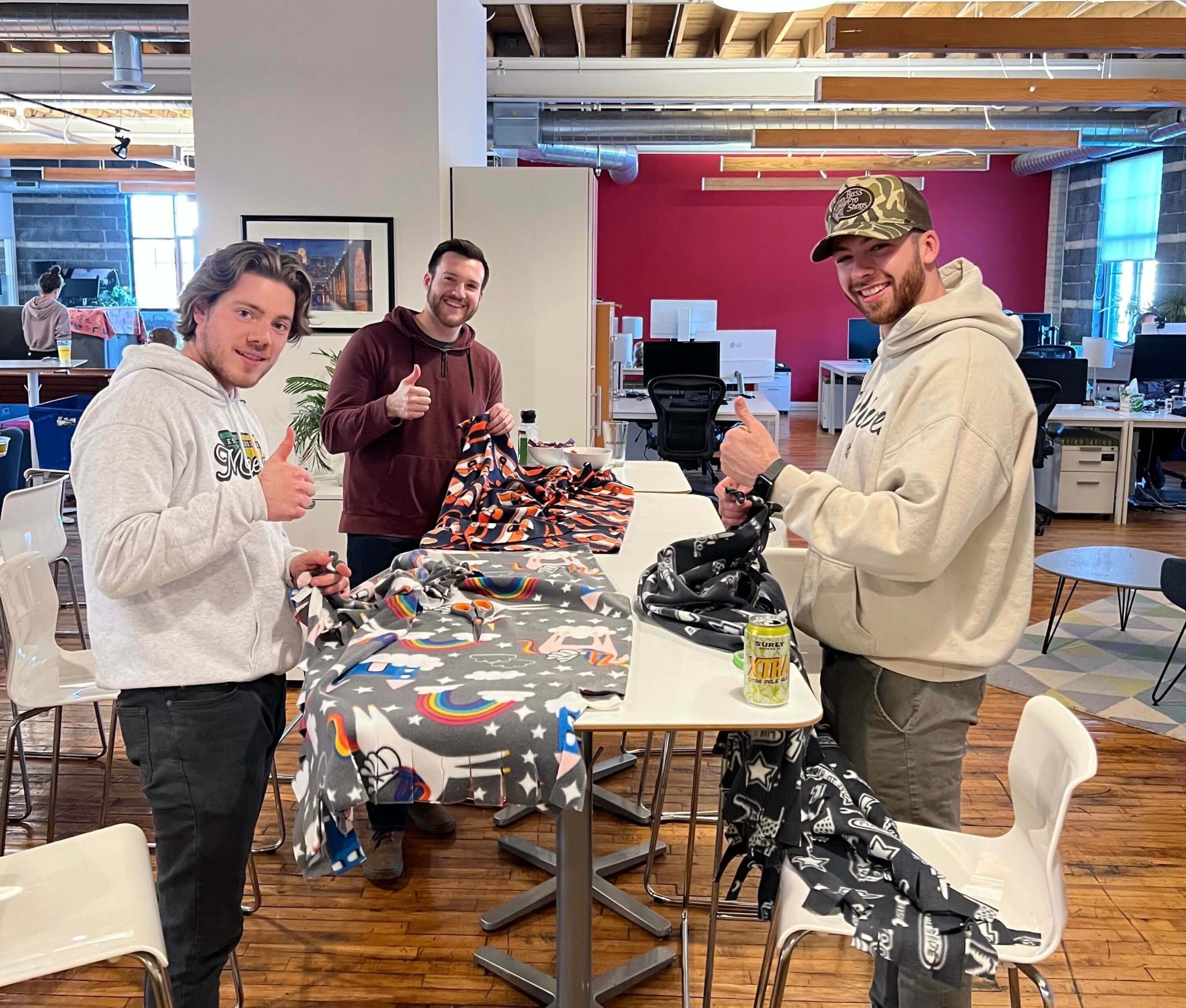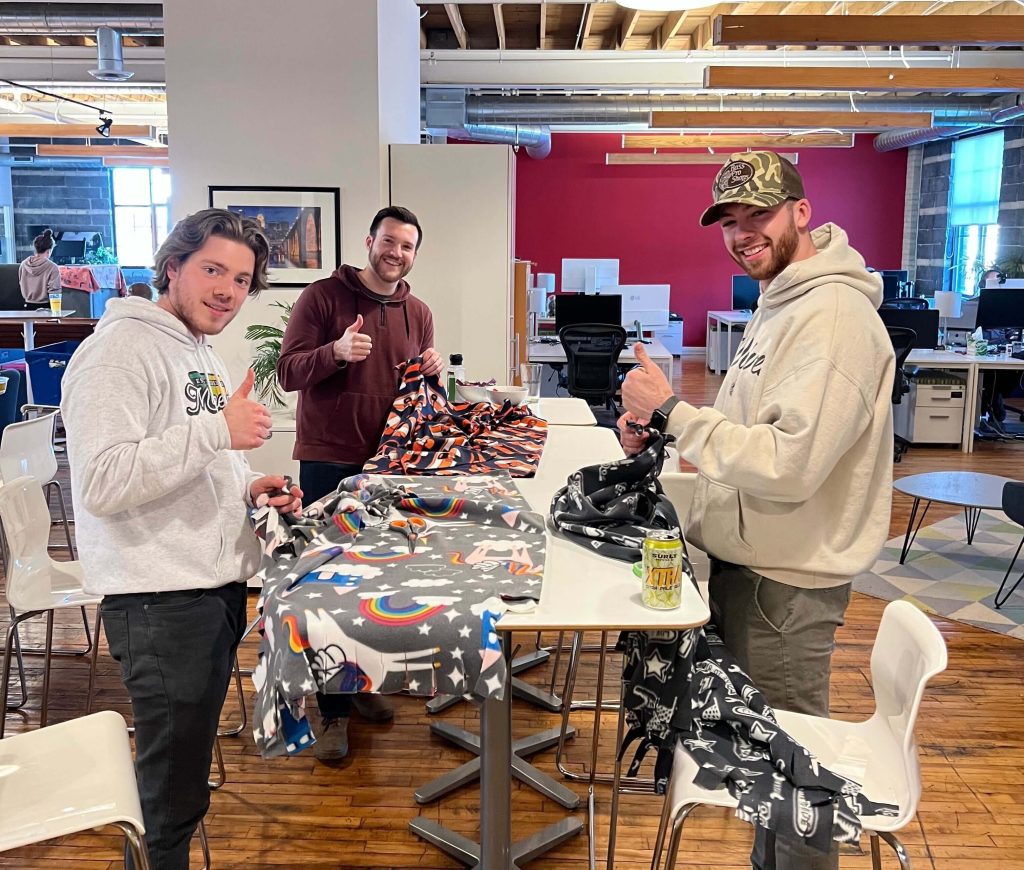 Virtual Team Building
Hire someone to teach a class over Zoom (or better yet, find a team member who has a hobby they'd be willing to share)

Cooking
Crafting
DIY
Cocktail Classes

Organize a paint & sip at home
Send the materials to have a wine or food tasting experience from your kitchen
Get together for Zoom a happy hour
Put on a team yoga or meditation session
Create your own version of a virtual game-show
In-Person Team Building
In-person events will vary depending on location; Teambonding.com is a site that allows you to search for options based on state, where they will then host events for your team. Otherwise, a quick Google search for 'team building near me' will populate many articles, newspapers, and blogs with local ideas.
Here are some available options no matter where your company is located.
City Tours
Bikes, Segways, Walks
Museums
Sports Games
Whirlyball/Sky Zone/Trampoline Parks
Laser tag
Painting in the park
Picnics and yard games
Bowling
Whether your budget is $30 or $3000, the options to get the company together to enjoy something outside of work are endless. There are no excuses; companies should have organization-wide or individual team outings at least once a quarter; days like this are what make a job fun.
9. Have Fun at Work!
The key to making the workplace more enjoyable is, more often than not, making it fun. How to make work fun as a manager or how to be more fun as a peer are questions we should be asking ourselves. Work can be fun. Work should be fun, at least sometimes.
Fun In the Workplace
Add board games to your office, snacks to the kitchen, and beer to the refrigerator. It may sound silly, but it truly contributes to employee satisfaction, and "companies with happy employees outperform their competition by 20%." A few small changes can make a huge difference in workplace improvement and making the workplace fun.
The office doesn't have to be stuffy! If you're able to, provide your employees with games and puzzles to do when they need a brain break. On a bigger scale, bring in a ping pong table or shuffleboard. At the very least, throw some plants in the kitchen.
Just like at home, your office environment is important! No one wants to work in a space that doesn't encourage creativity or productivity; a happy workspace is crucial.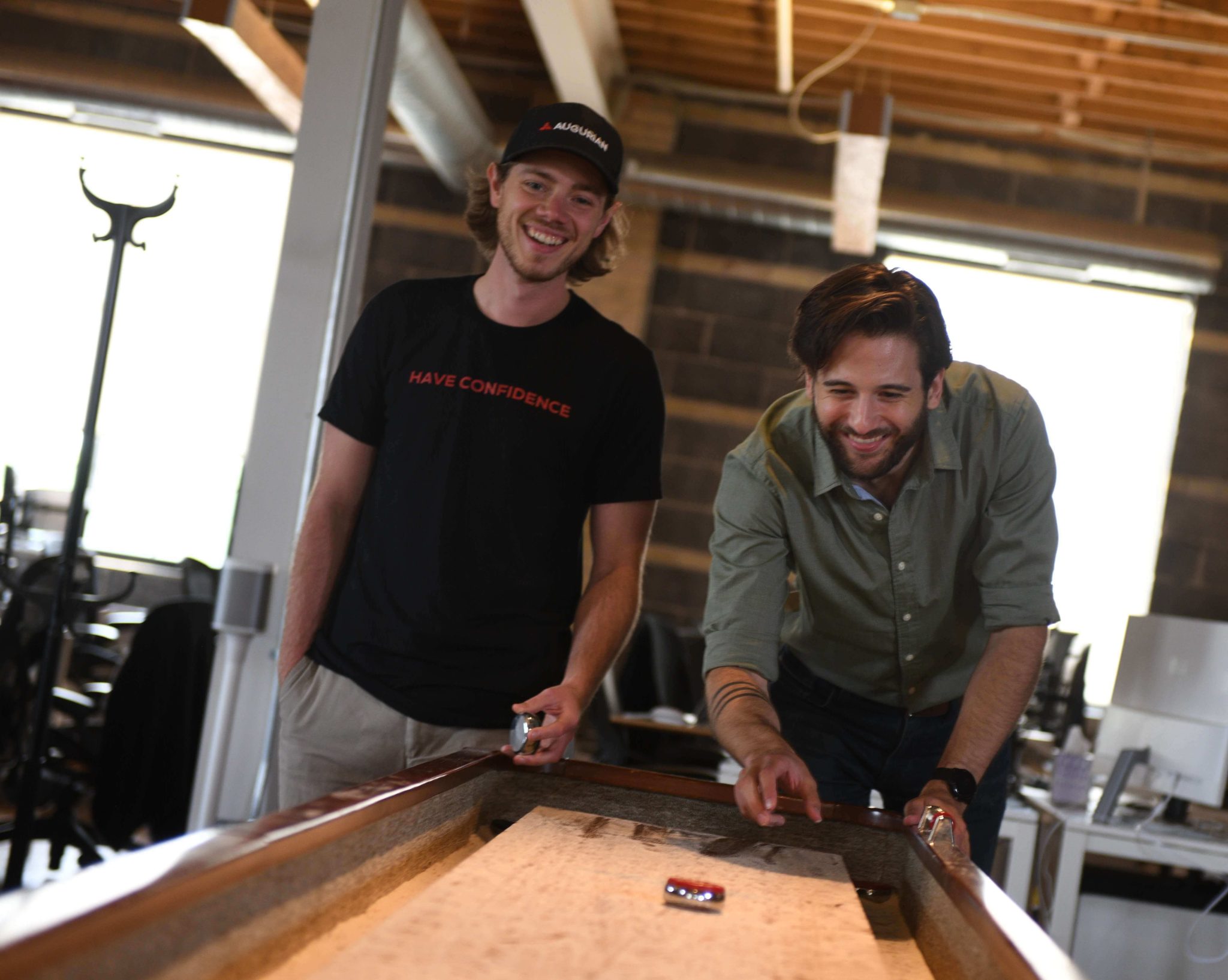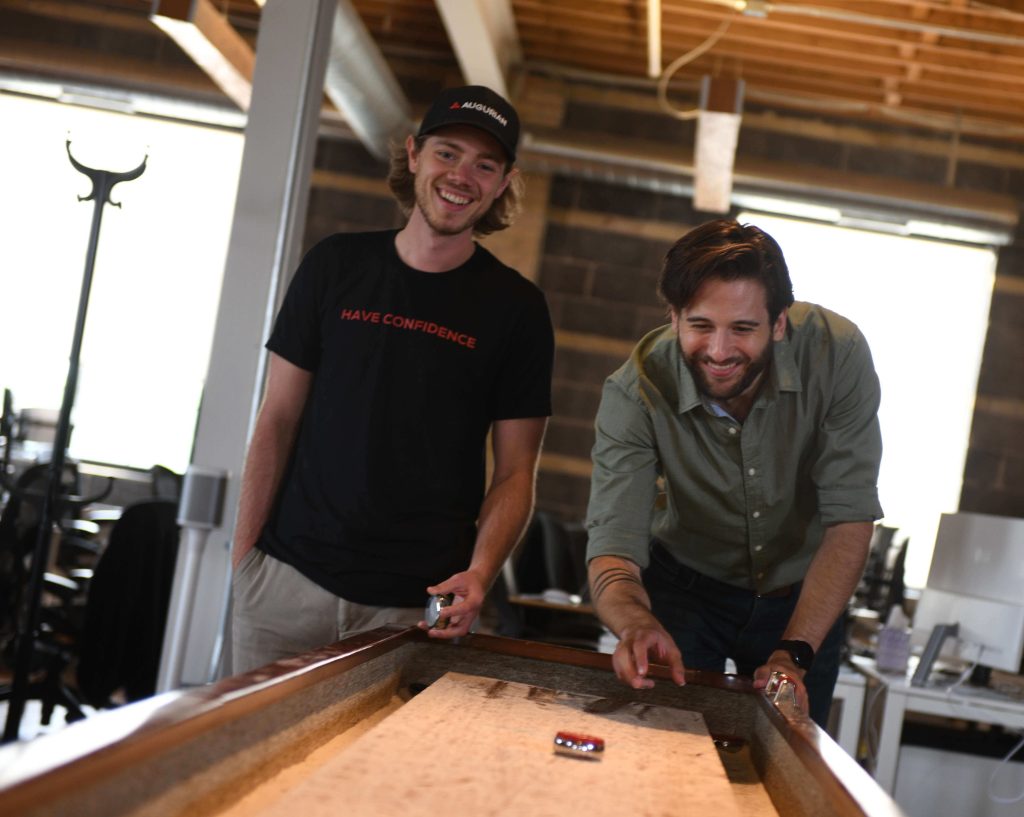 Improve the Quality of Your Workday
The overarching message is that making the workplace more enjoyable is not out of reach for any company. It simply needs to be valued and prioritized.
Whether you need to encourage employee autonomy, acknowledge your coworkers for their accomplishments both in work and in life, or add more opportunities for relationship building, the most important thing is that we prioritize how to improve our work environment.
As we mentioned earlier, we take our core values very seriously at Augurian. One of which is #HaveFun. We believe fun work is actually a thing and guess what, so do our employees.
Does the workplace environment at Augurian sound like something you're interested in?
Check out our careers page and apply to join our team.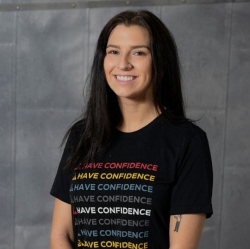 Latest posts by Autumn Iwanok
(see all)