Hit Your Goals Faster
Prove the Impact
Know What Works
Hit your goals and generate more revenue because of better planning and execution, more accountability and transparency
Augurian has developed a Digital Operating System (DOS) that ensures we're delivering best-in-class digital marketing services, every time. Why? Because we hate bad digital. We've taken the collective experience of our entire team and identified all the ways bad digital can creep into agency workflows and we've built an iron-clad system to eliminate them.
Our Digital Operating System (DOS) is the engine that powers our work.
HOW OUR DIGITAL OPERATING SYSTEM WORKS
DOS ENSURES WE'RE WORKING ON WHAT'S MOST IMPORTANT – ALWAYS
In the end, this is a partnership. We need to understand what winning looks like to you and we'll push ourselves every single day to help you get there – because we understand that when you win, we win.
In order to win, we must be crystal clear on:
the goals we are trying to achieve
what it will take for us to achieve each goal
and what it will look like when each goal has been achieved
We start with an on-boarding questionnaire that helps us gain a complete understanding of:
The overarching strategic direction of the company
The stated annual company goals
The departmental and any individual annual goals
Once we've gained this understanding we help extrapolate what you've been tasked with into quarterly goals, we call 'Rocks'*.
Rock' planning happens quarterly and consists of our teams aligning on the top priorities for the next 90-days.
Having a 90-day plan ensures:
we stay on track
keep our focus
have a high degree of accountability
Our experience has shown us that there are too many moving parts to the work we do and that many times stakeholders have shifting priorities. So, by implementing 90-day 'Rock Planning' sessions we're able to deliver on the highest priorities and be responsive as needs change.
DOS IS A SET OF PROCESSES & BEST PRACTICES THAT GET RESULTS – FASTER
Our proprietary Project Plans, Deliverables, Tasks & Standard Operating Procedures is what puts the "System" in Digital Operating System.
After our initial on-boarding, auditing and set-up, and with our 90-day 'Rocks' in hand, we're ready to jump right into strategic planning.
EXAMPLE PROJECT PLAN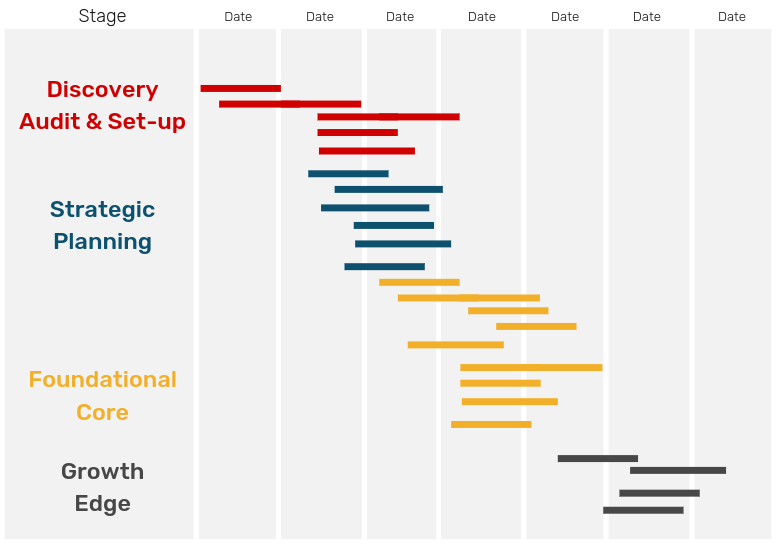 During strategic planning we identify all of the deliverables we should consider to hit our goals in the next 90-days. We prioritize these by asking ourselves "what is our next best step?", "what will have the greatest impact toward achieving our agreed upon goals?"
Deliverables, Tasks & Standard Operating Procedures (SOPs)
Every deliverable has a set of tasks and SOPs associated with it. Ensuring that we know exactly what it'll take to get each priority completed. No matter what the strategy or tactic we've chosen we've got a process written down to follow.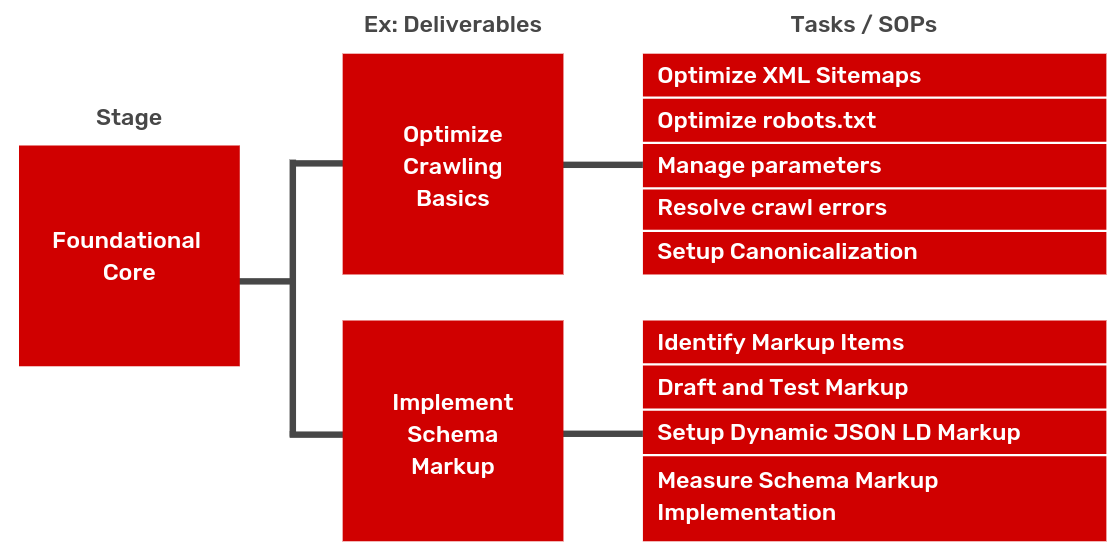 The benefits of having done the hard work of curating and documenting all of these processes and best practices are:
We're more efficient and effective by employing this working method.
We get more consistent results.
We take the 'mystery' out of our work, and in doing so are developing and strengthening the skills, instincts and abilities of your team when it comes to digital
We're completely transparent; you'll understand what we're doing and how it relates to our agreed upon goals.
DOS MAKES SURE EVERYONE HAS VISIBILITY INTO THE WORK GETTING DONE – WHENEVER
Transparency & Accountability Matters
If we say we're going to do it – it'll get done. If there is something holding us up, you'll be sure to hear about it. Oh, and you'll most likely be accountable for stuff too – hope you're good with that.
Now that we've got our list of tasks and SOPs to follow through on, we need to be sure we're giving you the visibility you need to ensure we're staying on track. We've taken tenets from Agile Methodology to do this.
Breaking-Down the 90-Day Plan Into 2-Week Sprints
Agile is primarily used in software development, however, we've seen the benefits of using a similar process, with 2-week fixed sprints, for digital.
Because we know exactly what tasks and SOPs we're working on, we also know how much effort it will take to complete each of these. We call these 'Sprint Points'. Based on the resources available and the agreed upon deliverables, we'll establish a cadence of sprint points that fits within the monthly retainer.
This all culminates in a series of sprint trackers and scorecards.
Trackers
Trackers show us who owns every task in each sprint, how much is left to do and when it'll be done.

Scorecards
Scorecards show us how our key performance indicators are improving from our efforts.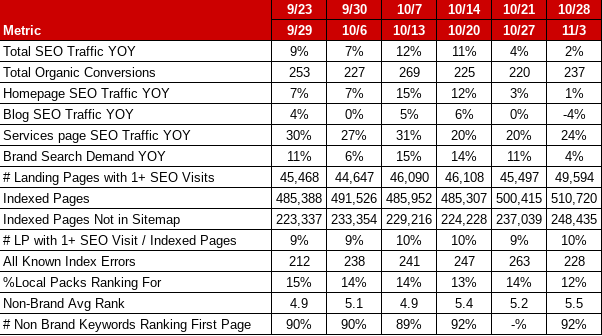 Why We've Adopted Sprints
We all benefit from the regular rhythm.
Planning is easier and more manageable.
Tracking velocity to completion is easier.
On-on-go course corrections can be made.
Allows us to be more responsive to your needs.
Transparency When Responding To Changes
2-week sprints allow us to be highly responsive. We've all experienced when stakeholders have shifting priorities. In this context, we believe our job is to help identify the trade offs that arise from shifting priorities. To do this we use the project management triangle.
At the center of this triangle is a commitment to quality work. You wouldn't be talking to us if you didn't value quality work. So, when changes to occur – be it scope, velocity, or resource allocation – it is our job to clearly articulate the trade-offs that come with those changes.
Changes in one constraint will necessitate changes in others to compensate – so that quality doesn't suffer.
For example:
a project can be completed faster by increasing budget or cutting scope.
increasing the scope of a project may require equivalent increases in budget and/or schedule.
cutting budget from a project without adjusting schedule or scope will lead to lower quality.
7 Key Elements to Transparency & Accountability
Here are the 7 key reasons why our D.O.S. creates such a high level of transparency and accountability:
We share a common understanding of how our work rolls up to larger company strategies and goals.
We've aligned on goals and together have developed our 90-day 'Rocks'.
We've translated those 'Rocks' into 2-week sprints made up of a series of deliverables to get us to goal.
Those deliverables have documented tasks and SOPs associated with them.
Each task is assigned an owner, a certain amount of sprint points and an completion date.
We share a set of trackers and scorecards that are available at all times to see how tasks are tracking toward completion and what impacts we're having on our key performance indicators (KPIs).
We've agreed that Time, Scope and Cost are the key constraints to quality work and will communicate the trade-offs between these constraints when changes are required.
DOS DRIVES COLLABORATION BETWEEN OUR TEAMS – CONSISTENTLY
With goals set and a prioritized list of deliverables, tactics and SOPs to tackle, we hold a brief bi-weekly check-in.
From this bi-weekly review comes a high degree of accountability allowing everyone to: 
stay focused
spot developing problems and then solve them
communicate news or changes
make sure everything is on track
We know that: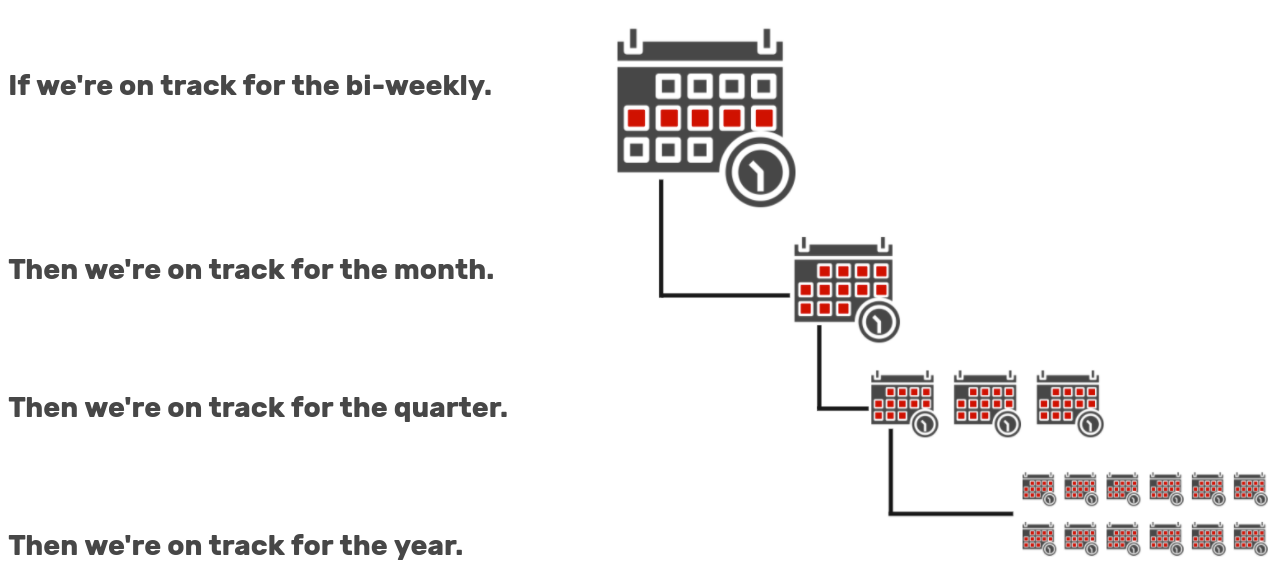 Structured Meetings Keep Us On-Track
Most of us have sat in meetings and felt like they were either a waste of time or ineffective because they lacked structure. We hate meetings like that – so we don't have them.
Instead, we've borrowed from Gino Wikman's work to leverage what he calls the "Level 10 Meeting" or as we call it the "L10".  The following agenda makes sure every meeting is productive and focused on what is most important.
The L10 Agenda:
Good News Personal & Professional

This is how we change gears, remind one another we're all humans and are all on the same team.

Scorecard

Here we just take a few minutes to review our scorecard numbers to see how we're tracking on our KPIs.

Rock Review

Again, just a brief check-in to report on whether or not all our 'Rocks' are on-track.

Headlines

This is where communication of news or changes occurs. It is also a time for giving #kudos to other team-members for awesome work!

To-Do List

This is where the accountability rubber hits the road. Checking in on any prior commitments any team member has made to get done between meetings.

IDS (Identify, Discuss, Solve)

This is where the magic happens. Here we tackle issues. Anyone can bring up an issue they may be having about the work. These are put on a issues list and prioritized by the group. The group discusses one issue at a time until it is solved and then moves on to the next issue.

Conclude & Rate the Meeting

Concluding has two parts. First, recap the To-Do List and confirm that everyone has their action items written down. Second, have everyone simply rate the meeting on a scale of 1 to 10.
Not Just Reports, Reporting
There is a big difference between reports and reporting.
Reports are visualizations of the data; a bunch of graphs, charts and little red and green arrows pointing up and down. Reports are only as valuable as the accompanying reporting.
Reporting is the analysis and insights. It helps you understand what you're looking at, offers recommendations and influences your next steps.
Rest assured, you'll still get reports. As a matter of fact, our reports are built in DataStudio, so you can access them 24/7 whenever you'd like.
Reporting is what separates great digital from bad digital.
We pride ourselves on our reporting. You'll understand the difference, once you've started working with our team.