Marketing a SaaS company can be tricky. You're not only getting users to start free trials or schedule demos, you're nurturing them until they become paying customers, then you work as hard as you can to keep them from churning. Because of the nuances of SaaS we've developed a list of the top 3 SaaS business performance calculations to add to your marketing metrics scorecard. 
SaaS companies have so much data at their fingertips. Because software is the product and you can track every interaction every user has with your product – the data can be overwhelming and it can be hard to determine what gives you a clear picture of business performance. Of course, there are some basic metrics that most SaaS marketers would agree are important to pay attention to.
BASIC Metrics SaaS Marketers Agree are important:
Unique Visitors

Sign Ups

Marketing Qualified Leads (MQL) & Sales Qualified Leads (SQL)

Monthly Recurring Revenue (MRR)

Customer Acquisition Cost (CAC)

Customer Lifetime Value (CLV)

Churn Rate
Granted, these are all important metrics and they should form part of the marketing scorecard of any expert SaaS marketer.
However, our top 3 SaaS business performance calculations go way beyond these basic metrics. Let's take a look:
1 – The Customer Lifetime Value to Customer Acquisition Ratio CLV:CAC
How do you know if you're spending the right amount to acquire a customer? Spend too much and business performance will plummet, spend too little and you're probably missing out on capturing the full demand. This CLV:CAC ratio is a number worth putting on a scorecard and keeping track of, especially if you are a subscription based SaaS company with a short sales cycle.

Ideal CLV:CAC is 3:1
Ideally, you want your CLV:CAC ratio to be 3:1. If it's 1:1, then you're spending too much, putting SaaS profitability out of reach. If it's 5:1, then you're spending too little and in doing so not capturing the full extent of the demand for your services while giving competitors room to grab market share. 
2 – SaaS Quick Ratio
When it comes to SaaS business performance, one of the most important measuring sticks is growth. The "SaaS Quick Ratio", originally coined by Mamoon Hamid of Social Capital, allows you to understand your SaaS company's growth efficiency. Basically it is the ratio of your revenue gains to your revenue losses. It takes into consideration both your growth and your churn and gives you a number that tells you how effective both your customer acquisition and your retention efforts are. Here is how you calculate your SaaS Quick Ratio:

In Hamid's presentation Why Sh*t Really Gets Funded at SaaStr he shared a slide that shows two companies with SaaS Quick Ratios below 4 that they chose not to fund and two companies with SaaS Quick Ratios above 4 that they brought into their portfolio.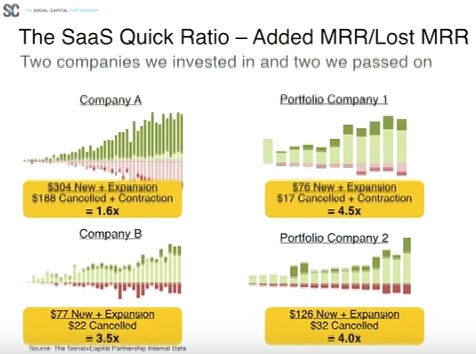 So by adding the SaaS Quick Ratio to your scorecard will help you understand how efficiently you are growing and you'll be thinking like an investor.
3 – Lead Velocity
Lead Velocity is another metric that VC and investor types look at, and you should be paying attention to as well. Basically it measures your pipeline by looking at how many quality leads you're currently trying to convert to actual customers and providing a prediction of your future revenues and growth. This metric is especially important for SaaS companies selling bigger deals with longer sales cycles.
While Lead Velocity will vary widely based on company, industry and product/service. Some industry experts believe that if your company has 6-times the amount of revenue represented by quality leads in your pipeline – then you can be confident that you should hit your revenue targets for the period.
The key with Lead Velocity is making sure you've got a clear definition for "quality leads", otherwise your pipeline will become inflated and Lead Velocity becomes more of a vanity metric and unreliable. However, if you're sales team is clear on what constitutes a quality lead and is reporting correctly, Lead Velocity will provide a reliable predictor of future growth and revenue.
So, here is how to calculate Lead Velocity:

Conclusion
So there you have it. Those are the top 3 SaaS business performance calculations to add to your marketing metrics scorecard. If you're interested in learning more about general marketing ROI metrics, check out our 10 Metrics to Measure Your Digital Marketing ROI blog. Or, if you're looking for more great SaaS marketing content, join our growing community of SaaS marketing professionals at SaaS Scoop.
Wanna chat SaaS marketing? Contact us.